Laughing Loon Lager
| Oak Pond Brewing Company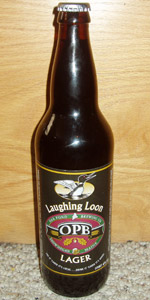 BEER INFO
Brewed by:
Oak Pond Brewing Company
Maine
,
United States
oakpondbrewery.com
Style:
Munich Dunkel Lager
Alcohol by volume (ABV):
6.00%
Availability:
Summer
Notes / Commercial Description:
Laughing Loon Lager is a dark beer made with the delicate flavor of chocolate malts. Roasted barleys impart a malty aroma to this Munich Dünkel style lager. Its smooth and silky texture will make you smile.
Added by villainchiwwin on 07-14-2005
Reviews: 14 | Ratings: 20

3.48
/5
rDev
-9.6%
look: 4 | smell: 3.5 | taste: 3.5 | feel: 3 | overall: 3.5
This beer poured out with a really nice deep amber color. The head was a light tan and stuck around for a good portion of the beer. The lacing was very thin but was there. The smell of the beer was toasted and had a sweetness to it along the lines of caramel. The taste of the beer was slightly roasted and had a good sweetness to it with a bitter finish. The mouthfeel was pretty nice as well, it was medium bodied and had a solid texture to it. Overall I was thinking this was going to be my favorite from Oak Pond but it fell short to another one I had the same day. Thanks to my cousin Nate for bringing all these home to try!
630 characters

3.8
/5
rDev
-1.3%
look: 4 | smell: 4 | taste: 3.5 | feel: 4 | overall: 4
From 12/24/11 notes. Received this as an extra from joepais in the Secret Santa BIF; thanks Joe. Poured from a 22 oz. bottle into my Duvel tulip.
a - Pours a reddish, dark mahogany brown color with one finger of fluffy white head and moderate carbonation evident. Some spotty lacing left on the glass.
s - Smells of sweet dark fruits, caramel malts, toasted malts, fruity malts, and toffee. Very nice, malty nose.
t - Tastes of caramel malts, toasted malts, very light fruity malts, toffee, and bready malts. More bread and less fruit, not quite as nice as the nose.
m - Medium body and moderate carbonation. Pretty smooth and easy to drink.
o - Overall a good dunkel. Nose is very fruity and full of malts, and it is easy to drink. Would have it again.
758 characters
3.95
/5
rDev
+2.6%
look: 4 | smell: 4 | taste: 4 | feel: 3.5 | overall: 4
Poured from the bottle into a shaker pint, it's all I got! Off we go!
Crystal clear, and very dark reddish amber body, with dark hints of mahogany brown. Head is fluffy in appearance, tan color three fingers and settling quickly to a small puck. A simple solid appearance, really like this dark amber tone also.
Nose hits some real good notes. Toasty dark bread, hints of banana, yeast bread density smelling. Real solid and enjoyable. Clean, even a little bit of hint of chocolate and classic clove like spices.
Palate hits with a hint of wet body, but all the notes come through. Caramel light malts, with hints of hop going towards lime. Dark rich malts, and there's a noticeable milky chocolate finish. Refreshing and simple drinking in feel, with a low to medium carbonation and a nice coating feel. Clean finish, with a hint of dry crispness, but allowing the silky milk chocolate to come out also.
Overall, had all the OPB beers and I think this is their best one, with the Doppelbock enjoyable as well.
1,014 characters
3.95
/5
rDev
+2.6%
look: 4 | smell: 4 | taste: 4 | feel: 3.5 | overall: 4
note: The label call this a Munich Dunkel Lager
a: This was a clear, dark mahogany color. It poured with a large but fairly short lived, off-white head.
s: Aromas of sweet, mild chocolate.
t: Mild chocolate here as well, with the addition of a little caramel sweetness.
m: Maybe just a little under carbonated.
d: Thanks to joepais for this one. This was good, but their Storyteller Doppelbock is great.
408 characters

3.84
/5
rDev
-0.3%
look: 5 | smell: 3.5 | taste: 3.5 | feel: 5 | overall: 4
Pours an dark amber/copper color with a full sized off-white head, fades at a slow rate, bits of lacing along the glass, leaves a nice creamy looking cap that lasts much longer.
Smell is mostly caramel malt along with a decent breadiness to it.
This beer has a really great creaminess to it along with soft carbonation to complement, flavor is primarily malt with slight hints of chocolate, a light bitterness rounds it out in the aftertaste.
444 characters
3.67
/5
rDev
-4.7%
look: 3.5 | smell: 4 | taste: 3.5 | feel: 4 | overall: 3.5
22oz bomber poured into a 12oz glass.
Pours a light brown semi transparent color with a small white head, fades quickly but keeps a tight rim with no lacing at all. Nose is malty and wheaty with a tiny bit of hops.
Taste is fairly wheaty and tastes more like and American Brown then a bock. It's fairly tasty and crisp with a slightly sweet finish. Easy drinking, but nothing special.
386 characters
3.9
/5
rDev
+1.3%
look: 4 | smell: 4 | taste: 4 | feel: 4 | overall: 3.5
22oz bomber from Ron's. Hazy dark brown translucent body with a quarter inch of light tan head. Smells like caramel and chocolate malts. Tastes rather roasty, chocolate and caramel malts dominate. Somewhat burnt I think, making this one slightly astringent but not overly so. Creamy mouthfeel. Relatively drinkable though. A pretty solid beer, one of this brewery's best for sure.
380 characters

3.8
/5
rDev
-1.3%
look: 4 | smell: 4 | taste: 3.5 | feel: 4 | overall: 4
Glass poured from the brewer himself at the brewery into a oak pond pint glass. The glass was clear dark mahogany brown with a great head that lasts
The Aroma of toasted malts (Carmel and chocolate) fill your nose
The flavors of toasted chocolate malts is in the front with a sweat fruity finish
The palate was nice and creamy finish
Truly a great find (if you can) also great talking to the brewer, stopped in after a day of hunting and took home a few more
465 characters
3.76
/5
rDev
-2.3%
look: 3.5 | smell: 3.75 | taste: 3.75 | feel: 4 | overall: 3.75
Thanks to my mom for picking this up! Lured into a tulip. There is a small tan head atop a clear dark brown body.
The aroma is full of chocolate malt and is clean from yeast influence.
The taste has a nice chocolatey malt flavor. This is nice and clean tasting. The finish is satisfying and this avoids being cloying despite the lack of bitterness.
This is medium bodied with smooth carbonation. This exceeded my expectations; yum!
434 characters

3.75
/5
rDev
-2.6%
look: 3.75 | smell: 3.75 | taste: 3.75 | feel: 3.75 | overall: 3.75
This Munich dunkel lager pours a fairly dark brown with a red tint and a medium to small white head that quickly dissipates. The smell is fairly mild, but is malt oriented with hints of caramel and brown bread. The initial flavor is quite malt oriented, as expected from the smell, with flavors of bread, molasses, caramel, and brown sugar. The finish, however, is a little surprising. It actually has some hop kick that imparts a slightly acerbic, very faintly piney flavor. The finish is also quite dry. Despite the big malt flavors, the body is actually on the lower end of medium. I would say that this is one of the better beers from this brewery. It has nice flavors appropriate for the fall or winter. My only complaints would be that I would like the body to be a little heavier, though many people might disagree with me, and also I think the finish is too dry. It's a solid beer though.
898 characters
4.1
/5
rDev
+6.5%
look: 4 | smell: 4 | taste: 4 | feel: 4 | overall: 4.5
Dark copper colored ale with a tan colored frothy head.
Good malty odor with a touch of chocolate and coffee.
Tastes of coffee and dark chocolate with a touch of bitterness at the end.
Medium mouthfeel, with a definite feel of the carbonation.
Very drinkable beer. would drink a lot more if I didn't have to drive 125 miles to get it.
334 characters
3.85
/5
rDev 0%
look: 3.75 | smell: 3.75 | taste: 4 | feel: 3.75 | overall: 3.75
A very underrated maine brewery- consistently great German beers, laughing loon is no exception. Great malt backbone and taste, sometimes it's nice to get away from the dipa,s and enjoy a classical German style of beer
Well done!
BMFR
236 characters
4.05
/5
rDev
+5.2%
look: 4 | smell: 4 | taste: 4 | feel: 3.5 | overall: 4.5
poured from growler fresh from brewery
brown with a slightly reddish hue or maybe dark amber. initially creamy head that has so-so retention. nice lacing. smells malty with burnt caramel, grain, and some chocolate.
sweet chocolate and caramel taste - almost all huge malt, ever-so-slightly toasty without much bitterness at all. lightly hopped with a ghostly presence in the finish to prevent cloying sweetness. flavor is true to bock style, extremely tasty but faint on the hoppiness. very soft mouthfeel with minor crisp backbone. my one serious wish for this brew is a bit more fizz in the mouthfeel. a delicious elixir for a hot summer evening. glad this brew just got released! i'll be filling my growlers regularly with this one for sure.
747 characters
4.42
/5
rDev
+14.8%
look: 4 | smell: 4.5 | taste: 4.5 | feel: 4 | overall: 4.5
Got this in a growler on my first of many trips to Oak Pond Brewing. Has a thick creamy head that disappeared quickly. Very dark with a brown coloring. Had a nut and sweet caramel aroma. Almost like a nut brown ale smell. Good flavors, hits the back of your tongue well. Nice sweet malts to mix with the caramel sweets. Easy going down, very light to drink. This is one of their first batches, and I hope they keep it around.
425 characters
Laughing Loon Lager from Oak Pond Brewing Company
3.85
out of
5
based on
20
ratings.