Girardin Framboise
| Brouwerij Girardin
BA SCORE
83
good
40
Reviews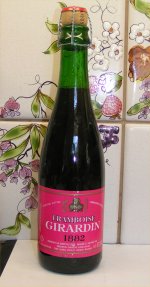 BEER INFO
Brewed by:
Brouwerij Girardin
Belgium
Style:
Lambic - Fruit
Alcohol by volume (ABV):
5.00%
Availability:
Year-round
Notes / Commercial Description:
No notes at this time.
Added by rastaman on 09-28-2002
Reviews: 40 | Ratings: 73
3.58
/5
rDev
-1.9%
look: 4 | smell: 3.5 | taste: 3.5 | feel: 4 | overall: 3.5
Bottle at Délices & Caprices
The beer has a clear red body and a pink head that sticks around for the two minutes it took to drink my glass and leaves lacing.
Holy shiz there is a big sweet raspberry aroma. Not much to it but very enticing.
There is a slight tartness to it. It's much more of a sweeter raspberry taste. Light funk notes.
Nice and bubbly medium body. Gets a little drying.
This seems to me like what Lindemans would taste like if it was actually good. It's on the sweeter side with some tartness. Not much complexity.
539 characters

3.57
/5
rDev
-2.2%
look: 4.25 | smell: 3.5 | taste: 3.5 | feel: 3.75 | overall: 3.5
Raspberry pink color. Light pink head. Lace.
This is a very mild framboise. Light in the raspberry/fruit category as well as the sour/tartness. It is easy to drink, but just not a lot of flavor her compared to the other ones.
226 characters
3.56
/5
rDev
-2.5%
look: 4 | smell: 3 | taste: 3.5 | feel: 4 | overall: 4
As a big fan of the 1882 black label I was looking forward to this. According to others in the tasting said, it was tart, but in comparison to the gueuze it really just seemed sweet to me. Not nearly the level of complexity, funk, or tartness of the gueuze; it comes off like a raspberry soda. I probably won't have another as long as the black label is in reaching distance.
375 characters
3.56
/5
rDev
-2.5%
look: 4 | smell: 3.5 | taste: 3.5 | feel: 3.75 | overall: 3.5
Picked this up with a lot of other lambics while passing through Belgium last week. Pours similar to most lambics...red with a fluffy white head, medium retention. Raspberry certainly comes through on the nose, but not a fresh fruit. More like a flavoring, but not what I'd call overly artificial either. No funk, no brett, no malt or yeast notes to speak of. Kinda disappointing. Flavor is somewhere in between sour and sweet lambics. Not nuanced and lacking depth. Not sure what they were trying to do here.
517 characters
3.55
/5
rDev
-2.7%
look: 3.5 | smell: 3.5 | taste: 3.5 | feel: 4 | overall: 3.5
From: Etre Gourmet, Beauvechain, BE
Date: Cork says "2013," assuming bottled early 2013
Glass: Girardin degustation glass
Girardin's Framboise is a pleasantly fruity, lightly tart raspberry lambic that exhibits pleasant aromas and flavors, but lacks the significant complexity found in Cantillon's take on this style. While immediately reminding one of raspberries, the beer is missing that bracing acidity that Cantillon's contains, as well as the complex other secondary metabolites that the wild yeast from that brewery instills into the beers. It might be interesting to age a bottle of this for a few years and see how its attendant microfauna develops within the bottle.
Pours a 1cm tall head of light pink colored foam, made up of small-sized bubbles, yielding a fairly frothy appearance. Retention is average, the head lasting for about one minute, eventually fading to a thick, sudsy ring around the perimeter of the glass and a small pinwheel shape of foam atop the body of the beer. Lacing is modest, with a sparse scattering of small dots and blotches clinging to the walls of the glass. Body is a dark, burnt red color, with light bringing out brighter orange-brown-red hues throughout. Carbonation visible through the slightly hazy body, numerous and fairly active.
Aroma of strongly fruity, fresh raspberries, jam-like and sweet, with light hints of Brettanomyces-influenced mustiness and composting hay. Delicious, but not particularly sour.
Overall flavor is of strongly fruity, fresh raspberries, light tartness, and a very light basement-like mustiness. Front of palate tastes sweet raspberries, lightly tart raspberries, and slight hints of Brettanomyces-like composting hay and mustiness. Mid-palate of mildly tart raspberries, fresh and fruity, jam-like raspberries, and a bit of light Brettanomyces-induced basement mustiness. Back of palate tastes moderately tart raspberries with background of fresh raspberry sweetness and a bit of light basement mustiness. Long-lingering aftertaste of mildly tart raspberries, raspberry jam and basement mustiness.
Beer is medium-light in body, with carbonation of medium intensity, resulting in a lightly fizzy at first, then crisp and smooth mouthfeel with a bit of foaminess at the outset. The result is generally pleasant for the fruitiness of this beer, and is within a reasonable range for the style. Closes quite dry, with light stickiness clinging to the palate and lips.
2,445 characters

3.5
/5
rDev
-4.1%
look: 3.5 | smell: 3.5 | taste: 3.5 | feel: 3.5 | overall: 3.5
Looks nice, deep hazy red with pink head. Aroma has tart raspberries without any funk. Taste is a bit bland, sour with some fruit character. Overall a decent fruit beer but not really what you would expect from a lambic.
220 characters
3.36
/5
rDev
-7.9%
look: 4 | smell: 3 | taste: 3.5 | feel: 3 | overall: 3.5
Aroma was straight up raspberry jelly. The color was dark red and clear. Taste is centered on an earthy raspberry flavor. Reminds me of the seeds rather than the juice. This beer was dry, in fact very dry. Not very complex and not too tart. Somewhat average for a framboise but was unique.
289 characters

3.33
/5
rDev
-8.8%
look: 4 | smell: 3.5 | taste: 3 | feel: 3.5 | overall: 3.5
From the bottle at In De Verzekering Tegen De Grote Dorst during last week's Belgium trip. Reviewed from notes.
Served in a Girardin stemmed flute-like glass.
Poured pink-red. Mostly red with a pinkish tint to it. Short head and a bit of lacing.
Nose brought lots of fresh raspberry, though there was a faint bit of a medicinal character to it in the background, and this came through much more in the flavor, though still didn't overwhelm the beer. Faint must and a bit of acidity after a light body.
504 characters

3.33
/5
rDev
-8.8%
look: 4.5 | smell: 4 | taste: 3 | feel: 3 | overall: 3
A - Pours a clear, vibrant brown-hued red with a pink-tinted layer of froth, which settles as a ring. Head is easily refreshed.
S - Strong smell of raspberries fills the room. Getting the nose into the glass brings out citric sourness, musk, cherry, pear drops.
T - The appearance/smell had me looking forward to tasting, but frankly it's disappointing. The raspberries appear first with a tart edge, which sweetens towards the middle. Solvent flavour towards the end, which then leads to a dry-ish leafy aftertaste. Somewhat restrained and one-dimensional.
M - Light/watery mouthfeel and carbonation that is just too soft.
D - Easy enough to drink, but not interesting enough to be revisited any time soon.
711 characters
3.17
/5
rDev
-13.2%
look: 3.5 | smell: 4 | taste: 2.5 | feel: 3 | overall: 3.5
I was excited to try this beer as I believe Girardin Geuze to be, arguably, the finest Geuze in the world and at the very least my favourite of the style.
Although their Framboise ticks most of the boxes for a quality lambic (good lacing on the glass; satisfying tart-fruit smell), what lets it down is the taste, in that there isn't really much of one. You get the initial out-of-a-packet sour-funk and a rasberry tingle on the tongue, but then it all just disappears. Gulp aaand gone.
I expect all good beers to have a lasting and satisfying finish, and I expect this two-fold for a style that trades it's reputation on complexity and having various dimensions of taste. On these grounds Girardin Framboise lets itself down because there just really isn't enough there.
A shame.
785 characters
3.15
/5
rDev
-13.7%
look: 4.5 | smell: 4.5 | taste: 2.5 | feel: 3 | overall: 2.5
I'd been looking forward to this, after enjoying the gueuze. Out popped the cork.... wow this is fruity. Excellent. The colour was good too, a lustrous red tone with a slightly pink froth. But the taste? Nothing there. It really didn't taste of anything much. A big bloody disappointment. Drinkability? Well you could drink it all day, except that there is no reason why you might want to. Don't bother.
403 characters
3.13
/5
rDev
-14.2%
look: 3.5 | smell: 3 | taste: 3 | feel: 3 | overall: 3.5
one dimentional. fruit juice, raspberries, hint of banana, slightly creamy. quick finish. creamy head, quick bite of carbonation. very very pink in color. sweet and halfway drinkable -- not overly cloying, no lindemans -- but not real special either.
250 characters
2.83
/5
rDev
-22.5%
look: 2 | smell: 2 | taste: 3 | feel: 3.75 | overall: 3.25
2015 vintage. 375ml corked and caged bottle into a 3F flute. Shared with schen9303.
Pours a clear bright red. No head, no lace and very thin legs that drop quickly. Below average.
Nose is pretty wretched. Notes of rotten egg, bitter raspberry seed and raspberry pulp. Simple but there's a distinct manure-like funk that doesn't belong.
Opens raspberry puree, raspberry seed bitterness and a plastic funk. Cobwebs, hay and a juicy, tart and mildly bitter raspberry in the middle. Some oak and a salty cheesiness finishes things off. Aftertaste is seedy and lightly tart. Average.
Light bodied with moderate carbonation. Foamy in the mouth and goes down prickly and dry. Dry finish with a sticky, filmy aftertaste. Solid.
Having the Black Label Gueuze from Girardin as its first offering, I have to say that this is a huge disappointment. The nose is awful and the funk that is present just doesn't taste right. In addition, the fruit presence, while there, is a bit too seedy instead of juicy. I'd pass on this one in the future.
1,035 characters
2.79
/5
rDev
-23.6%
look: 3.5 | smell: 2 | taste: 3 | feel: 3 | overall: 3
Ruby red colour, decent foam, pink in colour.
At the nose the sweet is dominant: candy sugar, fruit candy, and surely, raspberry. But it is a sweet too strong, and sickly.
At the taste instead the sweet doesn't cover all; the pungent, acetic, tart background of the lambic can rise up. A light astringency.
The taste is not well balanced, but anyway the taste is more interesting than the smell, monotone and sickly.
Medium-low body. The aftertaste starts with some sweetness, but the finish is tart and acetic.
515 characters
2.78
/5
rDev
-23.8%
look: 3 | smell: 2.5 | taste: 3 | feel: 3 | overall: 2.5
I was really dissappointed when I tried this. My notes have the words "just too perfumy". Remember the times when you had the old woman teacher at school who plastered herself in perfume??? So much so that you were nearly sick when you got close. It is the same with this beer. A very sweet raspberry lambic - far too commercial for my liking. I did not finish this drink !! There are better examples of Framboisen. I really expected this to have a much more traditional dryer feel to it. Shame on Girardin for this - I know they could do better.
546 characters
Girardin Framboise from Brouwerij Girardin
3.65
out of
5
based on
73
ratings.