VBGB Beer Hall & Garden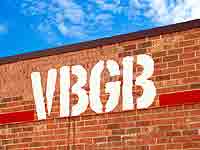 PLACE INFO
Type:
Bar, Eatery
920 Hamilton St
Charlotte
,
North Carolina
, 28206-2907
United States
(704) 333-4111 |
map
vbgbuptown.com
Notes:
No notes at this time.
Added by Jason on 04-27-2011
Reviews: 10 | Ratings: 18

4.47
/5
rDev
+11.5%
vibe: 4.25 | quality: 4.5 | service: 4.25 | selection: 4.75
The music factory is not a place I expect craft beer- it seems to be more of a tourist trap than anything else. I only head this way for concerts and VBGB- I love that they sell almost any beer in half litres and full litres. The ambiance is great on Friday and Saturday nights and it is also a great spot for small groups with their board games and life sized board games.
375 characters
3.38
/5
rDev
-15.7%
vibe: 3.5 | quality: 3.5 | service: 3 | selection: 3.5 | food: 3.5
One of my favorite options when I am near the Music Factory. The beer and food are separate. The food selection is totally "bar-y" and the beer selection is good, but limited on the dark beers. It was kind of hard to get a beer at this place because of being very busy. I will return and try to avoid heavy nights.
314 characters

3.8
/5
rDev
-5.2%
vibe: 3.5 | quality: 4 | service: 3.5 | selection: 4 | food: 3.75
Headed over there with some friends after work. Cool little atmosphere. Sat outside where you could play cornhole, etc. There were a lot of things going on that were a bit distracting like an auction and a wedding reception (on a friday). The auction guy was a bit annoying on the microphone.
The draft selection was great. Had a lot of local items, like Triple C stuff and some NoDa stuff. Also had Lagunitas on tap. Nothing extraordinary.
The service was fair. Would be nice if they took orders at your table, but they don't, so that can be a pain standing in line. Food and drink orders are at different areas
Overall, it was fun. Kicked some butt in cornhole as usual!
675 characters
4.11
/5
rDev
+2.5%
vibe: 4.5 | quality: 4.5 | service: 3.25 | selection: 4.5 | food: 3.75
Came to VBGB this past weekend on a visit to Charlotte. Came with a group of mostly people not overly interested in beer, but I was able to find something everyone enjoyed. Great setup of the menu wall breaking beers down by category. This was great for me since I wasn't familiar with too many of the local breweries or beers. Allowed me to pick the right beer for each person.
I liked the variety of sizes that they offered the beers in. I stuck with the smaller 12oz size in order to try more beers. Normally I would only have 3-4 pints, but here i was able to try 6 different beers.
I enjoyed the selection myself. I pretty much ran the table on all IPAs from local/regional breweries like Olde Hickory, NoDa, BirdSong, and Blue Point.
Between the group, we got pretty much everything on the menu, and it was all pretty tasty.
Everyone had lots of fun in the beer garden playing giant versions of Jenga, Connect 4, and Chess. Music was good and not at an unbearable volume.
All in all a good place to hang out with friends and drink good beer.
1,052 characters

4.45
/5
rDev
+11%
vibe: 4.5 | quality: 4.5 | service: 5 | selection: 4 | food: 4
Great place and an awesome setup. What you would expect from an average Bier Garden outside (common benches), but the inside/bar area is great. The bar has an ice pad that keeps your beer cold while you sit at the bar. Bartenders know their stuff. The food is good and they have traditional German-style snacks like brauts and pretzels which go well. Just wish it wasnt out near the music factory and closer to uptown.
418 characters

4.03
/5
rDev
+0.5%
vibe: 4 | quality: 4.5 | service: 3.5 | selection: 4 | food: 4
I'd been wanting to try this place for some time, so when my wife said that several of her coworkers were getting together there for a little holiday get together I jumped at the chance.
The place is interesting; you walk in to a good sized bar area with a nice U shaped bar with an ice rail to keep your beer cold. As you walk in the food ordering window is to the right, and the portion of the bar where you order your drinks is straight ahead. There are a couple of separate dining areas for large groups, and there is a nice patio with tons of super sized games. When we were there they had a large connect four game, 2 ping pong tables, 3 or 4 corn hole set ups, a giant chess board, and 2 large jenga sets. There seems to be something for everyone, and the place was packed.
The service was decent; there was no wait staff wandering around checking on people. If you want a beer you have to go to the bar, and if you want food you have to go to the window. Not a bad set up, but it can get backed up at times.
The food was good, we got a little of all of the finger type foods so that everyone could try multiple things. Fried pickles, soft pretzels with beer cheese, hot wings, nachos, sweet potato fries, etc... Everything was good, the pretzels and beer cheese was great.
Now, on to the most important part.... The beer. The beer selection seemed to be well thought out; a nice mixture of NC locals, southeast regionals, and national craft beers. There was also a nice mixture of APA's, IPA's, Porters, Stouts, etc... Too often a craft beer bar will have 20-30 taps and more than half of them are IPA's, and big stouts, and other styles get left out to the dismay of casual beer drinkers that aren't into these styles. I spent most of the evening drinking Birdsong Jalapeno Pale, and Lagunitas Brown Sugga. All for a reasonable price.
Overall, I was impressed with this place and look forward to going back
1,921 characters
4.35
/5
rDev
+8.5%
vibe: 4 | quality: 4.5 | service: 5 | selection: 4 | food: 3.5
I've been three times now, and this place is consistently very good. Not quite great (most beers aren't all that rare, and some seem to be slow to rotate out), but always a fun place to get some quality beer and sit outside. The owner is very friendly and seems to have instilled the same good nature and helpfulness in the staff. Everyone is willing to offer advice on beer and impressions of things they've tasted. The location in the Music Factory is a bit of a drawback - not really that close to Uptown and definitely a hike from my place, but the parking makes it easier.
A great addition to the beer scene in Charlotte, and a place I'll continue to enjoy.
663 characters
4.15
/5
rDev
+3.5%
vibe: 3.5 | quality: 4.5 | service: 4.5 | selection: 4.5 | food: 2
I visited this place based upon the review by barscream. Be aware Garmin will give you false directions.
Place is 2 weeks old. Parking is across the street, plenty. Atmosphere is very casual. Food is ordered at a window and is bar food. I got a hamburger which was good enough and very reasonably priced but wasn't the good steak I was hoping for. The sweet potato fries were very good.
27 beers on tap when I visited. The staff was very engaging and helpful. I visited with Clay who buys the beer and enjoyed him sharing his thoughts and opinions on the various beers.
My beer journey started with a Bear Republic Racer 5 IPA which I found delightful. I then tried the Terrapin Hopsecutioner which was outstanding. That was followed by my favorite of the night the Blue Point Oatmeal Stout (they just added it that evening).
I headed to the patio to enjoy a cigar. In doing so I had the pleasure of meeting the owner Tom from Rochester, NY. In talking to Tom I learned he recently moved to town and was looking for a really good brew pub and not entirely satisfied with what he found in the proximity decided to give it a go himself. Tom and his wife are delightful as is the rest of the staff. As we talked a storm blew in with rogue wind that nearly took out all of the patio umbrellas. Once order was maintained and the rain slowed I was ready to go but Tom convinced me to have on more Hopsecutioner. If I must….
In all a great visit. Very good beer selection, great staff and okay food. Good value for the money.
1,530 characters
4.2
/5
rDev
+4.7%
vibe: 4.5 | quality: 4 | service: 4.5 | selection: 4
Wide open "hall" with nicer picnic style tables, some narrow long shareable hightops. Tons of outdoor seating also picnic style and a stage. Both indoor and out seem set up for interaction with your fellow patrons. Nice view of the city and the giant coffee sign that was an old landmark in the city.
I counted 24 items on their chalk beer menu, but maybe there were just some slots empty. A very good mix of brews all micro. No bottles, no macro stuff. Imports were Belgians, the rest were domestic and most of that was regional or local. Thomas Creek Banana Split stout was interesting, Tommy Knocker Black Ipa was good as well. 4 sizes of drafts, 12 oz up to something rather large looking, can't remember.
The whole ice bar thing is interesting in concept and cool to see. Really only useful for the lighter brews you want to stay cold. Could probably be a good tool at bars that serve large glasses of macros.
Service was very good and interactive. Conversing with all the patrons inside and out. They seem to be into their concept. The guy I was mostly dealing with came outside to tell me they were putting something on I might be interested in, since I told him I tend toward the dark brews.
The food menu looked interesting, burgers and sausages. Smaller appetizer type items also. Beer cheese and beer batter onion rings were the beer inspired items.
The prices really fall at about 2.5, beer is average priced, food seemed very reasonable.
Definetely will be back from time to time.
1,498 characters
4.05
/5
rDev
+1%
vibe: 4.5 | quality: 4 | service: 4 | selection: 4 | food: 4
I visited VBGB on the afternoon of their opening day and LOVED it. They have a lot of indoor and outdoor space and a very laid back atmosphere. 30 beers on tap and all are craft. They even had a sour on tap - Monk's Café Flemish Sour Red Ale. Four Friends is brewing their work-in-progress house brew, and the owner was very interested in getting our feedback.
VBGB's advertising hypes up the "cold beer" and "frozen rail," which seems strange for a place that only serves craft beer. Fortunately the beer wasn't served frosty mug cold and warmed up quickly on the sunny patio. I have to admit that the frozen rail was pretty neat, actually. A buddy and I used it to have a micro snowball fight. :)
701 characters
VBGB Beer Hall & Garden in Charlotte, NC
4.01
out of
5
based on
18
ratings.