Red Carpet Ale
| SoCal Beer Company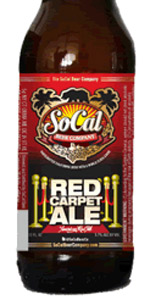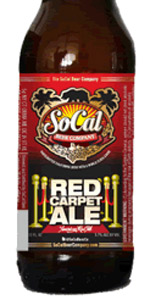 BEER INFO
Brewed by:
SoCal Beer Company
California
,
United States
socalbeercompany.com
Style:
American Amber / Red Ale
Alcohol by volume (ABV):
5.90%
Availability:
Year-round
Notes / Commercial Description:
No notes at this time.
Added by womencantsail on 05-02-2011
This beer is retired; no longer brewed.
HISTOGRAM
Ratings: 13 | Reviews: 10
Reviews by Drinkerofales:

3.56
/5
rDev
+4.7%
look: 4.5 | smell: 3.5 | taste: 3.5 | feel: 3.5 | overall: 3.5
Pours clear copper and gold. A light tan head leaves great lacing and a nice ring.
Smell is malty, lightly roasted tang, a hop presence is almost piney, but very understated.
Taste has a flat almost vegetal opening, but rounds out with the nicely toasted malts. Not much hop or bitter in the flavor.
Feel is pretty smooth, but not the texture of some of the reds I have had lately, so I have to ding it there as well.
A new socal brewery, and I as glad to try this. If this is an indication of the brewery, I have hopes. They have done some things well, as the malt rescues this from true mediocrity, but it needs some serious hop help.
DOA
645 characters
More User Reviews:

2.29
/5
rDev
-32.6%
look: 4 | smell: 2.5 | taste: 2 | feel: 2.5 | overall: 2
According to the brewer this is basically an Irish Red dry hopped with Cascade. Amber in color with good retention and lacing on the head. Aroma is a combination of esters and citrusy hops sitting next to some phenolic off-notes. Taste is caramelly sweet and largely chlorophenolic. Some citrus evident and a lightly malty finish, but the chlorophenolic notes dominate the whole beer. I liked the other SoCal beers to varying degrees but this was the only one racked by a technical brewing error. Light body and light carbonation. Overall this might be decent if it weren't for the rubbery chlorophenols.
604 characters
3.73
/5
rDev
+9.7%
look: 4 | smell: 3.5 | taste: 4 | feel: 3.5 | overall: 3.5
Pours a nice amber with a medium sized tan head that forms into a ring and leave moderate amount of lacing on the glass. Aroma is sweet caramel, toffee and some cascade hops. Taste is caramel followed by a moderate amount of bitterness. Mouthfeel is medium.
257 characters
3.95
/5
rDev
+16.2%
look: 4 | smell: 4 | taste: 4 | feel: 3.5 | overall: 4
Pours a dark reddish color with a nice foamy white head that has great retention and leaves some spotty lacing. A nice aroma of floral and citrusy hops with some caramel sweetness. Taste has a nice hop flavour backed by an interesting sweet caramel malt. Very interesting. Medium body and carbonation. Pretty solid brew, different and easy to drink.
349 characters

3.13
/5
rDev
-7.9%
look: 4 | smell: 3.5 | taste: 3 | feel: 3.5 | overall: 2.5
A: The beer pours amber in color with a finger of off-white/khaki colored head.
S: Mild citrus hops on the nose along with some grass notes as well. Toffee sweetness and bread. Unfortunately, the nose is rather bland.
T: There's a bit of sweetness of caramel and toffee and some mild citrus and grass hop flavors. A touch of bitterness, but a definite malt extract flavor in there as well.
M: Medium in body and carbonation.
O: Underwhelming is a good way to describe this. Willing to give these guys a look, but not off to a good start.
547 characters

3.17
/5
rDev
-6.8%
look: 3 | smell: 3.5 | taste: 3 | feel: 3.5 | overall: 3
460th review on BA
Draft
App- A bit light brown with just a thin head to it, no lacing.
Smell- Its way to bready for me, but it kinda works with the rest of the smells in the glass. Earthy, a bit large.
Taste- Over the top malty to me and way too sweet for the style. I didnt want to finish my taster of this. Wasnt the best Red I've had.
Mouth- Medium bodied and Medium carbed. Retained a bit of sweetness.
Drink- Overall, an average beer. The smell and mouth are best parts. Def. better Amber/Red's available. But with an startup, I am sure they can grow and evolve as well.
581 characters

3.43
/5
rDev
+0.9%
look: 3.5 | smell: 3 | taste: 3.5 | feel: 4 | overall: 3.5
Pours a handsome brownish red amber in the tall tulip. Nice foam which lasts well. Sudsy mouthfeel is quite appealing for a summer night.
Some pleasant malt. Just a moderate bitterness, which seems to go well with the general understated flavor. It has the usual Red/Amber characteristics, which is nothing to brag about, in my opinion. Some woodiness, some leafy, vegetal hop flavors. Slightly earthy, but subtle enough to be enjoyable. A touch of browned biscuits. Woodsy aftertaste with a slight bitter bite, like salad greens.
I don't taste any off flavors, and this seems well made. It's hard to tell much about a brewery from a low-key category of beer like this. Still, it's thoroughly drinkable. From the 22 oz bottle. Bought at the Whole Paycheck market in Hillcrest.
778 characters
3.35
/5
rDev
-1.5%
look: 3.5 | smell: 3.5 | taste: 3.25 | feel: 3.5 | overall: 3.25
Pours a murky dark orange with a foamy khaki head that settles to wisps of film on top of the beer. Small streaks of lace form around the glass on the drink down. Smell is of toasted malt, brown sugar, and citrus zest aromas. Taste is much the same with sweet malt, sugar syrup, and citrus zest flavors on the finish. There is a mild amount of hop bitterness on the palate with each sip. This beer has a lower level of carbonation with a slightly crisp mouthfeel. Overall, this is an above average beer that is fairly drinkable but there is an underlying sweetness that makes this one a bit hard to drink a lot of.
614 characters
3.88
/5
rDev
+14.1%
look: 4 | smell: 3.5 | taste: 4 | feel: 4 | overall: 4
Reddish color with a decent head leaving trace amounts of lacing. Aroma is not extremely intense, with mild malty fragrances. Could be stronger. Fresh and satisfying to the palate a real good feel to this one. Flavor is well balanced. Malt taste to start off and just the right amount of mild hops at the end. Good drinkability.
328 characters
3.76
/5
rDev
+10.6%
look: 4.5 | smell: 3.5 | taste: 4 | feel: 3.5 | overall: 3.5
Pours a deep amber color with a huge off-white head and great lacing. Aroma of caramel malts, and faint herbal / grassy notes. Flavor begins quite malty, with mostly caramel notes. Becomes quite herbal, earthy with a pungent bitterness in the finish. Has a medium body and an oily mouthfeel.
291 characters
Red Carpet Ale from SoCal Beer Company
Beer rating:
3.4
out of
5
with
13
ratings