Black Bear Porter
| SoCal Beer Company
BA SCORE
81
good
12
Reviews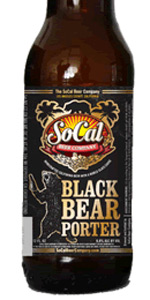 BEER INFO
Brewed by:
SoCal Beer Company
California
,
United States
socalbeercompany.com
Style:
American Porter
Alcohol by volume (ABV):
6.90%
Availability:
Year-round
Notes / Commercial Description:
No notes at this time.
Added by BeerAdvocate on 05-02-2011
Reviews: 12 | Ratings: 18
1.49
/5
rDev
-56%
look: 3.5 | smell: 2 | taste: 1 | feel: 2 | overall: 1
Watching a documentary of Dublin's pubs made me thirsty. I don't have any stout that's readily available to drink, so I'll have to settle with a porter. It's from the SoCal Beer Company, but it's brewed in....Modesto? Damn, I thought I was drinking local. On to the beer:
Despite the "Black Bear" name, the beer looks closer to the color of a brown porter. Ruby red hues are visible at spots. A rocky head forms on top and leaves an uneven mound on top the liquid. Tears of lace spot around the glass. The aroma can be descibed as unimpressive. It's low in intensity, and the notes are not going to grab you. There's some bitter coffee and cigarette ash crawling out.
Weak, weak, weak. And unpleasant. There's almost nothing coming out on the first part of the sip. Traces of burnt malt mixed with garden hose water? The burnt malt does intensity some as the beer gets ahold in the mouth, but it stil weak. Metallic, watery banana, and ash notes echo around. It fact, those added flavors may have made it worse. Now I'm sure this is one of the worst porters I've ever tasted. Mouthfeel is weak and watered down, and bitter chocolate malt lingers in the aftertaste.
What are some synonyms for awful? Leave yours in the following blank: ___. A mutant to the SoCal market, and not in a good way.
1,297 characters

2.83
/5
rDev
-16.5%
look: 4 | smell: 3.5 | taste: 2.5 | feel: 2.5 | overall: 2.5
On tap at The Bruery Annaversary party. 4oz taster. Reviewed from notes.
Pours a deep black color. Thin looking. Ok head and lacing.
Smell is very roasty. Bit of caramel. Not much else.
Taste is way to roasty bitter. No sweet caramel to balance it out. Lots of bitterness left on your tongue. Almost like I just got done smoking a cigar. Killed my palate for a while.
Mouthfeel was way too thin and carb was too high.
Overall not so bad I wanted to pour it out but I probably won't have this again. Not a good example of the style.
536 characters

3.06
/5
rDev
-9.7%
look: 4.5 | smell: 3.5 | taste: 3 | feel: 2.5 | overall: 2.5
Per the brewery this take on the style borders a Baltic Porter and uses some coffee beans in the recipe. Pours very dark brown to black with tan lacing, good retention and very nice lacing evident. Aroma is straight up dark malt up front, coffee, roast, and perhaps a modicum of dark fruit. Flavors of sharply roasted malts, coffee bean, cooca powder on the front, limited esters on the midpalate, finish is exceptionally dry. Bitterness seems derived from the malt. While the other SoCal beers are loaded with crystal malts, this one seems devoid of them. Tastes closer to an export style stout than a porter. Body is on the thin side with lowish carbonation.
660 characters

3.4
/5
rDev
+0.3%
look: 4 | smell: 4 | taste: 3 | feel: 3 | overall: 3.5
Thanks to schmoopsbeer for sending this out my way. Served in a tulip.
Pours very dark brown with a two-finger tan head that fades quickly to a collar. The nose carries a bit of roast and chocolate with some mild coffee in the background. Flavor is similar with more roast, and also a slight bit of black licorice. Medium body with a quite dry finish. Decent enough.
367 characters

3.41
/5
rDev
+0.6%
look: 4 | smell: 3 | taste: 3.5 | feel: 3.5 | overall: 3.5
Near black with a ruby-brown hint. Nice head and lacing in the chalice. Really quite attractive. Funny hint of old fruit in the nose.
Fairly hoppy with a surprising bitter finish for a Porter. Some pleasant roasted malt in the flavors, along with the charred barley. Rather winey and sharp. Light body with pleasant carbonation in the mouth. Some browned biscuit along with the fruity hops. A touch of cereal with dried cranberries. Bitterness is pretty bold for the style, though not in the league of many American Black Ales. Very drinkable and has some intrigue trying to figure out the flavors.
From the 22 oz bottle purchased at Whole Foods in Encinitas.
662 characters
3.43
/5
rDev
+1.2%
look: 3.25 | smell: 3.25 | taste: 3.5 | feel: 3.5 | overall: 3.5
Pours an almost opaque super dark crimson-brown with a foamy dark khaki head that settles to a partial film on top of the beer. Small dots of lace slowly drip into the remaining beer on the drink down. Smell is of roasted malt, cocoa, and slight char and cardboard aromas. Taste is much the same with cocoa and char flavors on the finish. There is a mild amount of roasty bitterness on the palate with each sip. This beer has a lower level of carbonation with a slightly crisp and medium bodied mouthfeel. Overall, this is a pretty good beer that develops a nice cocoa flavor as it warms up.
591 characters
3.51
/5
rDev
+3.5%
look: 4.5 | smell: 3.5 | taste: 3.5 | feel: 3 | overall: 3.5
Black Bear Porter huh. Well SoCal You done good. I won't call it the greatest porter on the planet but this one is a hearty one that has a lot of flavor.
I was really excited for this beer when i came across it. The distributor for their company was in Total Wine when he was just loading the shelves. This beer hadn't been in Arizona before and I was going to get to be one of the first to purchase it. Cost was about $5. The distributor didn't know much more than "wow it's blowing up in California". Well California is a beer mecca so what the hell. I'll give it a go.
Aright now the nuts of it.
Appearance - They damn near nailed it. Deep dark redish brown in color. I can just barely make out the monitor glow through it. Nice amount of head after the pour. Good amount of lacing as well. This porter looks the part and is thicker than most porters I've had lately.
Smell - Smell was good. Not too rich but you could pick up the coffee.
Taste - Good amount of coffee flavor and I agree with a prior review that finds it to be more of a Baltic Porter. It's definitely an interesting take. It's a little on the bitter side and definitely has that burnt (nearly smokey) overtown.
Mouth Feel - It has a nice taste that lingers after swallowing. The carbonation could be a little less, but it didn't kill the experience.
Overall I dig it. It was a nice rebound from the last Red Carpet Ale that I had from Socal.
Steve McShane
The Drunkards Call Podcast
Growler Radio Podcast
@ayemcshane on Twitter
@GrowlerRadio
www.inkandaudio.net
1,547 characters
3.59
/5
rDev
+5.9%
look: 4 | smell: 3.75 | taste: 3.5 | feel: 3.5 | overall: 3.5
SoCal Black Bear Porter is not bad...but not great either. The beer poured a nearly opaque dark with foamy ecru head that is leaving some lace. The scent had earthy and coffee tones. The taste was leaning more towards a watery coffee and did not have a creaminess about it that I like from porters. The mouthfeel was lighter in body with decent carbonation. Overall it is ok and worth a try....but not in my top list of porters.
428 characters

3.61
/5
rDev
+6.5%
look: 4.5 | smell: 3.5 | taste: 3.5 | feel: 4 | overall: 3.5
Appearance – A super dark ruby red black, with a huge creamy head and great lacing.
Smell – Kind of a hoppy bitter smell. Roasted malts, a hint of chocolate and coffee, and a light peppery spice.
Taste – A hoppy, somewhat bitter porter with roasted malts. A lingering bitter aftertaste.
Mouthfeel – Somewhat thin, but silky. A good medium carbonation level.
Drinkability – This was easy drinking as it was only 6.9%abv, but the slightly bitter aftertaste distracted from the overall drinkability.
510 characters
3.8
/5
rDev
+12.1%
look: 4 | smell: 4 | taste: 3.5 | feel: 4 | overall: 4
Pours an opaque black color. The head is one-finger in height, off-white, and recedes into thin white lacing. The aroma is of chocolate, roasted malt, and more chocolate. The taste is a balance between roasted malt and chocolate. but perhaps a bit skewed toward roastiness. The mouthfeel is medium bodied. Overall, this is one of the better porters out there.
359 characters
3.91
/5
rDev
+15.3%
look: 4.5 | smell: 3.5 | taste: 4 | feel: 4 | overall: 4
Pours a deep brown/ruby/black color with a good sized tan head and lacing. Nose is roasted malt up front with coffee/chocolate notes as well. Taste is sweet caramel malts initially with a nice coffee roast aftertaste. Medium bodied and good drinkability.
254 characters
4.12
/5
rDev
+21.5%
look: 4 | smell: 4.5 | taste: 4 | feel: 4 | overall: 4
Deep dark brown in color with a decent tan head. Strong aroma of roasted malts, chocolate, and some light espresso. Very strong flavor profile with the same roasted malt and chocolate characteristics. Almost had some alcohol notes to it. Medium bodied and robust with a light warming finish.
291 characters
Black Bear Porter from SoCal Beer Company
3.39
out of
5
based on
18
ratings.