Bierwerk Aardwolf
| Bierwerk Afrikan Ales Brewery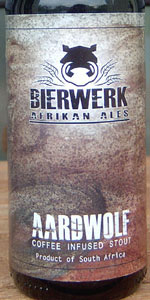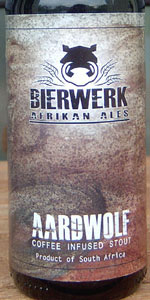 BEER INFO
Brewed by:
Bierwerk Afrikan Ales Brewery
South Africa
bierwerk.com
Style:
Milk / Sweet Stout
Alcohol by volume (ABV):
8.50%
Availability:
Year-round
Notes / Commercial Description:
No notes at this time.
Added by GONZALOYANNA on 05-03-2011
HISTOGRAM
Ratings: 7 | Reviews: 5
Reviews by SmashPants:

4.01
/5
rDev
+0.8%
look: 4.5 | smell: 3.5 | taste: 4.25 | feel: 4 | overall: 4
Bottle: very dark brown 300mL bottle with a very home-made looking label.
Update: looks like the beer we had at the tasting was from the ordinary bottle and didn't show the full detail of the beer. It is actually Aardwolf, a Coffee Infused Stout, which actually has a pretty funky label.
Appearance: pours out black with a frothy tan head. Head drops to a thick and creamy one-finger with great retention but minimal, sporadic lacing. Looks fantastic.
Aroma: stronger on the nose than most stouts, this example offers sharp coffee and those molasses characters noted on the bottle. Something savoury in the background too - possibly a hint of spice and earth notes? Good without being great.
Taste: the coffee is there along with some heavy chocolate and again more floral and herbal spices. There are some berries and stone fruits along for the ride. Smooth and rich.
Aftertaste: leaves a lasting impression with that sweet creaminess hanging on for a while. Very nice.
Mouth feel: moderate in body yet smooth and creamy. Light to medium carbonation helps this one slide down easy.
Overall: this is the first beer I have had out of Africa. I would have assumed that African beers would have been akin to Australasian lager - high carbonation, light-bodied lager for the hot climate. What I was not expecting was a stout rich and complex in flavour, creamy in body with a fantastic drinkability. The price is a bit restrictive, but it's well worth it for one every now and then.
1,485 characters
More User Reviews:
3.56
/5
rDev
-10.6%
look: 4 | smell: 3 | taste: 3.5 | feel: 4 | overall: 4
Appearance: A thin mocha-coloured head on an opaque black body. Some lacing.
Smell: Not much - roasted malt; a tiny amount of vanilla; raw bread dough; and some alcohol.
Taste: Burnt coffee notes, of the variety you'd taste after leaving the pot on for too long; tiny amount of vanilla; roasted malt; and some alcohol. It's fairly astringent.
Mouthfeel: Surprisingly thick for an 8.5% beer. Southern Tier could learn a thing or two from these guys.
Overall: An uncomplicated beer, more like an export stout than a milk/imperial stout, but I enjoyed it and more to the point enjoyed trying something from South Africa's bourgeoning craft beer scene.
657 characters
3.58
/5
rDev
-10.1%
look: 4 | smell: 3.5 | taste: 3.5 | feel: 4 | overall: 3.5
Pours black with a tan head.
Nose shows heavy roasted malt, cocoa, big coffee notes, woody characters and booze. A bit aggressively roasted.
Similar flavours. Very heavy roast with some coffee in the background and some smokey notes.
Nice creamy carbonation.
258 characters


3.65
/5
rDev
-8.3%
look: 4 | smell: 4 | taste: 3.5 | feel: 3.5 | overall: 3.5
Enjoyed on 04/19/11 in an Oversized glass. Pure black opaque body. Beige foam with small bubbles. Thick layer & lasting crown, lacing rings too. Toasted malts, chocolate, fresh coffee grains & hop aromas. Dry nut & chocolate note tasting. Sweet bitterness & coffee palate.Coffee flavor last on the aftertaste. Full body for a not extremely high ABV beer. A little fat & excessive coffee hints but could be ok in cold weather.
425 characters

4.04
/5
rDev
+1.5%
look: 4 | smell: 3.75 | taste: 4.25 | feel: 4 | overall: 4
340ml dark green bottle purchased from Slowbeer. This is my fourth South African beer: incidentally, one of the other was called "Slow Beer". Cosmic.
Pours a oily brown-black, with a fine, bubble-pocked head of yellowish mocha. Lacing is very fine, but minimal. Body looks relatively light, considering, but it holds some lovely fine carbonation when tilted. There's something a bit cartoonish about the big bubbles pocking the and the spots of lace. But really, it looks pretty good.
Nose initially has a savoury, salty, pickled twang to it: kalamata olives and anchovies. Once swirled, the coffee comes through more strongly, along with a deep, oily roast character. There's a sharpness from the coffee, but it's kept grounded by a pretty decent roasty sweetness as well. It's not mind-blowing, but it's pretty decent.
Taste is smooth and dark, with a pleasant dark chocolate richness at the base, layered with coffee-bean roastiness and a silky but ephemeral top coat. Some faint metallic or mineral characters come through on the back, along with some marzipan and sunflower seed. There's almost a slight red-fruit character to it as well: dark cherries or bruised raspberries. It's very pleasant.
Feel is smooth but light: it's the flavours which make it stick around for as long as it does.
Overall, I'm impressed. This is smooth, rich and drinkable stuff, with lots of flavour and complexity balanced and structured together well. It has a smoothness and a benignity that makes it cozy and approachable. Easily the best South African beer I've had to date.
1,568 characters
Bierwerk Aardwolf from Bierwerk Afrikan Ales Brewery
Beer rating:
3.98
out of
5
with
7
ratings