Axe Edge
| Buxton Brewery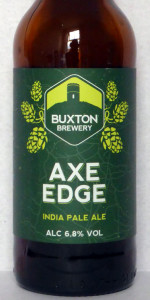 BEER INFO
Brewed by:
Buxton Brewery
England
,
United Kingdom
buxtonrealale.co.uk
Style:
American IPA
Alcohol by volume (ABV):
6.80%
Availability:
Year-round
Notes / Commercial Description:
No notes at this time.
Added by AgentMunky on 05-11-2011
Reviews: 14 | Ratings: 75

3.96
/5
rDev
+0.3%
look: 4.25 | smell: 3.75 | taste: 4 | feel: 4 | overall: 4
On tap at les berthoms in Grenoble. Good Ipa with a big bitterness. Citrus flavor. A bit sweet but balanced. It's a bold beer but nothing over the top
150 characters

4.18
/5
rDev
+5.8%
look: 4 | smell: 4 | taste: 4.25 | feel: 4.25 | overall: 4.25
A 330ml bottle brought from locally brought from Dunnels. Pours a hazy amber colour, with medium creamy white head and leaves lacing. Aromas is of mandarin, grapefruit, cereal, spicy hops with some floral and bready aromas. The taste has much of the same but also a malty caramel side followed by a spicy hopped bitterness in the finish.
338 characters

3.88
/5
rDev
-1.8%
look: 4 | smell: 4 | taste: 3.75 | feel: 4.25 | overall: 3.75
330ml bottle served in a shaker pint. Bottled 15FEB16; BB 15NOV16 indicated on the label. Pours a dull straw gold with a slightly hazy clarity and a half inch off-white head that eventually settles into a tight 1/8th inch cap. Swaths and slashes of lacing are revealed during the tasting. Nice nose - delicate floral and citrus notes. Taste consistent with nose with the addition of pith, a light biscuity quality and a slight medicinal presence at the finish. Mouthfeel is light-medium in body with a carbonation just shy of crisp and a light acidity. Overall, a pretty nice beer.
588 characters

3.85
/5
rDev
-2.5%
look: 3.75 | smell: 3.75 | taste: 4 | feel: 3.25 | overall: 4
Pours a rich, amber colour. Smells of citrus hops and faint malts. Slight sweet taste, balanced hops and malts, hints of citrus, earthy notes at the end. Quite balanced and crisp.
**Had it on draught and cask.
210 characters

4.49
/5
rDev
+13.7%
look: 4.25 | smell: 4.5 | taste: 4.5 | feel: 4.5 | overall: 4.5
dark yellow clear colour, small off-white head. strong smell of pines, grapefruit zest, grass, oranges. full body, soft carbonation, slick mouthfeel. tastes citric, grapefruit zest, oranges, light sweetness, pines, lightly soapy, herbs. finishes with herbs and grapefruit notes. very nice, good balance.
303 characters

4.09
/5
rDev
+3.5%
look: 4 | smell: 4.25 | taste: 4 | feel: 4.25 | overall: 4
Bottled and possibly bottle conditioned
Pours a golden body with big foaming white head that stays
A great beer & surely a benchmark for flavour & quality
158 characters
3.92
/5
rDev
-0.8%
look: 4 | smell: 3.75 | taste: 4 | feel: 3.75 | overall: 4
Murky chestnut with meringue white froth that rims and speckles.
Juicy melon, papaya, and orange nose with a touch of yeast and maybe acetone.
Brown scone and apricot compote with Midori, gooseberry, and kumquat hops.
Lime zest + sorbet end and twinkly linger.
Soft, medium, chewy, creamy.
Some jumping fruit flavors that are actually new to me - don't think I've had Amarillo, Citra and Nelson Sauvin in combination before. Still, not as bright and crisp as I expected. Malts get noticed, and it's a bit underattenuated, so comes across with a real ale buzz about it (from bottle conditioning, no doubt.) And the IBUs are on the low side.
A round and gentle tropical fruit IPA.
685 characters
3.59
/5
rDev
-9.1%
look: 4 | smell: 3.75 | taste: 3.5 | feel: 3.5 | overall: 3.5
Teku glass.
A: Straw yellow/light orange, hazy with big white medium lastin head. Good lacing.
S: Tropical fruits aroma (passion fruit, mango), sweet citrus hoppy aroma (mainly orange), some low pine and grassy aroma - mainly in the background, also noticable quite big malt backbone - caramel, bread, low biscuit;
T: moderate bitterness - noticable some pine, grassy and light herbal flavours, bitterness is moderate and not too long, it's well balanced with sweetness and malty character. Definetely dry and bitter finish.
M: dry beer, medium body, medium carbonation, light alcohol warming
O: Nice beer, but there are lots of nice beers. There's not too much bitterness as for DIPA, the bitter character is also quite short. Amarillo hops are noticable by it's indirect sweet charcter - in this case it should be balanced with some bitter hops. Nelson Sauvin adds refreshing and dry character. Aroma is definetely better than the taste. What I like is this is really refreshing and drinkable beer.
1,001 characters

3.62
/5
rDev
-8.4%
look: 3.5 | smell: 4 | taste: 3.5 | feel: 3.5 | overall: 3.5
Bottle: a standard 330mL brown bottle with a standard macro label. Purchased from Leura Cellars.
Appearance: pours a hazy amber orange with only the slightest fine carbonation visible. A small white head slowly drops away, leaving a solid lace.
Aroma: a decent aroma of earth and pine hops with some fruit backing. Very enticing.
Taste: virtually the same as the aroma but a bit more moderate. Mostly hops, the fruit fades away a bit. Still quite refreshing.
Aftertaste: the finish comes through a bit dry, still with the pine hops.
Mouth feel: a lighter body with slightly more than moderate, spritzy carbonation.
Overall: a refreshing IPA with all the normal fruit and pine hop characteristics. The only problem being that for AU$130 a case of 24 x 330mL (2014), this is nowhere near worth it. It is a nice IPA, but no better than others for half the price.
865 characters
3.71
/5
rDev
-6.1%
look: 3 | smell: 3.75 | taste: 3.75 | feel: 3.75 | overall: 3.75
330ml brown bottle purchased from Beer Cartel in Sydney.
Pours a slightly dirty orange colour, with persistent haze and an off-white head of messy bubbles that don't persist as much more than a film. Nice, light speckled lace in places. Body is light. Overall, it's a bit underwhelming.
Nose is pleasant. Bright US hop characters of sweet citrus tinged with a resiny pine fragrance. It has a pleasant bright woody tone to it for the most part: the fruit characters manage to come through when it's swirled, but the sharper perfume characters are dominant when it's just sitting.
Taste is extremely odd, or at least moderately odd. For the most part, it seems quite a pleasant standard IPA, with a clean bit of hops on the front backed by some slid, neutral malt. But on the back, a distinct smokiness comes through—I'm sure I'm not imagining it. It mingles with the hops to provide a strange metallic magnesium character, and it lingers as a dark undertone in the aftertaste. It's very strange.
Feel is good. Light, but with a slight tingle.
Overall, I'm a little confused, but it's pleasant enough. It is not, however, a good example of a pure, straight IPA. Even if it's not smoke, the palate goes in very strange directions. They're not unpleasant, they're just a little baffling.
1,290 characters
3.91
/5
rDev
-1%
look: 2.5 | smell: 4 | taste: 4 | feel: 4 | overall: 4
Awesome unique beer. Full of citrus fruits, pineapple and a little mango. Dangerously easy to drink with good level of carbonation for english bottle conditioned ale. Not much in the way of malts, but this in no way takes anything away from the beer.
Over all a very good beer thats only let down by the clarity.
313 characters

4.44
/5
rDev
+12.4%
look: 3.5 | smell: 4.5 | taste: 4.5 | feel: 4.5 | overall: 4.5
Pours a cloudy and sedimenty-orange.
Smell is like a handful of those mixed fruit lollies crossed with a big dollop of pine. Lots of citrus fruits here. And bananas somehow too.
Taste has lots of citrus. Just really vibrant flavours. Mangoes, bunches of pungent fruit. Almost Surly-esque, but possibly better.
Mouthfeel carries more orchard-y flavours.
It's amazing how many fresh, fruity flavours are featured here. Reminds me of my first brush with Saison Dupont. Buxton just made US brewing its bitch.
508 characters
3.84
/5
rDev
-2.8%
look: 3 | smell: 4 | taste: 4 | feel: 3 | overall: 4
Pours hazy amber with a small head.
Aroma of tropical fruit, floral notes, pineapple, spicy hops and sweet clean malt.
Very fruity flavours; pineapple, passion fruit, floral notes, low malt. Assertive but balanced bitterness.
Needs more carbonation.
250 characters
3.92
/5
rDev
-0.8%
look: 4 | smell: 4.5 | taste: 4 | feel: 3 | overall: 3.5
Poured from a half-litre bottle into a cervoise glass. Best before March 2012.
A: Virtually no head, despite a vigorous pour. The light bubbles floating on top are a shocking white. The centre of the beer is dark orange-brown and cloudy-opaque. The edges are clearer and yellowish. Slight lacing.
S: Very strong and fruity. Passion fruit, guava, ruby grapefruit. Some hops with hints of pine needles. All in all, lovely.
T: The tropical fruit is present here as well, and it's a bid odd. Round and a bit flat, but smooth and fruity before the hops kick in and muddy the waters. The finish is fine, and I like the beer.
M: The flatness is rather disappointing. Not a lot going on here.
O: Overall, a worthy beer. Perhaps the fruitiest -- and so tropical! -- double IPA I've come across. I wouldn't go out of your way to buy it, but you wouldn't be amiss if you did.
Notes: "Our full flavoured, strong India Pale Ale. Now hopped with Amarillo, Citra and Nelson Sauvin. This beer has a pale straw-amber body, and pours with a full creamy head. Its complex flavours include mandarin orange, schnapps, pineapple, and juicy tropical fruits. It is warmingly alcoholic with a dry finish."
1,198 characters
Axe Edge from Buxton Brewery
3.95
out of
5
based on
75
ratings.