Black Rocks
| Buxton Brewery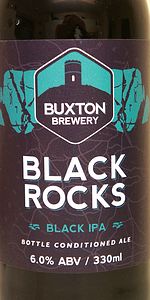 BEER INFO
Brewed by:
Buxton Brewery
England
,
United Kingdom
buxtonrealale.co.uk
Style:
American Black Ale
Alcohol by volume (ABV):
5.50%
Availability:
Year-round
Notes / Commercial Description:
No notes at this time.
Added by danieelol on 05-17-2013
Reviews: 9 | Ratings: 17

3.09
/5
rDev
-17.8%
look: 4.5 | smell: 3 | taste: 3 | feel: 3 | overall: 3
On-tap. Shaker glass @ Freiburg (Barcelona). Black color & tan head. Creamy & rocky foam. Roasted, burnt & caramel malt aromas. Roasted, sweet & creamy upfront swept it out by sharp bitterness. Medium to light body. Moderate carbonation. Oily to watery texture. Bitter & burnt touches in the middle but cloying sweetness is felt as well. Licorice hues in a long finish. Slight citric & piney aftertaste. Hops & malts could be better balanced since I can´t feel my tongue!!
473 characters

3.59
/5
rDev
-4.5%
look: 4 | smell: 3 | taste: 3.75 | feel: 3.75 | overall: 3.75
330ml poured into half pint
L - black, pale brown creamy head, about 2cm thick, good retention, trace of sediment at bottom of glass.
S - subtle aromas. roasted malt and citrus (mandarin), with a faint hint of coffee
T - light roasted malts upfront, some berry flavours (blueberry and blackcurrent) in the middle. Herbs (mint and lime leaves), orange peel and a tangy bitterness at the end
F - hard texture - noted hint of minerals, medium bodied, dry finish
O - good effort, not as watery as some of the other Buxton beers Ive had. More on the IPA side - the roast malts/coffee/dark fruits are very muted.
618 characters

3.66
/5
rDev
-2.7%
look: 3.5 | smell: 3.75 | taste: 3.75 | feel: 3.5 | overall: 3.5
From Jims. Bottled May 13.
Had a couple of these now, (review sample faded more than previous bottle) and have to say that it's well made beer, but well in the style of what might be called the New Wave of English Brewers. So take a Big US-made Black Ale, and just knock the edge of it so it is more drinkable and less in your face. Nice roasts, little choc tho.
Yes it's hoppy, no it's not a Hoppy Stout, but why on earth are most of the hads and all of the reviews so far on here from Aussies?
497 characters

3.78
/5
rDev
+0.5%
look: 3.75 | smell: 3.75 | taste: 3.75 | feel: 4 | overall: 3.75
Appearance: dark brown, or almost black with a medium sized tan head that stays very long. Nice lacing. I don't like the sediment floating in the glass throughout drinking.
Aroma: not very intense, with hints of roastiness and tropical fruits. Imperial Black from Buxton had much better aroma than this one.
Taste: I'm not sure, but I think something's wrong here. This doesn't taste like an american black ale. It lacks the hoppiness, instead there's a lot of roastiness and coffee plus that burnt aftertaste plus medium but lasting and rather unpleasant bitterness. Dry finish.
Mouthfeel: medium bodied, low carbonation.
Overall: not a bad beer, but I guess this wasn't the best batch. Bottled on 7-01-2014. Well, I'll try this one again, but not any time soon.
767 characters

3.8
/5
rDev
+1.1%
look: 4.25 | smell: 3.5 | taste: 4 | feel: 3 | overall: 4
Pours a dark-brown, almost black.
Very light, fruity-hops smell with a slight roastedness to it. Very subtle for a black IPA.
Slightly sweet and fruity up front with a bit of citrus and hops. the roasted malts and hints of coffee come in very faintly in the background. There is a medium amount of bitterness.
It is a very balanced, smooth, and drinkable beer.
Would I buy it again? Probably
395 characters
3.84
/5
rDev
+2.1%
look: 4 | smell: 3.75 | taste: 3.75 | feel: 4 | overall: 4
Coming in a 330ml brown bottle, bottle-conditioned; at 6.0%abv., bottled on 07/01/2014, served mildly-chilled in a straight pint glass.
A: pitch black in colour, coming with a lively but not fierce level of carbonation and a 1cm-thick light khaki frothy head lasting throughout the drink.
S: the aroma is rather deep and not too pronounced in terms of roastiness, coupled with a lean touch of black cherry-ish sour fruitiness; a swirl brings up guava-ish hops, black sugar, light toastiness, prune-ish and a little damp mouldy notes.
T: nicely carbonated and smooth on the entry, the bitter-sweetness of toasted malts develops upfront immediately with notes of burned nuts dragging a touch of tobacco also, while the "New Zealand" hops (the label doesn't specify which variety) render a deep bitterness to linger as well as a gently prune-ish acidic fruitiness to boot. The finish is mildly chewy, featuring roastiness and hop bitterness in a harmony, on a rather decent level of attenuation, too.
M&O: softly carbonated, medium-bodied, a well-executed bitter black ale featuring gentle fruity hoppiness and an assertive bitterness of depth. Not a very hoppy take on the style, nevertheless a thirst-quenching one.
1,221 characters
3.9
/5
rDev
+3.7%
look: 4 | smell: 4 | taste: 3.75 | feel: 4 | overall: 4
Pours black with a large lasting head.
Nose shows roasted malt, resinous hops, pine and fruit confectionery.
Cocoa and roasted malt as flavours along with more of the confectionery. Some pine too. Finishes with a strong hoppy bitterness.
Nice creamy carbonation works well.
273 characters

4
/5
rDev
+6.4%
look: 4 | smell: 4 | taste: 4 | feel: 4 | overall: 4
Pours a black, slightly brown with good head and fantastic lacing. Some sediment.
Smell features strong pine, mango and tropical fruits and a bit of brown ale/roasty character. Some crystal malts.
Taste features more brown ale notes and a general tropical hop flavour.
Mouthfeel has a lot of tropical fruits and does finish with a lot of roast and astringency
A well-assembled beer like all of Buxton's offerings and definitely brings the hops. I do not think I have had another brewer's beers who are so hoppy and consistent.
538 characters
4.09
/5
rDev
+8.8%
look: 4 | smell: 4.25 | taste: 4 | feel: 3.75 | overall: 4.25
Muddy black with stouty, lumpy, beige head.
Pink grapefruit, spearmint leaf, papaya nose – light and fruity.
Light black rye notes then lime, starfruit, and evergreen hops.
Slight charred hit to end and ringing bitter linger.
Lt-med, some cling, oily and dry.
The hoppy "black only" end of the ABA scale; no coffee or chocolate here. A bit thin, and the aroma is even a bit delicate to cut through the touch of roast. But lovely light citrus notes and good IBUs.
473 characters
Black Rocks from Buxton Brewery
3.76
out of
5
based on
17
ratings.