Shumensko Wymehcko
| Shumensko Pivo (Carlsberg)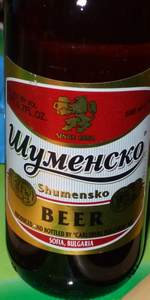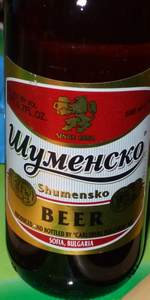 BEER INFO
Brewed by:
Shumensko Pivo (Carlsberg)
Bulgaria
Style:
Euro Pale Lager
Alcohol by volume (ABV):
4.20%
Availability:
Year-round
Notes / Commercial Description:
No notes at this time.
Added by mikesgroove on 12-30-2007
This beer is retired; no longer brewed.
HISTOGRAM
Ratings: 8 | Reviews: 2
Reviews by Jeriba:

2.9
/5
rDev
+4.7%
look: 3 | smell: 3 | taste: 3 | feel: 3 | overall: 2.5
Sampled as part of an informal beer tasting with a few friends, including a hardcore BMC drinker.
A: Yellow gold "pee color."
S: Slightly yeasty, wth a very faint, almost meady sweetness. That's probably corn I'm smelling.
T: Mild honey sweetness, bready. Not much in the way of flavor to speak of.
M: Thin and fizzy, just like any other thin, fizzy beer.
D: Good for a fast buzz, if you're into that sort of thing, but I had my fill after one sample (in fact, I passed the rest of my sample on to the Bulgarian guy who picked this one up for our sample party purely out of nostalgia).
BMC guys says: "It looks like a regular beer!!"
639 characters
More User Reviews:

2.49
/5
rDev
-10.1%
look: 2.25 | smell: 2 | taste: 2.75 | feel: 2.75 | overall: 2.5

2.57
/5
rDev
-7.2%
look: 3 | smell: 2.25 | taste: 2.5 | feel: 3.5 | overall: 2.5
2.5
/5
rDev
-9.7%
look: 2 | smell: 2 | taste: 2.5 | feel: 3 | overall: 3
500ml Bottle with no apparent dating on it poured into a Pint Glass and served right out of the fridge
A - Poured a very clear and very very plae yellow with lots of carbonation streaming up from the bottom and nestling into the top layer with just a small one finger high head of fizzy white foam that faded very quickly and left behind essentially nothing but a dull straw colored liquid. No side glass presentation.
S - None, literally no smell to it at first. Thtas the first real thing I noticed, or didn't notice for that matter. When I was finally able to pick something up it was just some light grassy wheat and maybe corn like aromas, nothing special here at all.
T - The flavor was dull and bland, your classic macro lager. Light flavor of wheat or grain with the corn or rice like flavor we all know and just really cannot stand. No real balance to this as it was so dull I could not find any. Finish was just thin and light with nothing else coming out of it.
M - Very very light bodied ale. Lots of carbonation in it just more or less made it a fizzy light liquid. Again nothing really great here, just an average pale lager.
D - I put this one down fast, as I was afraid what would happen if it warmed. The flavor was far from alright, just bland, with literally no alcohol and a super lightt body, this one could easily be put down in quantity if you could stand the lack of flavor.
Overall I will pass on this one and quickly if I ever see it again. The only reason I picked it up was because I had never seen it before and had not seen it on BA either. But I guess there was a good reason for that as this was really forgettable. Don't waste your time here, move onto something else.
1,719 characters

2.21
/5
rDev
-20.2%
look: 3.5 | smell: 2.5 | taste: 2 | feel: 2 | overall: 2

2.51
/5
rDev
-9.4%
look: 3.5 | smell: 2.5 | taste: 2.5 | feel: 2.5 | overall: 2.25

Shumensko Wymehcko from Shumensko Pivo (Carlsberg)
Beer rating:
2.77
out of
5
with
8
ratings