Jack Russell Jack's London Porter
| Jack Russell Brewing Company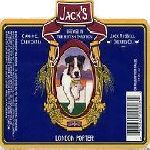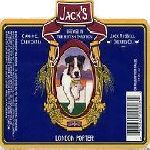 BEER INFO
Brewed by:
Jack Russell Brewing Company
California
,
United States
jackrussellbrewing.com
Style:
English Porter
Alcohol by volume (ABV):
5.00%
Availability:
Rotating
Notes / Commercial Description:
No notes at this time.
Added by Gusler on 05-27-2003
HISTOGRAM
Ratings: 11 | Reviews: 10
3.34
/5
rDev
-14.6%
look: 3.5 | smell: 4.5 | taste: 3 | feel: 2.5 | overall: 3
Pours a dark brown to black without being opaque or super-thick looking. Short brown head falls off to a thin film. Laces in a haphazard and sticky way. Smells of nice evenly roasted chocolate malt...a deep, comforting aroma that reminds me of fireplaces and dark bread. Flavor is less exciting than the aroma. Chocolatey and slightly fruity flavor that transitions quickly into a deep toasted, even mildly burnt or blackened deepness. This lingers and mixes with an odd alcohol sourness than gets a little overbearing. Mouthfeel is a bit watery, which doesn't help. Drinks ok, but nothing special.
598 characters
3.58
/5
rDev
-8.4%
look: 4 | smell: 3.5 | taste: 3.5 | feel: 3 | overall: 4
Pours a dark brown, fairly transparent, but with a finger of creamy foam on top.
Aroma is vaguely sweet, malty, with a fair amount of chocolate and Folgers going on. A bit of rootlike earthiness is in there too.
Dry, bitter bakers chocolate, black patent malt, and earthy roast/slight char in the aftertaste. Fairly dry, but not overly so. The mouthfeel suffers from a thin body, and a watery consistency. There is a low level astringency as well. It could use a bit more body and creaminess. Easy to drink, 1-2 at a time would be no problem. Not bad overall, this was the better BOTM selection this month.
610 characters
3.78
/5
rDev
-3.3%
look: 2 | smell: 4 | taste: 4 | feel: 3 | overall: 4
Pours a dark brown muddied color, there are some floaters, and a non existent head. Doesn't look very appealing...
Ah... this smells nice. Makes up a bit from the ugly look. This smells of cocoa, dark bitter bakers chocolate, as well as some ground coffee.
Taste is fairly light for a porter. Some cola flavors, roasted malts, nuts, coffee, and a slightly sweet creaminess. Finish is fleeting, with a crisp feel, and a slight hint of of bitter hops.
Mouthfeel is not bad, but too thin for my liking. It fades, and feels kind of watered down.
Drinkability is good. This beer has some flaws, but the low alcohol, and above average flavors make this a decent beer that would not be a bad one to session.
705 characters
3.89
/5
rDev
-0.5%
look: 3.5 | smell: 4.5 | taste: 3.5 | feel: 4 | overall: 4
Classic, near-black body with only slightly reddish edges. Far too little head for my taste, however.
That smells stupid good. Roasted malt and coffee are there for a moment but, damn, if they don't get swallowed whole my a monster chocolate aroma. Enticing to say the least...
Solid. Aforementioned chocolate is barely discernible on the palate although plenty of roasted malt with nutty notes round things out. This should score higher although an off-burnt bitterness lingers longer than it should. Get that under control and we're talking about a serious English porter.
Regardless, this is certainly a viable candidate for sessioning as the body isn't heavier than normal and the flavor, while not perfect, is plenty agreeable to this porter fan.
754 characters
3.9
/5
rDev
-0.3%
look: 3.5 | smell: 4 | taste: 4 | feel: 3.75 | overall: 3.75
The experience at the brewery was great with live music in the hills of Camino during Apple Hill season in California. It is a great place to go with the family. So for me, this isn't the best beer, but good for the occasion.
225 characters

3.97
/5
rDev
+1.5%
look: 3.5 | smell: 4 | taste: 4 | feel: 4 | overall: 4
Pours a deep brown, smell is a very sweet malt, kind of nutty. Taste was very good, smooth malts carry you to the finish, not a lot of hop taste, but an overall very drinkable beer compared to it's euro cousins. Support your local beers, these guys are small but getting out there.
281 characters
4
/5
rDev
+2.3%
look: 4 | smell: 4 | taste: 4 | feel: 4 | overall: 4
Enjoyed a 10-oz half-pint from the tap at the brewery. The brewery is a small building in rural Camino, CA (off of Route 50 on the way from Sacramento to South Lake Tahoe at about the 3,000 foot level, where pines outnumber oaks). The brewery is in the "Apple Hill" area, in which 40+ apple/fruit growers have created quite a circuit of family farm-based businesses. I enjoyed this in the 60 degree sunshine on the large lawn outside of the brewery upon which many plastic lawn chairs and tables are strewn. The lawn is a pleasant place to relax with your own packed picnic lunch or after grabbing food at one of the "family farm" establishments nearby; the inside bar, attached to the productive part of the brewery, is tiny, but features a warm wood stove!
A: Dark brown, fully opaque.
S: Lots of deep chocolate here. Very pleasing.
T: Nestle Quik and Folgers? Toblerone and Seattle's Best? Hershey's Special Dark and Starbucks French Roast?
M: Huh? Maybe I should have another sip to see if I feel something this time.
D: Very. I am enjoying one right now from a 12-oz bottle purchased at the brewery during today's visit.
I highly recommend that you stop at the brewery if you've got an hour or so to sit out in the sunshine on the grassy lawn with blue sky and pines about you. Have a carmel apple from Denver Dan's, too.
1,332 characters
4.3
/5
rDev
+10%
look: 4.5 | smell: 4.5 | taste: 4.5 | feel: 3.5 | overall: 4
Part of a mixed 12-pack that I recently bought from the Jack Russell Brewing Co. I ordered it directly from their Website, the service was excellent, both packing & delivery was spot-on.
Jack's London Porter comes in a 12oz tall, thin neck bottle. It has just the one main obverse label, which has a dark blue background with an inverted golden horseshoe, atop which the words "Jack's - Brewed in the British Tradition" whilst a small Union Jack sits on the lower part of the horseshoe – both proudly & prominently displayed. Inside the horseshoe is a picture of a Jack Russell dog, a British favorite. No Freshness Date or Strength listed.
A fantastic, ebonious looking fluid that has deep mahogany traits when illuminated. I had only poured about 2 ounces when the rapidly expanding agitated beer filled my Pint Glass to the brim with a huge 7" deep thick brown foam plug that appeared to fill like the Glass as fast as a fart in a vacuum. The head was rocky and soon dissolved to a ½" covering – much more sensible. Once settled the carbonation exhibited was minimal. Look great.
The aromas include dark Bourneville chocolate, ground coffee beans, with a nutty caramel soaked in bitter-malt emulsion.
A slightly sour beginning moves to a bitter-sweet middle that has a chance to reveal the real roasted malts. Caramel and dark chocolates build in the latter third. The bitterness is rejoined by the sourness that attended the opening ceremony.
The body of the London Porter is surprisingly lucid, average to medium, yet it is strongly robust and astringent in the mouth. A clamping chocolate bitterness draws the cheeks.
Very drinkable, the sour-ish beginning and bitter-malt coffee ending with the chocolate dip – make this another fine imbibing partner from Jack Russell.
Overall: This is the 8th of 11 beers that I have from Jack Russell Brewing. Every one has impressed me, well maybe apart from the All American Lager, but even that was a quality offering and good – it was just a little light that's all.
Another Solid beer from Jack Russell, a Brewery that I think I am safe in saying (even though I'm only 2/3rds of the way through my beer JR selection) offers a non-nonsense quality range of well made beers. None of their beers have yet been a disappointment, and the London Porter is real pleasure to imbibe.
"Well mar olde currant bun: Larrndan Poortaah – itz sar Luvverlyee Jubblie, it mhaykz ma Jacobs tingle!"
2,470 characters
4.33
/5
rDev
+10.7%
look: 5 | smell: 4.5 | taste: 4.5 | feel: 3.5 | overall: 4
London Porter pours black, with a nice chocolate brown head and lace; the body is light to medium. The nose is chocolate and toasted grains with a hint of the hop flowers. The first taste is rich roasted malt, the middle is semi sweet and chocolatety, and the finish is hop spicy and slightly dry, with a lingering aftertaste. Somewhat more robust than most porters, with a relatively light body, the hops, black patent malts give a kick, which is very enjoyable. This beer is a Porter and Stout lovers dream, so if you have not had the pleasure, try it out you will be pleased.
578 characters
4.42
/5
rDev
+13%
look: 4 | smell: 4.5 | taste: 4.5 | feel: 4 | overall: 4.5
Poured from bottle(room temp) a pitch black with a nice brownish head of foam that dissipated fairly slowly leaving a fine layer with some lacing.
The smell is of roasted malt and it's quite strong.
The taste is also of roasted malt with a touch of oatmeal and..there's a bit of bitterness there that balances the flavours out nicely in the finish. This is one tasty Porter that deserves to be tried!
Bottom line: Another very tasty brew from the Jack Russell Brewing Company and a London Porter interpretation that, I think, compares very favourably to the Fullers. Get some!
585 characters
Jack Russell Jack's London Porter from Jack Russell Brewing Company
Beer rating:
3.91
out of
5
with
11
ratings