Duke's Dodgerhator
| Jack Russell Brewing Company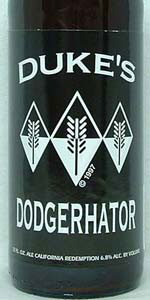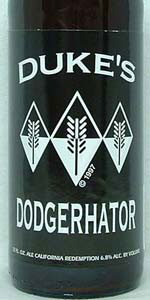 BEER INFO
Brewed by:
Jack Russell Brewing Company
California
,
United States
jackrussellbrewing.com
Style:
Weizenbock
Alcohol by volume (ABV):
6.80%
Availability:
Year-round
Notes / Commercial Description:
No notes at this time.
Added by GClarkage on 01-03-2005
HISTOGRAM
Ratings: 8 | Reviews: 6
Reviews by sloejams:

2.08
/5
rDev
-9.6%
look: 3 | smell: 2.5 | taste: 2 | feel: 2 | overall: 1.5
Easily the most ridiculous name for a beer I've had. I assumed this would be a doppelbock with the ____ator ending. WRONG.
Honestly, the beer is only slightly better than it's name. Murky brown color with a malty caramel taste with very grainy flavors. It has carbonation problems and somehow seemed to warm up much quicker than a regular ale - if possible.
Perhaps if this was Lakerhator (lol @ their misery, btw) I might enjoy this. Uh, no I wouldn't.
455 characters
More User Reviews:

2.18
/5
rDev
-5.2%
look: 3.5 | smell: 3 | taste: 2 | feel: 1.5 | overall: 1.5
Pours a cloudy dark gold beer with a skimpy head for the style.
Smell is wheat and fairly high amount of grain husk aroma. Sweet smelling this does rather smell like a regular bock beer. Little bit of almond and fruitiness are in this along with a fairly obvious alcohol aroma. Malt smell is slightly too strong for the style.
Taste is rather flat for the style. Taste is sweet and quite malty. Caramel flavors and a quite strong hop flavor that gives this a bit of lemon flavor. Strong hop flavor doesn't quite cover the raw alcohol taste and gives this a soapy after taste.
Mouthfeel is lousy, heavy but only due to an absence of carbonation or foam.
Extremely unimpressive beer. I guess I could drink the rest of the glass but I don't want to. A lousy beer I do not recommend.
792 characters
2.93
/5
rDev
+27.4%
look: 3.5 | smell: 3 | taste: 3 | feel: 3 | overall: 2.5
The beer pours a cloudy, ruddy amber with one finger of moderately lingering, slightly-of white head.
There's slight clove and rasin to the aroma, but not much else is working its way up...
Playful in the mouth, first slightly thick then finishing oddly dry, with the clove yeast elements acting slightly as real clove would, running slightly astringent around the edges. There's something odd in there, almost smokey... And almost some brett-like funk. The hops are lurking in the back, disguised, but definately playing a role in this odd production, thrusting through here and there with some earthy bitterness.
Overall, a damned weird beer. Don't know how closely it alligns to the style, but I remember other weizenbocks I've had being quite different. Not exactly a bad beer nor an unpleasant experience, but there's absolutely nothing to make me want to drink this beer again.
892 characters

2.3
/5
rDev 0%
look: 2.5 | smell: 2.5 | taste: 2 | feel: 2.5 | overall: 2.5
01/02/05- Purchased at Jackson's Wine and Spirit's in Lafayette, CA
Presentation- 12 oz bottle, with no expiration date. Poured into my Pike Brewery pint glass.
Appearance- Cloudy golden color, Small head that quickly dissipates. Absolutely no lacing.
Smell- Preservitives and fake fruits.
Taste- I thought I was drinking Buffalo Bills Orange Blossom Cream ale. I swear they just stole the beer and put a different label on it. Although it seems much nastier. Very artificial flavors. I'm even wondering if I got a bad stale bottle. Weizenbock???? That's what it says on the label.
Mouthfeel- Extremely carbonated and sour on the tongue.
Drinkability- This one is getting dumped after I finish this review. Making me a bit naucious.
750 characters
1.83
/5
rDev
-20.4%
look: 3 | smell: 2.5 | taste: 1.5 | feel: 2.5 | overall: 1
Appearance: Poured from a 12 oz bottlew ith a bright orange color and a thin white head. Very little head retention.
Smell: It smells like stale wheat bread with some sourness. It's kind of ripe in a bad way with offensive starchy odors.
Taste: It's citrusy like someone put lemonade mix in it. There's a strong flavor of wet bread and a starchy and weird vegetable flavor to it. The best way I can describe the flavor is that it tastes like greasy and salty hashbrowns that have been sitting under a heat lamp for a few days. It's nasty.
Mouthfeel: Very light bodied, starchy, and sticky in the mouth.
Drinkability: This is just some downright offensive shit. I bought it on a whim because I am a Giant's fan and therefore a hater of the Dodgers. I suspect this beer is made by a Dodger fan who is trying to kill off all of the Giants fans with this putrid mix. Weizenbock my ass. Stay away.
904 characters
2.37
/5
rDev
+3%
look: 1 | smell: 1.5 | taste: 2.5 | feel: 3.5 | overall: 3
Appearanace: looks like ****, that goes flat faster than budwieser. It's a dark gold. doesn't look appealing at all
smell: huh? old triskets and paint thinner
taste: actaully better than i thought it would be. not that good, but at least it's not a drain pour. tastes like a really bad american wheat, but it doesn't have any grossness. i have really low exceptations for this brewery so if i can finish one bottle that is better than most of their beers. theres' some sweetness.
mouthfeel: guess it's pretty good.
drinkability: finishable.
another not recomended from me, but it was ok. i'm very glad i didn't have to drain pour this. (i never drain pour beers but this brewery has made me do it twice this week from a sampler i got. this is the best one i've tried thus far.)
789 characters

Duke's Dodgerhator from Jack Russell Brewing Company
Beer rating:
2.3
out of
5
with
8
ratings