Jack Russell Jack's Olde Ale A Winter Warmer
| Jack Russell Brewing Company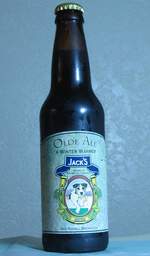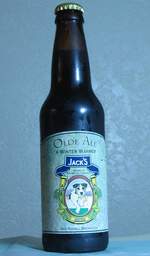 BEER INFO
Brewed by:
Jack Russell Brewing Company
California
,
United States
jackrussellbrewing.com
Style:
English Brown Ale
Alcohol by volume (ABV):
5.90%
Availability:
Winter
Notes / Commercial Description:
No notes at this time.
Added by BeerAdvocate on 03-04-2003
This beer is retired; no longer brewed.
HISTOGRAM
Ratings: 5 | Reviews: 5
Reviews by beerguy101:
2.28
/5
rDev
-37.2%
look: 3 | smell: 2.5 | taste: 2 | feel: 2 | overall: 2.5
Dark amber color. Small head. Aroma is malty and slightly spicy. A medium bodied ale. Malts are nutty and sweet. Slightly spicy, cinnamon and nutmeg. A very typical "inter warmer' beer, but there is a kind of cardboard flavor as well. Its more annoying than unpleasant, but it still shouldn't be there and detracts from the beer and cannot be recommended. Mouthfeel is full. Finish is clean and smooth. Aftertaste is slightly bitter.
436 characters
More User Reviews:
3.85
/5
rDev
+6.1%
look: 3.5 | smell: 3.5 | taste: 4 | feel: 4 | overall: 4
#9 of an 11 beer mixed 12-pack that I recently bought from the Jack Russell Brewing Co. I ordered it directly from their Website, the service was excellent, both packing & delivery was spot-on.
Comes in a 12oz tall, thin neck bottle. It has just the one main obverse label, which has a mottled gray background with an inverted golden horseshoe, which is smaller than on other JR labels. The words "Olde Ale A Winter Warmer - Jack's - Brewed in the British Tradition" are above whilst inside there is a picture of a Jack Russell dog. No Freshness Date, but this is listed as 5.9% ABV.
It poured out into the glass with a murky dark brown body. Not much of a head when poured, even less when it settles to a large bubbled tan mass. Back-lit the hazy beer gives off a dark orange-brown at the edges. Minimal carbonation, even when swirled in the glass. No lacing.
Malty aroma with some toffee, molasses, & a 'hot chocolate instant powder' hint in the back end. The nose improves in strength & character as the beer warms.
The initial tastes are of malt; then the beer takes a quick sour turn, but soon returns to a chocolate malt middle. The latter third has toffee, nuts & some bitter-chocolate also. What was really interesting is that the aftertaste really improves as this beer warms, so much so that sour dark fruits do come through in the back end – these were not there when I drank this beer chilled. Much improved when allowed to breathe/warm-up.
The body is quite light when chilled & builds to a more substantial above average offering as the beer warms & is allowed to coat the mouth. The dark fruit tastes & sour aspects linger in the mouth longer as the beer warms. The feel is very smooth, with a sour-bitter-dry ending.
Another one of those smooth, easy drinking beers that just slips down with little effort & even less resistance. The relatively low carbonation helps.
Overall: This ones needs to warm up a little to get the best from it, definitely a beer that suffers if served too chilled. This was the beer that I doubled up in my 11 variant mixed 12–pack. I served the 2nd one much warmer, the nose & flavors benefit from the higher temperatures. It lacks a bit of "punch", I feel this would have been better if they could click it up & increase the sour aspects a little. Still, no complaints really, this is yet another quality offering from Jack Russell.
2,408 characters
3.93
/5
rDev
+8.3%
look: 4 | smell: 3.5 | taste: 4 | feel: 4.5 | overall: 4
Pours a clear ruby/amber color with a medium sized tan head.
Roasted malt and lots of sweet red fruit and some spice in the nose.
Intensely flavored. Roasted malt, charred sweet red fruit, spices, chocolate and caramel. Finishes with a tangy hop bitterness and a lingering earthy aftertaste with nuances of tobacco and, believe it or not, something I can only describe as "chalk." Quite the smoky tasting beer. Different and certainly interesting.
Medium bodied with a full round mouthfeel and great soft carbonation.
Rich and packed with flavor. The char/smoke taste is almost a bit too much. Definitly worth a try.
620 characters
4.13
/5
rDev
+13.8%
look: 4.5 | smell: 4 | taste: 4 | feel: 4 | overall: 4.5
Hey this is way different from the Holiday Spiced Ale I had at 21st Amendment earlier today...
This beer pours a dark dark brown, almost black. When set against the light, it reveals itself as a dark red with brown tints. The head is a medium tan delicate foam that has super lasting power. Beautiful. Miniscule sediment at the bottom.
Aroma is faint noble hops, somewhat earthy, with a hint of chocolate. The flavor is full of chocolate, roasted grains, and I think molasses. I'm not good at picking up spices but I think there is a tiny amount. This fades to allow the chocolate to return. So smooth. Slightly dry finish is actually very clean. Medium bodied.
Overall: Lots of chocolate in a smooth as silk gorgeous beer. A real winner.
747 characters
3.97
/5
rDev
+9.4%
look: 3.5 | smell: 4 | taste: 4 | feel: 4 | overall: 4
appearance: pours a dark brown color with a minimal head.
smell: roasted chocolates and coffee. sweet and nutty.
taste: more sweet and nutty with a very slighty sourness. A beer you grow to like. Reminds me of a brown porter.
mouthfeel: medium
drinkability: goes down smooth and no doubt the best Jack Russell brew.
327 characters
Jack Russell Jack's Olde Ale A Winter Warmer from Jack Russell Brewing Company
Beer rating:
3.63
out of
5
with
5
ratings