Jack Russell Jack's Best Bitter Ale
| Jack Russell Brewing Company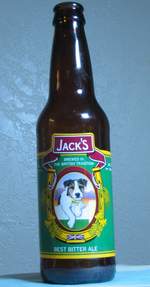 BEER INFO
Brewed by:
Jack Russell Brewing Company
California
,
United States
jackrussellbrewing.com
Style:
English Bitter
Alcohol by volume (ABV):
4.00%
Availability:
Year-round
Notes / Commercial Description:
No notes at this time.
Added by BeerAdvocate on 05-27-2003
This beer is retired; no longer brewed.
Ratings: 6 | Reviews: 6
Reviews by oggg:
3.97
/5
rDev
+8.8%
look: 3.5 | smell: 4 | taste: 4 | feel: 4 | overall: 4
This bottle appeared to have a thin stable layer of sediment at the bottom of the bottle that did not separate on pouring.
At the top of my curvy pilsener glass, this beer is a rich orange brown color that lightens to fuller orange at the bottom. The head is a weak big bubbled white topping. Aroma is slightly bready, with noble British hops, predominantly Challenger/Northdown, I think... not quite as floral as EKG. Mild carbonation level is good. Mild hop bitterness with full hop flavor. Somewhat sour tang similar to Magnolia Pub's best bitter, which they said was from Challenger/Northdown. Toasty maltiness. Smooth and light bodied. Alcohol not apparent. Finish is oily but modestly dry.
Overall: Very nice best bitter, well done, especially for a bottle serving. I think I like EKG/Fuggles more than Challenger/Northdown, though.
845 characters
More User Reviews:
3.5
/5
rDev
-4.1%
look: 3.5 | smell: 3.5 | taste: 3.5 | feel: 3.5 | overall: 3.5
The beer after dispensing from the 12-ounce brown bottle sets in the glass a golden amber color with a portly in size white semi-creamy head, and the lace a fine sealing sheet upon the glass. Nose is sweet malt, fresh and clean and the start slightly sweet with a nice malt profile, top is light to medium in its feel. Finish is moderate in acidity, the hops pertinent to the style with the aftertaste dry and a real nice drinking beer.
436 characters
3.62
/5
rDev
-0.8%
look: 3 | smell: 3.5 | taste: 4 | feel: 3 | overall: 3.5
The second bottle in a mixed 12-pack that I recently bought from the Jack Russell Brewing Co. I ordered it directly from their Website, the service was excellent, both packing & delivery was spot-on.
Jack's Best Bitter Ale comes in a 12oz tall, thin neck bottle. It has just the one main obverse label, which has a dark green background with an inverted golden horseshoe, atop which the words "Jack's - Brewed in the British Tradition" whilst a small Union Jack sits on the lower part of the horseshoe – both proudly & prominently displayed. Inside the horseshoe is a picture of a Jack Russell dog, a British favorite. No Freshness Date or Strength listed on the label.
It poured with a golden amber colored body, held to the light it has a slight haze, akin to a protein haze that I experienced in Cask beers in the UK. The head is off-white and rather restrained, it soon settles to a large bubbled mass that covers the whole of the beers surface like a perforated tan disc, but stays. Decent conditioning when swirled. Minimal lacing.
The aroma is of fresh pale malts with a dew laden grass-stained hop field odor. Some yeast is detectable in the back end. Has a very fresh nose.
The initial taste is of a grass stained malt tea bag. Pale malts are intermingled with a delicate fresh grassy hopping that has a mild spicy tingle in the back end. The finish does not exactly linger, but it exhibits a bitterness, that is still detectable even after a few swallows. Plenty of taste for the strength.
Another refreshing offering that has a body that belies its low gravity and borders close to medium. This beer is only 4.0% ABV (see W/Site), and as such, the mouthfeel that it portrays is still quite impressive - just right for this style.
The perfect strength for a Bitter Ale, this was one of those laid back beers that just disappeared given time. An easy drinking, tasty beer, that was a pleasure to have on my desk, albeit for a short while. The low carbonation, light body and fresh hop tastes lend drinkability. Easily quaffed.
Overall: Another quality offering from Jack Russell. British Bitter Ales rarely venture above 4.0% and present a challenge at the best of times. Yet Jack Russell have tackled this difficult style and succeeded in my opinion. Enjoyable.
"Nice One Chaps!"
2,319 characters
3.32
/5
rDev
-9%
look: 3 | smell: 3.5 | taste: 3.5 | feel: 3 | overall: 3
Medium amber brown color, Medium head. Aroma is malty and a touch floral. A medium bodied "bitter". Malts are mild and nutty. Hops are citrusy, floral and bitter. A mild version of the classic English bitter. Very drinkable. It is somewhat over-carbonated. Mouthfeel is full and round. Finish is clean and smooth. Aftertaste is bitter.
335 characters
3.33
/5
rDev
-8.8%
look: 3.5 | smell: 3 | taste: 3.5 | feel: 3 | overall: 3.5
Pours a light copper color with a medium sized faded beige head.
Smells of toasted malt and a bit of caramel.
Tastes of lightly bready sweet malt, tea and finishes with a grassy hop bite.
Thin body and a weak, overly carbonated mouthfeel.
Nothing to write home about, but not horrible either.
296 characters
4.18
/5
rDev
+14.5%
look: 4 | smell: 3.5 | taste: 4.5 | feel: 4 | overall: 4.5
Poured from bottle(room temp) a cloudy medium gold with a fairly large head of foam that dissipated slowly leaving a fine layer with some lacing.
The smell has malty and earthy tones to it.
The taste is is a nice mix of sweet malt and hop bitterness with an earthy biscuity goodness in the background. This is yummy! And...at just 4%abv, I think it's a prime example of how a beer doesn't need a ton of alcoholic content to make it a great tasting beer. Well done, Jack Russell Brewing!
493 characters
Jack Russell Jack's Best Bitter Ale from Jack Russell Brewing Company
3.65
out of
5
based on
6
ratings.