Jack Russell All American Premium Lager
| Jack Russell Brewing Company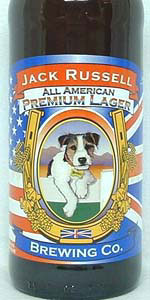 BEER INFO
Brewed by:
Jack Russell Brewing Company
California
,
United States
jackrussellbrewing.com
Style:
American Adjunct Lager
Alcohol by volume (ABV):
5.50%
Availability:
Year-round
Notes / Commercial Description:
No notes at this time.
Added by BeerAdvocate on 07-22-2003
Ratings: 8 | Reviews: 6
Reviews by beerguy101:
3
/5
rDev
+2.7%
look: 3 | smell: 3 | taste: 3 | feel: 3 | overall: 3
Very pale gold color. Small head. Aroma is malty. A light bodied lager. Malts are wheaty, there is a slight banana and clove thing going on here. Hops are a little citrusy, mild of course, but definitely present. A mild beer, not a lot of flavor, but nothing really objectionable or bad. Mouthfeel is full. Finish is clean and smooth. Aftertaste is slightly bitter.
365 characters
More User Reviews:

2.91
/5
rDev
-0.3%
look: 3.5 | smell: 2.5 | taste: 3 | feel: 3 | overall: 3
Part of a mixed 12-pack that I recently bought from the Jack Russell Brewing Co. I ordered it directly from their Website, the service was excellent, both packing & delivery was spot-on.
Jack Russell All American Lager comes in a 12oz tall, thin neck bottle. It has just the one main obverse label which has a background composed of an American flag on the left half & the Union Jack on the right half. An inverted horseshoe has a picture of a Jack Russell dog inside & small Union Jack at the base. No Freshness Date, but listed in super small print as 5.5% ABV.
It pours with a very pale yellowy straw color, thin looking with some speckle-like floaties dancing in suspension amidst a rather milky look body. It looks like an aged Wit Bier but it soon settles to a clear appearance. The head is clean white & has good staying powers, enabling it to leave some nice lacing throughout the drink. Minimal carbonation that somehow adds a 'Snap Crackle & Fizz' when the beer is swirled.
The aroma is feint, difficult to discern at times. Light malts & toasty grain linger fleetingly – deep sniffs give the drinker a sense of Lager, but not much else. Not bad, just too weak to be of any significance.
A crisp beer which has much more than the usual one-dimensional flavor profile found in mass-produced versions. Light toasty malts, a mild lemony-citric hop bite & some light banana tastes give a rather Wit Bier feel in the latter third, aiding Drinkability & they refreshing factor.
The mouthfeel is clean with a light grainy feel at the start, lemony tingle on the tongue in the middle & some light clove-like banana cloyness in the back end.
This is an easy drinker, but I found it wanting to be anything other than any occasional thirst quencher. If I had the choice I would much rather have the much spicier & crisp Huntsman's Lager that JR make. This is just too restrained for me. I drank the entire 12 ounce bottle with no problems, it was a very refreshing drink but it lacked flavor & body to be one for the long haul.
Overall: There is nothing bad about this at all, it is patently very well made. And this is the sort of quality American-style Lager beer that would undoubtedly wean drinkers away from the macro version of it, which is admirable. However, this beer may be a little too light in flavor & body for those of us that crave a little more from a Lager. In that case the Jack's Huntsman's Lager is the one to go for.
"Give this to that American Chappie drinking Bud & educate him!"
2,534 characters
2.35
/5
rDev
-19.5%
look: 2 | smell: 2 | taste: 2.5 | feel: 2.5 | overall: 2.5
From Corti Bros in Sacramento this 12 oz bottle poured a gold color with a small white head. Nose of a wet blanket and grassy hops Very light mouthfeel and flavor is ligh caramel malts and odd tasting hops. No much finish. Not much of a beer for that matter.
258 characters
2.96
/5
rDev
+1.4%
look: 3 | smell: 2 | taste: 3 | feel: 3 | overall: 4
Presentation: 355 ml can festooned with stars & stripes, with the following declaration: "brewed under the official supervision of Jack Russell". Another Mountain Crest offering, brewed by the Joseph Huber Brewing company in Wisconsin.
Pours typically pale yellow, and extremely clear. The head is fast rising, foamy, and fast dissipating. The aroma, while faint, does have hints of grains, a touch of hops and has a slight huskiness. Tastes of husky grains with suggestions of cooked veggies, followed by a very mild hop finish. Mouthfeel is crisp, thin and highly carbonated.
A refreshing, if uninteresting yard work beer. There's nothing offensive here, but also nothing to rave about either. This beer caught my eye due to its over-the-top Americana packaging, which had it practically bellowing from behind the cooler door.
837 characters

3.6
/5
rDev
+23.3%
look: 3.5 | smell: 3.5 | taste: 3.5 | feel: 3.5 | overall: 4
First of all, what is an american adjunct lager, I mean, with all the crap people are putting in beers and getting people to line up and pay top $$ for, i think it's a bad label, that's just me, it comes off negative and most people that see that usually leave a crappy review.
On to the beer, this was picked up at Total Wine in Roseville, awesome store. The beer pours golden with a light head. The smell is sweeter than what'd you expect from a lager, very malty. The taste is a clean sweet malt that carries through the finish. I liked this beer and am starting to like these guys beers, a very easy, drinkable beer. Keep it up.
632 characters
2.78
/5
rDev
-4.8%
look: 3 | smell: 2.5 | taste: 2.5 | feel: 3 | overall: 3.5
My bottle of Jack Russell "All American" Premium Lager came to me as a gift from a friend -- someone whom I'm respectfully trying to convince that Shiner Hefeweizen is decent, but hardly the best beer out there. I'll continue to work on him. That said. . .
This brew has a very light appearance, much like Michelob Ultra, with only a slight head and no lacing worth mention. The aroma is quite reminiscent of . . . cheddar or mild colby jack cheese. Seriously, I may detect some pine notes, but my thoughts keep drifting back to the 10pm cracker barrel we typically had on Boy Scout campouts back in the day. The flavor is nothing fantastic, but it's not necessarily offensive. Truth be known, the flavor has an ever so slight (and do I mean ever so slight) Belgian influence, with a tiny hint of rosemary. Otherwise, it's very much without character but finishes clean.
Not terrible. But if I want this beer, I'll save some money and buy a six-pack of ultra light macro swill. I should add that it's interesting that the beer is called "All American Lager," yet the bottle design includes a British flag.
1,113 characters
Jack Russell All American Premium Lager from Jack Russell Brewing Company
2.92
out of
5
based on
8
ratings.