Matso's Monsoonal Blonde
| Matso's Broome Brewery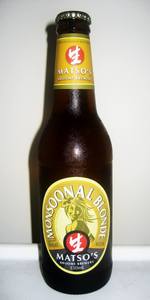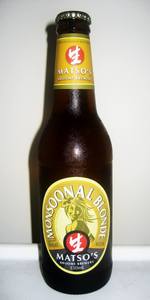 BEER INFO
Brewed by:
Matso's Broome Brewery
Australia
matsosbroomebrewery.com.au
Style:
Herbed / Spiced Beer
Alcohol by volume (ABV):
4.70%
Availability:
Year-round
Notes / Commercial Description:
No notes at this time.
Added by LittleCreature on 02-20-2009
HISTOGRAM
Ratings: 7 | Reviews: 7
Reviews by PolarBear3:

2.87
/5
rDev
+8.7%
look: 2 | smell: 2.5 | taste: 3 | feel: 3.5 | overall: 3
A - Pours a pale golden colour with a fizzy white head that dissipates very quickly.
S - Lemonade aroma that reminds me instantly of a shandy.
T - Light wheat taste with a hint of spice and lemonade that is rather sweet which gives it that shandy flavour.
M - Light body with high carbonation
O - A refreshing beer or shandy as I would call it. Would be okay on hot summers day for the ladies.
397 characters
More User Reviews:
3.07
/5
rDev
+16.3%
look: 2.5 | smell: 3 | taste: 3 | feel: 4 | overall: 3
A - Pours a lifeless straw colour with a large bubbled white head, that reduces to a film very quickly.
S - Has a slightly grainy lemonade aroma.
T - Its has a Radler like flavour of sickly extract that ressembles Lime and lemon, and a little ginger.
M - Full carbonation and light body.
O - Not my cup of tea but will quench a thirst.
339 characters
2.07
/5
rDev
-21.6%
look: 3.5 | smell: 1.5 | taste: 2 | feel: 2 | overall: 2.5
330ml bottle purchased from the International Beer Shop in Perth.
Pours an extremely pale, golden yellow colour, with a fine ring of white foam. Some large bubbles persist in the centre of the glass, but they sit pretty static and still. Body is surprisingly solid, and hold some tight, fine carbonation. Eh. It's not too be, all things considered.
Nose is unpleasantly sweet, with big honey characters coming through, laced with something slightly spicy, but not particularly fragrant. It smells extremely underfermented, or something. Else, it has the lingering nuances of too much sugar in the boil. Unpleasant, really quite unpleasant.
Taste is marginally better, just because it's less intense. It still has the obscene sweetness, but the overt carbonation helps cut through this somewhat. There's still a sting of spice in the tail, but it's very subtle, and it doesn't really add much interest to the beer. Feel is light and slick, but it doesn't have much to work with.
More mediocre than anything. It's perhaps not actively offensive, but it's extremely dull. The characters it does have do err on the side of unpleasantness, however, meaning this is yet another Matso's beer I'm happy to confine to the pile of Do Not Want.
1,237 characters

2.86
/5
rDev
+8.3%
look: 4 | smell: 3 | taste: 2.5 | feel: 3 | overall: 3
Poured from bottle into my Weihenstephan weizen glass.
A - Actively effervescent and light golden in colour, two fingers of thick soapy white head rest on top, nice webby lacing throughout.
S - Ginger ale, wheat, rosemary, very sweet.
T - Follows the nose but with less intensity. Honey, ginger, rosemary and wheat.
M - Lemonade like in body and carbonation. Very refreshing.
O - Different with the spices coming through. Definately a summer beer, perfect for the Broome climate I would think, but suited me nicely after 3 hours of gardening in December.
559 characters

2.44
/5
rDev
-7.6%
look: 3.5 | smell: 2 | taste: 2.5 | feel: 2.5 | overall: 2.5
Bottle: good 330mL brown bottle, stylish label. A very nice package indeed.
Appearance: effervescent and light golden in colour, two fingers of thick white head on top, nice lacing throughout.
Aroma: very sweet, with some light sugars - including honey in a big way. Pungent spices over the top that unfortunately don't complement or diminish the huge sweetness, but damage it further. Not an enticing proposition.
Taste: similar to the aroma, but not as powerful. Still not a nice combination of flavours though - if anything, I would say it was very awkwardly produced.
Aftertaste: the overpowering sweetness disappears, to be replaced solely by the pungent spices.
Mouth feel: quite light body, with low-to-moderate carbonation.
Overall: a great disappointment, per the Matso's norm. This is turning out to be one of the most over-priced breweries I have ever come across. Their beers are terrible and the price is exhorbitant (AU$76 direct from the brewery!). Outrageously priced and overly unpleasant and unsophisticated beer.
1,037 characters
2.99
/5
rDev
+13.3%
look: 3.5 | smell: 2 | taste: 3.5 | feel: 3 | overall: 3
This pours a crystal clear straw colour with a small white head. Fair head retention.
Light wheat aroma but it smells a little dusty and stale. This is odd as this beer was only just sent from the brewery to my local store.
The flavour isn't bad. It's a touch dull with light tart wheat being there along with very mild cardamom. This is nothing special.
Medium-light body with moderately-high carbonation. Fine.
A reasonable but ultimately boring beer. Easy enough to drink.
479 characters
2.16
/5
rDev
-18.2%
look: 3 | smell: 2 | taste: 2 | feel: 3 | overall: 2
Appearance - 3.0
A finger of bubbly white head reduced over a slightly hazy straw coloured body.
Smell - 2.0
Sweet with lots of cardamom, a little lemon zest.
Taste - 2.0
Essentially this is a spiced wheat ale, not dissimilar in taste from some Belgian pale ales. The added cardamom overwhelms the sweet malt base to the point that it is hard to determine other flavours. Quite refreshing.
Mouthfeel - 3.0
Carbonation is quite fine and persistent, although the over spiciness
Drinkability - 2.0
While refreshing in hot weather, this get increasingly hard to drink as the palate tires of the cardamom.
OVERALL - 2.3
Perhaps someone from Matso's should have a look at the Barons beer with native ingredients, which are used to compliment an existing beer style rather than overwhelm it. Is this a beer or a cardamom infusion?
845 characters
Matso's Monsoonal Blonde from Matso's Broome Brewery
Beer rating:
2.64
out of
5
with
7
ratings