Vida Y Muerte Muertzenbier
| 5 Rabbit Cerveceria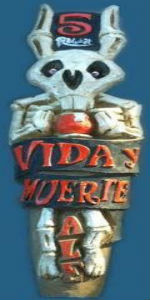 BEER INFO
Brewed by:
5 Rabbit Cerveceria
Illinois
,
United States
5rabbitbrewery.com
Style:
Märzen / Oktoberfest
Alcohol by volume (ABV):
6.30%
Availability:
Rotating
Notes / Commercial Description:
A Märzenbier (Oktoberfest-style) brewed with dulce de leche and flavors inspired by hoja santa. Dulce de leche is a type of milk caramel widely used throughout Latin America. Hoja santa is a large leaf commonly used in Oaxacan cuisine due to the richness in its flavor and aroma. A new seasonal that celebrates the traditional Día de los Muertos (Day of the Dead).
Added by MasterSki on 12-09-2011
Reviews: 15 | Ratings: 73

3.58
/5
rDev
-8.2%
look: 3.5 | smell: 3.5 | taste: 3.5 | feel: 3.75 | overall: 3.75
Fall 2014 vintage; drank 12/12/14 @ the Yarchives.
Poured from a bottle into a glass.
Semi-opaque red/orange hue.
Eggnog head; almost no lace.
Mild caramel & cream nose.
Creamy medium mouthfeel.
Cream, mild caramel & mild cinnamon flavors up front; a slight macro-lager taste on the finish which mars this slightly. Pretty good.
★
339 characters
4.21
/5
rDev
+7.9%
look: 4 | smell: 4.25 | taste: 4.25 | feel: 4 | overall: 4.25
This beer poured a light amber color with an off white head that was one finger-width. There was no lacing.
The aroma is very sweet with the scent of caramel. There seems to be a hint of banana and a hint of cloves.
The initial taste is very sweet, but a specific taste could not be discerned. In the middle, the taste continues to be sweet with hints of caramel. At the end, there is heavy spicing that seemed similar to a Christmas ale. The cloves come through along with the caramel.
The mouthfeel is quite crisp, and the beer warms nicely on the tongue.
This beer was on the Oktoberfest table at the local craft brew store, but it is not an Oktoberfest. It is advertised as a fall seasonal beer, and it would definitely make a nice transition beer from Oktoberfest to winter style beers.
★
800 characters
3.53
/5
rDev
-9.5%
look: 4 | smell: 3.5 | taste: 3.5 | feel: 3.5 | overall: 3.5
Poured from a brown 12 oz. bottle. Has a brown/orange color with a 1/2 inch head. Smell is of cinnamon, malts. Taste is cinnamon, caramel malts, some other spices, not sure exactly what. Feels medium bodied in the mouth and overall is an interesting take on this style.
★
269 characters

3.86
/5
rDev
-1%
look: 3.75 | smell: 4 | taste: 4 | feel: 3.25 | overall: 3.75
12oz bottle. Served in a snifter glass.
Pours a dark orange-copper body, one finger white head with short retention time, no lacing. Smells of sweet caramel, graham cracker, cinnamon, all-spice. It's interesting for sure. Flavour is similarly spice-forward, cinnamon, allspice, caramel, a bit of milk chocolate, graham cracker. I definitely get a spiced graham cracker flavour here overall, kind of interesting. Good carbonation, medium-thinner body, could use a bit more carbonation and body. Overall, a decent and interesting new beer with some nice caramel and graham cracker flavours, but missing some carbonation and body to it.
★
634 characters

4.47
/5
rDev
+14.6%
look: 3.25 | smell: 4.25 | taste: 4.75 | feel: 4.5 | overall: 4.5
This marzen is different. Nice and sweet but not overpowering. Great balance of German malts and spices. Tastes kind of like a cinnamon milk stout. Awesome beer! 4.50
★
166 characters

3.56
/5
rDev
-8.7%
look: 3.5 | smell: 3.75 | taste: 3.5 | feel: 3.5 | overall: 3.5
12oz bottle poured into a Libby globe stemmed porter glass. No date on the bottle.
Appearance: Clear bright coppery-amber. Nice color. No head at all though.
Smell: Some hints of orange and cinnamon. A tiny bit of metallic smell as well.
Taste: Quite malty like a Marzen/Oktoberfest. Definite biscuity and toasted malt from start to finish, with some spice accents. There is a mild bitter finish - somewhat metallic and astringent. I'm not picking up the Dulce du Leche caramelized milk sugar though among all the malt. Maybe its in there, but I just can't pick it out. There are aspects of noble hops at the finish, but they're muted.
Mouthfeel: A bit fizzy at first, then better carbonation. A little thin but sticky on the teeth. A dry finish.
Overall / Drinkability: The description on the bottle sounded very inviting and like a neat beer to try. Afterwards, it's like Marzen but it misses the mark. However, it's meant to be a different take on this style and I think it does meet that different take. It's interesting, but not great. I think it's the finish of the beer I'm not enjoying. Maybe this bottle is past fresh.
★
1,163 characters
4.06
/5
rDev
+4.1%
look: 3.75 | smell: 4 | taste: 4.25 | feel: 3.75 | overall: 4
L: Dark bronze, that glows an opaque orange when held to light. Poured with a 1 inch fluffy head that dissipated fairly quick.
S: Rich carmel notes hit you, but are quickly replaced with the scent of green vegetation (hoja santa?). Fall spices then take over.
T: Sweet pumpkin pie are on the foreground, are followed by a wave of cinnamon and allspice, and again that vegetation. I get a third lingering flavor, sweetness remscinent of sweet vermouth.
F: Medium mouthfeel.
O: This is an awesome interpretation of marzen. A style that I never used to get into, it's a little sweet but that hoja santa really pulls through and makes itself known and balances the carmel. A unique beer that would be great for dessert. I also appreciate beers that fit their description, which this certainly does.
★
798 characters

3.79
/5
rDev
-2.8%
look: 3.75 | smell: 3.5 | taste: 4 | feel: 3.75 | overall: 3.75
Taste: caramel milk sweetness with a dash of Fall spices, smooth and very drinkable.
Red Cooper hue, clear, with a delicate tan head.
malty dulce de leche, with a veggie note to nose.
Medium body.
Unique take on a Marzen.
★
221 characters
4
/5
rDev
+2.6%
look: 3.5 | smell: 4 | taste: 4 | feel: 4.25 | overall: 4
An aggressive pour resulted in a very thin layer of white foam that dissipated quickly. Not the best looking beer, but boy does it smell good. caramel and spices greet the nose and follow through in the taste, with the milk caramel leading the way. Very creamy mouthfeel, almost velvety. The milk caramel is sweet, but not too sweet and the spices are reminiscent of pumpkin pie spices. It's almost like an Oktoberfest/Pumpkin hybrid. A very smooth, tasty beer that I will revisit again.
★
487 characters

4.72
/5
rDev
+21%
look: 4.5 | smell: 5 | taste: 4.75 | feel: 4.5 | overall: 4.5
Poured on tap at the Other End Beer Garden into a room temp tulip pint glass.
A: Pours a rich copper with an off-white head that settles into a thin ring around the edges with some lacing.
S: Wonderful in the nose. Notes of graham cracker, sweet caramel, orange candy and bubble gum. Makes me hungry for Thanksgiving Dinner.
T: So tasty. Again some bubble gum complimented by orange, caramelized malts and cranberry. A pleasant, non-cloying sweetness settles onto the palate.
M: Medium body with nice carbonation, this is an easy beer to drink.
O: For an Oktoberfest, I'm blown away by this beer. The flavors are a little on the sweet side but not overdone; it's a gorgeous beer that's hard to lay off of. This is far and away my favorite example of the style. Once again, 5 Rabbit puts their spin on a traditional style and comes out with a delicious, well-made beer. I'll be stocking up on this for the Winter.
★
927 characters

4.2
/5
rDev
+7.7%
One the nose, and when you first taste this reminds you of a pumpkin beer because of the spice, but once the flavors mellow on your plate you get a residual sweetness that lingers like candy. Then the spices and sweetness work together to make this like a Mexican dessert beer. Very unique and recommended.
★
306 characters

4.31
/5
rDev
+10.5%
look: 4 | smell: 4.25 | taste: 4.5 | feel: 4 | overall: 4.25
Appearance: Thin caramel syrup with little lacing or foam. Nice in a snifter.
Smell: Very medicinal; reminds me of Coca-Cola with the bitterness and sweetness.
Taste/Mouthfeel: Again, very medicinal. There's definitely some sort of plant brewed with this. The waitress told me what but I can't remind exactly what it is. Very evident though. Tasty too! Definitely more bitter than sweet, but it balances both pretty well. Light mouthfeel like a lager. Crisp.
Overall: A cool take on a seasonal classic.
★
505 characters

3.33
/5
rDev
-14.6%
look: 4 | smell: 3.5 | taste: 3 | feel: 3.5 | overall: 3.5
Served in a New Holland tulip glass at Bad Apple.
Yeah, it's a touch past the Day of the Dead (I apparently have strong hands...), but whatever... This stuff pours a clear russet topped by a finger of lightly off-cream-white foam. The nose comprises toffee, biscuit, light honey, very light cocoa, and a kiss of cinnamon. The taste holds notes of light toffee, mild vanilla, light vinyl, earthy greens, and light brown sugar. The body is a light medium, with a light moderate carbonation and a dry finish. Overall, a decent marzen, but that vinyl character in there really put me off, and there was no hint of the sweetness implied by the description.
★
652 characters
4
/5
rDev
+2.6%
look: 4 | smell: 4 | taste: 4 | feel: 4 | overall: 4
Served in a 5 Rabbit pint glass at Fountainhead 12/30/11. Thanks to HeatherAnn for the assist!
A: Served a hazy deep amber with 1/2 a finger of creamy eggshell colored foam on top. A few specks of lace struggled to hang onto the glass. Liked the clarity of this.
S: Interesting combination of Pfeffernüsse and Windmill cookies. Holiday spices with dry toasty malt and a hint of roasted nuts.
T: Exactly as above.
M: Nice full mouthfeel with hints of spice and pepper.
O: Interesting take on this style. Heath and I typically don't gravitate towards Marzens but after reading the description we couldn't resist.
★
616 characters

3.7
/5
rDev
-5.1%
look: 3.5 | smell: 3.5 | taste: 3.5 | feel: 4.5 | overall: 4
On-tap at Jake Melnick's. Served in a taster stange.
A - Quick-dissolving off-white foam settles to a thin ring and a few wisps on top, but minimal lace is left behind. Lightly hazed amber body.
S - This is odd - the beer smells like gingerbread cookies. There's some lightly toasty malt character too, but mostly it's a mix of cookie sweetness, nutmeg, ginger, and allspice. I'm guessing the spices are from the Hoja santa.
T - Again, quite strange for an Oktoberfest. There's a toasty malt backdrop, some caramel sweetness, red fruits, sugary cookies, and pumpkin pie-esque spices.
M - Pleasant medium carbonation, medium body, smooth texture, no alcohol, clean finish.
D - If you've ever wondered what would happen if you crossed a pumpkin spice beer with an Oktoberfest, this is pretty much the answer. It's definitely unique, and not entirely 'my thing', but it's solidly crafted and delivers what it promises.
★
920 characters
Vida Y Muerte Muertzenbier from 5 Rabbit Cerveceria
3.9
out of
5
based on
73
ratings.