Bolt
| Sail and Anchor Pub Brewery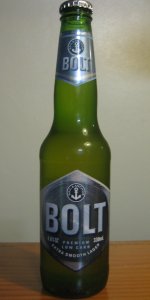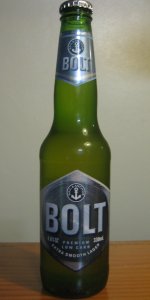 BEER INFO
Brewed by:
Sail and Anchor Pub Brewery
Australia
Style:
Light Lager
Alcohol by volume (ABV):
4.60%
Availability:
Year-round
Notes / Commercial Description:
No notes at this time.
Added by LittleCreature on 06-25-2011
HISTOGRAM
Ratings: 7 | Reviews: 5
Reviews by SmashPants:

2.42
/5
rDev
-1.6%
look: 2 | smell: 2.5 | taste: 2.5 | feel: 2.5 | overall: 2.25
Bottle: standard light green 330mL bottle, pretty ordinary macro label.
Appearance: mid-amber in colour with a steady flow of lumpy carbonation. The head froths up and dissipates pretty quickly to a sporadic film, with no lacing. Fair enough, its a lager, but some head would be nice.
Aroma: not much there, just some lager grains and the faintest whiff of grass hops. Not much to it.
Taste: again pretty standard cheap macro lager stuff. Nothing special, but hey - I suppose it is cheaper.
Aftertaste: a sessional lager, so as expected there is very little in the way of aftertaste. It's purely for throw-down, other than a slight metallic fug hanging about.
Mouth feel: light in flavour with a moderate carbonation that doesn't bring the flavours through brilliantly.
Overall: tastes like a poor-quality lager, funnily enough. A little funk in the background, some kind of vegetal and grain flavours, but otherwise a pretty bland beer - not offensive, just not really worth it. Even at this price range, just get some XXXX, New, Carlton, etc. They're better.
1,066 characters
More User Reviews:

1.87
/5
rDev
-24%
look: 1.5 | smell: 2 | taste: 2 | feel: 2 | overall: 1.5
330ml bottle from Woolworths Liquor West Ryde, poured into a Brooklyn tulip.
Pours a very pale golden colour, almost cider-like given the paleness of this. Disturbingly clear to the point where i was considering trying to read a book through it! Substandard white head of foam disappears to almost nothing bar a coliseum-style ring around the edge of the glass.
Smell is one-dimensional. Pale grain. There, consistent and still there.
Taste just confirms what you have just inhaled, light grain and nothing more, nothing less. Expectations management perhaps...dull, yes.
Mouthfeel is very macro-ish. No major bitterness to speak of early, some at the end to offset any sweetness, but that's about it.
Some things just aren't worth the tick or the hope that it will beat expectations. A valuable lesson learned. The only positive is that it created extra space in the fridge.
880 characters
2.79
/5
rDev
+13.4%
look: 2.5 | smell: 2.75 | taste: 2.75 | feel: 2.75 | overall: 3
standard cheap macro lager stuff. Nothing special, but drinkable
64 characters
2.2
/5
rDev
-10.6%
look: 2 | smell: 2 | taste: 2 | feel: 3 | overall: 2.5
Pours amber with a pretty much non-existent head.
Very faint aroma, just a little clean malt, some soft spicy hops and subtle vegetal notes. Pretty boring.
Similarly plain flavours, just some vegetal notes and soft spicy hops again.
Could use more carbonation.
260 characters

2.78
/5
rDev
+13%
look: 3.25 | smell: 2.75 | taste: 2.75 | feel: 2.75 | overall: 2.75
Poured a clear pale golden colour with a one-finger white foamy head that diminished quickly to a line of bubbles around the side of the glass. Aroma not much, some lager grain/malt. Taste sweet with no bitterness. Light body. Smooth, crisp, refreshing.
253 characters
2.44
/5
rDev
-0.8%
look: 2 | smell: 3 | taste: 2.5 | feel: 2 | overall: 2
Appearance - 2.0
An aggressive pour from the green bottle yields a thin white head that disappears in seconds over a clear, light gold body.
Smell - 3.0
A definite hit of skunkiness (blame the green bottle) as the bottle is opened, which quickly departs, leaving a clean aroma with very light graininess and no hop aroma.
Taste - 2.5
Very clean with just a little savoury graininess, barely perceptible bitterness and a hint of sulfur.
Mouthfeel - 2.0
Quite thin and watery, lightly carbonated (though that could be partly due to my hard pour).
Overall - 2.0
Inoffensive but entirely boring. Better than the majority of low carb Australian lagers, but of no interest to serious beer drinkers.
709 characters
Bolt from Sail and Anchor Pub Brewery
Beer rating:
2.46
out of
5
with
7
ratings