Monkey's Fist Pale Ale
| Sail and Anchor Pub Brewery
BA SCORE
76
okay
10
Reviews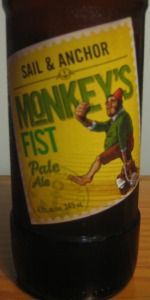 BEER INFO
Brewed by:
Sail and Anchor Pub Brewery
Australia
Style:
American Pale Ale (APA)
Alcohol by volume (ABV):
4.90%
Availability:
Year-round
Notes / Commercial Description:
No notes at this time.
Added by doktorhops on 11-01-2012
Reviews: 10 | Ratings: 20

2.46
/5
rDev
-15.8%
look: 2 | smell: 2.25 | taste: 2.5 | feel: 3 | overall: 2.5
A - Poured a pale amber colour with an off white head that disippated quickly leaving very little lace. Disappointing.
S - I get a little apricot and some peach but not much at all really
T - Citrus sweet fruits including the peach and a little hoppy with some spice and I also get a little musk or candy at the back end.
M - Medium carbonation and fairly light in body.
O - Very disappointing this one for a pale ale. Glad I only brought one becauseI reckon I would not be able to finish another. Pass
506 characters

2.58
/5
rDev
-11.6%
look: 3 | smell: 2.5 | taste: 2.5 | feel: 3 | overall: 2.5
From notes. From Dannos.
Pours Amber clear one finger head. Sporadic lace
Bready doughy malts on nose.
Taste is Dull and sadly stale, with apricot doughy malts again. No real hops. A Little lemonade like sweetness
Mouthfeel is Ok for style.
Really, this is a poor example in what is a crowded market.
305 characters
2.59
/5
rDev
-11.3%
look: 2.75 | smell: 2.5 | taste: 2.5 | feel: 2.75 | overall: 2.75
Meh. Poured at a good temp with a very modest off-white short lived head and a bit of lace. Color is a clear honey amber. Aroma is musty, not much bearish, don't pick up much malt or hop. Flavor's like nose, bitter stands out along with carbonic tang, fairly dry almost as similar to epa as apa.. Body is ok, carbonation a bit harsh. Finish is like flav, thankfully not too long.
379 characters

2.75
/5
rDev
-5.8%
Poors clear and golden bright, no cloudiness. Thin head, dissipated quickly. Light floral aromas but not strong. Flavour is ok, easily drinkable but lacks a "challenge" and does not have much fruitiness or hoppy bitterness on the finish that would be expected in a craft pale ale.
281 characters

2.83
/5
rDev
-3.1%
look: 2 | smell: 1.5 | taste: 3.5 | feel: 2.5 | overall: 3.5
Pours a slightly cloudy straw color with zero head (as I have come to expect from Sail and Anchor beers). There does seem to be a couple streams of bubbles though. That's more than the last 2 had. I'm really having trouble smelling anything but water on this one. The taste is of some cascadian hops, very faintly, and some malty sweetness. Not too bad at all. Mouthfeel is heavy and that's about it. Overall, I like it. They could have used more aroma hops, and maybe some more carbonation, but the flavor is there.
516 characters
2.84
/5
rDev
-2.7%
look: 2.5 | smell: 2.75 | taste: 3 | feel: 2.75 | overall: 2.75
A: Pours a clear copper color with a small head that fades quickly with no real lacing.
S: Mild aroma of fruit and some malt sweetness.
T: Taste of fruit with a bit of malt sweetness. Mild bitterness and a clean finish.
F: Light body, smooth and quite bland.
O: Drinkable, but pretty boring for a pale ale. Not much here.
328 characters

3.02
/5
rDev
+3.4%
look: 2.5 | smell: 3 | taste: 3 | feel: 3.5 | overall: 3
Last of the new Sail & Anchor beers in the free beer taste test: Monkey's Fist Pale Ale. "The one with the unexpected punch!" proclaims the back label, "We'll see" says I.
Poured from a 345ml bottle into a nonic pint.
A: Presents with a clear amber body. There is a thin white head sitting atop, English Ale style.
S: Combination of citrus, passion & stone fruit hops with a straight biscuit base malt and chilled mineral water. Not as full on as brews like Murray's or Stone & Wood, hoping the flavour picks up the slack here.
T: Not a great deal happening with this one; yes the above aromas present their respective flavours but aside from some hop bitterness at the finish it's a very average APA indeed - not even close to Murray's, Stone & Wood or Little Creatures. Disappointing that all four of the Sail & Anchor beers taste-tested were lacking in flavour as with anything beer related flavour is indeed king.
M: Slight dense carbonation with a mid to light body.
D: Too easy to drink! No challenge for the taste buds and ultimately frustrating that a brew with promise seems to be made for the pseudo-craft-drinking market. That being said it does fare better than James Squire 150 Lashes Pale Ale, which is an abomination, so it has at least one thing going for it.
Food match: I would aim for something Middle-Eastern, not too spicy, like lamb with a harissa rub and Moroccan couscous or eggplant turnovers, tomato rice, lentils and saffron rice.
1,478 characters

3.08
/5
rDev
+5.5%
look: 3.25 | smell: 3.25 | taste: 3 | feel: 3 | overall: 3
Aroma nothing too exciting on the nose, a bit of citrus and that's about it. Taste. nothing too exciting here, citrussy and slighty sweet. recommend to someone new to craft beer.
180 characters
3.1
/5
rDev
+6.2%
look: 3 | smell: 3 | taste: 3 | feel: 3 | overall: 3.5
Pours amber with a fading white head.
Sweet malty aroma along with some vegetal notes and soft spicy hops.
Malty flavours too with a little caramel even showing up in there. Pretty inoffensive. Not too bad.
Light body.
A bit bland but far from bad.
250 characters

3.29
/5
rDev
+12.7%
look: 2.5 | smell: 3.5 | taste: 3.25 | feel: 3.5 | overall: 3.25
Bottle: interesting 345mL brown bottle with a funky and unique 'Monkey's Fist' label.
Appearance: a clear golden copper colour, it looks quite heavy in body. Light to moderate carbonation. A poor white head pops up and dissipates almost immediately to a thin film. Not a brilliant start.
Aroma: certainly picks up a bit here. Pretty typical APA stuff - pine and citrus hops predominantly.
Taste: follows pretty closely here, with clean pine and citrus hops with some biscuit malts. Not amazing, but a decent APA.
Aftertaste: drops away pretty quickly, which is a tad disappointing. I'd rather relish an AP rather than pour it down.
Mouth feel: moderate in body with a moderate yet sharp carbonation. Brings the flavours across well.
Overall: a decent American Pale Ale - pretty standard pine and citrus. Enjoyable, but not as boutique as I think Sail & Anchor had hoped. Decent but standardised flavours do not warrant 4-packs for the same price as a 6-pack. Still not bad at an equivalent of AU$55-60 for a case of 24.
1,025 characters
Monkey's Fist Pale Ale from Sail and Anchor Pub Brewery
2.92
out of
5
based on
20
ratings.