Big Reg
| Holgate Brewhouse / Keatings Hotel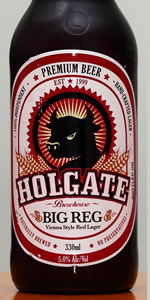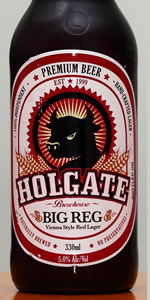 BEER INFO
Brewed by:
Holgate Brewhouse / Keatings Hotel
Australia
holgatebrewhouse.com
Style:
Vienna Lager
Alcohol by volume (ABV):
5.00%
Availability:
Rotating
Notes / Commercial Description:
No notes at this time.
Added by DaveFL1976 on 10-01-2005
HISTOGRAM
Ratings: 10 | Reviews: 10
None found.
More User Reviews:
3.34
/5
rDev
+2.5%
look: 3 | smell: 4 | taste: 3 | feel: 3 | overall: 3.5
Great orange/amber colour, but almost no head whatsoever.
Lots of toasty malt on the nose, almost roasted. Cocoa and cereal also present.
Very thin flavour, with more incredibly short-lived sweet toasty malts, followed much later by a dull bitterness.
Really watery. Not enough carbonation.
Wasn't very impressed, I've come to expect better from Holgate.
354 characters
2.73
/5
rDev
-16.3%
look: 3.5 | smell: 3 | taste: 2.5 | feel: 3 | overall: 2.5
I wasn't too impressed with Holgate's Big Red Lager at the Holgate Brewhouse. It looks nice enough, though. It pours a pretty, clear, copper colour with a long-lasting tan head. The smell is roasted malt and pretty much nothing much else. Maybe a little toffee or caramel in there. The taste is dry, roasty, malty with a back-of-the-mouth bitter. It almost tastes like some tannins got released in the mash. I didn't think it was very well balanced and not great on the drinkability, either.
491 characters
3.54
/5
rDev
+8.6%
look: 3 | smell: 4 | taste: 3.5 | feel: 3 | overall: 3.5
This pours a clear tawny colour with some red highlights. Even wit a vigorous pour there was verry little head and that didn't last long.
I love the hot chocolate aromas with a touch of toffee/caramel in there as well.
The chocolate toasted malt characteristics continue on the palate. There is a lot more chocolate in there then I was expecting. In a blind tasting I'd be saying it was a porter. Maybe I am just ignorant of the style.
Medium bodied.
Not sure about this one. I think I will like this stubbie but I don't know whether I could back up for another straight away. Maybe with a bit of tucker?
608 characters
4.38
/5
rDev
+34.4%
look: 4.5 | smell: 4 | taste: 4.5 | feel: 4.5 | overall: 4.5
My favourited beer from Holgate Brewhouse and, I think, the best lager from an Australian microbrewery. Have enjoyed this beer many times before, definitely performs best on tap, but this review is from a 330ml bottle.
Poured from bottle into straight pot glass. Beautiful clear amber colour, with glorius bubbles and a medium beige head, which reduces fairly quickly to a thin layer, very little lacing.
Classic Holgate malty aroma of biscuit, some caramel and a nice lager touch.
The taste is rich and sweet, full of toasty biscuit and plenty of fruity notes to explore.
In the mouth it is soft with medium body and medium-to-high carbonation. A long malty finish, which enhances the experience. More lagers should be like this!
Clearly favouring the malty English style. Definitely a sessionable beer, I can drink it by the pintful(s).
843 characters
2.41
/5
rDev
-26.1%
look: 4 | smell: 3 | taste: 2 | feel: 2.5 | overall: 2
Had this on tap at the Holgate Brewery.
A = Poured a deep deep orange red color with thin foam head that quickly dissapated.
S = Sweet fruit and malts.
T = This is where the beer gets let down. It just tasted bad. Not really bad but just unbalanced. There is a dirty malt flavour that is so distracting that it seems to envelope everything and makes it hard to notice any other flavour in the beer.
M = Carbonated but a little to lightly for my liking.
D = I'd rather drink their mt macedon ale or the double trouble than this. Holgate has better beers on offer.
577 characters
3.35
/5
rDev
+2.8%
look: 3 | smell: 3 | taste: 3.5 | feel: 3.5 | overall: 3.5
This beer is actually called Big Reg now after it won an award and on the award it said Big Reg instead of Big Red hence the reason they call it Big Reg now,it pours a burnt,red,copper colour with no head or lacing,this no beer has toffee,caramel and maltish notes with no hop smell at all,it tastes quite biscuty with caramel flavours aswell,not a bad beer but this brewery can do better.
389 characters
2.48
/5
rDev
-23.9%
look: 3 | smell: 2.5 | taste: 2.5 | feel: 2 | overall: 2.5
Light caramel brown in colour; dead clear and clean. Palate is straight forward, crisp and clean, mild malt flavours with a faint sweet / honeyed note. Some noticeable fizz. Very inoffensive but a touch pedestrian. No reason for a repeat visit here..
250 characters
3.2
/5
rDev
-1.8%
look: 3.5 | smell: 3.5 | taste: 3 | feel: 3.5 | overall: 3
A - Poured into a pint glass a fairly clear dark copper colour with a couple of centimetres of off white head that falls away rather quickly.
S - Toffee and roasty malt aromas. Bit of butterscoth. Some very vauge hop notes.
T - Toffee malt and butterscotch dominating the taste. Too overpowering.
M - Medium bodied, light to medium carbonation.
D - Not horrible but nothing to get too excited about.
399 characters
3.79
/5
rDev
+16.3%
look: 2.5 | smell: 3.5 | taste: 4 | feel: 4 | overall: 4
Pours a nice mahogany red colour with a small, short lasted creamy tan head.
Some sweet, bready malt character with a bit of toast and chocolate. Light floral hops.
Nice malt backbone with good caramel and biscuit. A hint of fruitiness ties in well. A slightly watery note come sthrough but isn't bad, per se. Suitable hop levels acts as a simple counter balance here rather than a dominant force.
Low to medium body with moderate carbonation. The carbonation tickles just a little bit. A nice palate cleanser.
A tasty beer which is approachable without being thin and insipid. A good beer.
594 characters
3.34
/5
rDev
+2.5%
look: 2 | smell: 3 | taste: 3.5 | feel: 3 | overall: 4
Appearance - 2.0
Poured half a finger of beige head that quickly disappeared over the clear coppery red body.
Smell - 3.0
Mildly sweet and mostly malt-driven, caramel and toast with a slightly fruity note.
Taste - 3.5
This malt driven lager has flavours of biscuity malt, toast, caramel, smoky and a little apple-like fruitiness that seems out of place. It is relatively lightly hopped, finishing moderately bitter and dry.
Mouthfeel - 3.0
Lightly carbonated, medium bodied, would be better with more carbonation.
Drinkability - 4.0
A lager that is very sessionable and easy to drink.
OVERALL - 3.1
Not a bad beer, but nowhere near as good as a Vienna Lager can be (such as Matilda Bay's Rooftop Red Lager or Sam Adams Boston Lager). Still, pleasant and drinkable, although slightly flawed.
795 characters
Big Reg from Holgate Brewhouse / Keatings Hotel
Beer rating:
3.26
out of
5
with
10
ratings