Holgate ESB
| Holgate Brewhouse / Keatings Hotel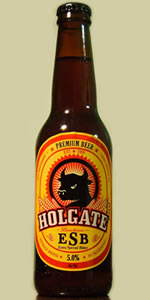 BEER INFO
Brewed by:
Holgate Brewhouse / Keatings Hotel
Australia
holgatebrewhouse.com
Style:
Extra Special / Strong Bitter (ESB)
Alcohol by volume (ABV):
5.00%
Availability:
Year-round
Notes / Commercial Description:
No notes at this time.
Added by vancurly on 01-25-2008
Ratings: 36 | Reviews: 26
3.35
/5
rDev
-8.5%
look: 3.5 | smell: 3.5 | taste: 3 | feel: 4 | overall: 3.5
A - Fairly clear dark copper colour with a 2cm off white head that hangs for a little while.
S - Toffee and bready malt flavours with a touch of diacetyl also coming through. Some earthy and light fruity hop notes are also present.
T - Also nice toffee like notes in the taste along some fruity hop flavour but I think a touch too much diacetyl.
M - Medium bodied, low to medium carbonation and a pleasent lingering bitterness.
O - A decent enough beer but a touch too much diacetyl, even for the style.
503 characters
3.97
/5
rDev
+8.5%
look: 3.5 | smell: 4 | taste: 4 | feel: 4 | overall: 4
Pours a dark copper colour, bright but deep, with plenty of streaming carbonation. Head was initially fizzy and frothing, but it settles to a reasonably pleasant and fine film of off-white. Looks pretty decent and stylistically appropriate. Lacing isn't as sticky as it could be, although it appears in sheets, rather pleasantly.
Nose is pleasantly robust with lots of crisp hops, that almost bend a little towards the citric. Hint of tannins ensure it stays grounded in earthiness, however. Also a touch of roasted grains to give some depth. Very decent.
Taste is also quite well constructed, and stays pleasantly balanced throughout. Decent robust bitterness from the hops, with a structure of malt and roasted grain around it. Bitterness mingles pleasantly with the malt at the back to give a moreish nutty character. Crisp finish. Despite the abundant carbonation present in the body, the feel is pleasantly smooth and supple.
A very nice ESB, with plenty of character, and decent structure. Smooth and tasty, and very drinkable.
1,036 characters
3.75
/5
rDev
+2.5%
look: 4 | smell: 4 | taste: 3.5 | feel: 3.5 | overall: 4
This pours a nice clear dark amber colour with slightly off white centimetre of head.
Fantastic malt aromas leap out of the glass. Some nice fruity hops as well.
Hops are more evident on the palate. Very well balanced between hops and malt.
Medium bodied.
A very good full flavoured brew.
292 characters
3.57
/5
rDev
-2.5%
look: 3.5 | smell: 4 | taste: 3.5 | feel: 3 | overall: 3.5
Medium-high malt aroma with lots of caramel. The hops are present with their earthy character being very well integrated. Some fruity esters are present. Quite good.
Crystal clear copper colour with a moderately sized off white head. Retention could be improved.
Toasty and rich malt flavour is predominant with the earthy hops backing it up. Moderate bitterness. The flavours don't linger as well as they could but they aren't bad. Bitterness lingers a bit.
Medium-low mouthfeel with moderately high carbonation. I'd like the carbonation just a touch lower.
It's a well flavoured beer that is easy enough to drink. The carbonation could be improved but on the whole a decent drop.
685 characters

3.2
/5
rDev
-12.6%
look: 2.5 | smell: 2.5 | taste: 3.5 | feel: 3.5 | overall: 3.5
Pours a fiery English red, like a St. George's cross (the red bit). Minimal head which sinks to nothing in about half a minute. Bead is fast but thin and leaves some small patches of lace. Looks alright for style but am still unimpressed.
Very malty nose, a lot of rich toffee with hints of treacle and some mint. A hint of pine resin is the only indicator of any hops. A bit of a disappointment to be honest. Pleasant, but simple.
Taste is better as far as complexity goes, a nice steady flow of bitter flavour through the palate. Starts with a healthy malt dose, more of that toffee character followed by a long, mild but increasingly apparent resiny bitterness. Very English, with some aspects of tea and a bit of a leather character. Leaves with a slight bitter hang, but mostly clean and pretty crisp. A decent bitter.
Mouthfeel is decently full, feels a bit flat but with a good body. It's English, it shouldn't be fizzy, so it's all good.
Decent brew, not amazingly tasty but pretty good.
999 characters
3.62
/5
rDev
-1.1%
look: 3.5 | smell: 4 | taste: 3.5 | feel: 3.5 | overall: 3.5
This beer pours a semi see thru copper hue with average carbonation that leaves a fast vanishing half finger head with no lacing whatsoever,the aroma is candy lollies,pineapples and lots of hops,it has an above average mouthfeel which finishes quite smooth and easy to drink with a nice stonefruity taste that finishes with a nice crystal malt finish and only semi bitter but no overly bitter for my palette although not overly complex a very easy beer to drink.
462 characters
3.57
/5
rDev
-2.5%
look: 3 | smell: 3.5 | taste: 3.5 | feel: 3.5 | overall: 4
Bronze/amber pour with very small fine head.
Very hoppy aroma with a fair whack of citrus, some woody notes and tropical fruit. Loads of cookie dough and noticeable toffee brings it back into English territory.
Flavours are similarly malty, fairly sweet, but a prominent green, earthy hop note keeps it in check. A moderate, slightly harsh bitterness follows.
Low creamy carbonation with medium body.
Would have liked to see more carbonation, both for appearance and mouthfeel.
477 characters
4
/5
rDev
+9.3%
look: 4 | smell: 4 | taste: 4 | feel: 4 | overall: 4
330ml bottle 5%abv best before 9/12/09
all the necessary stats, plus some info on the back label. good start.
surprisingly clear for a bottle conditioned ale. nice copper color with a thin off white head. low carbonation.
big sweet malty/floral aroma. really gives you a good idea what this beer is about.
taste is a good reflection of the smell. good balance with some sweet malt and just enough bitterness for balance. lingering malt makes this a beer you could sit back with for a while, which is fine cause it was a bit cold out of the fridge and has markedly improved as it warmed.
overall, really happy with this beer. something i would not mind drinking on tap or buying again in the bottle.
703 characters
3.92
/5
rDev
+7.1%
look: 4 | smell: 4.5 | taste: 4 | feel: 4 | overall: 3
Appearance - 4.0
An absolute monster of a pillowy head that despite gentle pouring, managed to half fill my glass. Thankfully this slowly receded to a more drinkable level which stayed right to the bottom of the glass. Deep copper in colour with good clarity.
Smell - 4.5
One sniff and.... mmm, this is going to be good! The aroma is fruity and hop driven, not dissimilar to some Belgian amber ales.
Taste - 4.0
With so much head, it is a good thing that the foam is extremely tasty. A good balance of malt and hop, both in terms of flavour, and sweetness/bitterness. Tastes of biscuity malt, bitter orange and grapefruit
Mouthfeel - 4.0
The carbonation is more akin to a Belgian style beer, that is, very lively. I suppose this could be seen as a negative by some, but for me it gives the beer an interesting personality.
Drinkability - 3.0
Higher carbonation means that this is not a great session beer, however tasty.
OVERALL - 4
Excellent. This is truly a quality brew that leaves me eager to try the rest of the Holgate range. Not a textbook ESB, but a highly enjoyable beer.
1,086 characters
4.09
/5
rDev
+11.7%
look: 3.5 | smell: 4.5 | taste: 4 | feel: 4 | overall: 4
A: Dark ale coloured - amber, like a black tea, nice & clear. 1 finger head, with good carbonation.
S: Full on noble hops, grapefruit, perfume, lychee, citrus. Also some sweet breads & biscuit. But mainly perfume flower-citrus hops.
T: Again the floral hops shine through, grapefruit, with some grapefruit bitter aftertaste that linger nicely. A little dry & also a little sourness on the palate. Love the complexity.
M: Light, little carbonated on the tongue...& the sour bitterness keeps it alive after swallowed. Bitterness is quite full.
D: Very easy, the fruit floral notes made this feel like a classic US Pale Ale...I constantly thought Little Creature Pale Ale, & Moo Brew.
I could easily sit on this for a while - easy!
729 characters
3.45
/5
rDev
-5.7%
look: 3.5 | smell: 3.5 | taste: 3.5 | feel: 3 | overall: 3.5
a) Pours a slightly hazy dark gold / pale amber. The head is heavy set, pillowy, off-white. There is some good carbonation.
s) Caramel, very slight hint of green apple or tropical fruit such as pineapple, toasty, burnt sugar.
f) Good assertive hop flavour, supported by burnt caramel. Slightly perfumy, soapy/waxy character.
m) Slight "dusty" character, but a full mouthfeel, with a medium to full bitter character.
d) Not too shabby....
437 characters
Holgate ESB from Holgate Brewhouse / Keatings Hotel
3.66
out of
5
based on
36
ratings.