Amis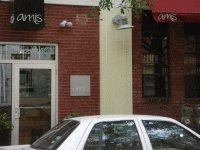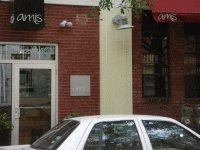 Bar, Eatery
412 S 13th Street
Philadelphia
,
Pennsylvania
, 19147
United States
(215) 732-2647 |
map
vetrifamily.com
Notes:
Recent ratings and reviews.

Reviewed by PhillyStyle from Georgia
4.25
/5
rDev
+0.2%
I went here twice during my stay in Philly...and while this may be one of the best restaurants in the city, I would not say that it is a beer destination. Let me just say that the food is amazing (one of the best meals that I have had in a long time), the service is great, the vibe of the place is very good, but can be a little loud at times (classic rock playing over the speaker system). As for the beer, they did have a nice IPA on tap that was brewed by Victory for the restaurant and maybe 4 others, but nothing too exciting. They also had a decent bottle list and the wait staff were knowledgeable about the beer. Overall, I would imagine that the next time that I am in Philly I will be going, but for beer, I will probably go somewhere else.
Nov 06, 2014
Reviewed by NeroFiddled from Pennsylvania
4.28
/5
rDev
+0.9%
vibe: 3.5 | quality: 4.5 | service: 4.5 | selection: 4 | food: 4.5
Tucked away at 412 South 13th Street, Amis is a pleasant-enough looking place given the concrete supports on each end of the room; and it's got a lively feel to it. I personally enjoy an open kitchen most of the time, but some people have a problem with it. They've done a good job with it. That said, the space is really quite different depending on where you sit, which is interesting, and I much prefer the elevated area to the left as you enter. Unfortunately they're always busy and you don't have much choice.

The food is very good and the service is very good, but remember that you get what you pay for so it is a little bit pricey. I've never been wowed, but I've never been let down. I'd put it in the low top 20 of my favorite places to go.

On to the beer. It's a better deal than the wine, as is almost always the case, but it's still more than I'd like to pay. The selection is good, but it's not great, and to be honest the first thought that went through my head when I saw it listed on BeerAdvocate was "How is that possible"? And I'll say that although the servers do know their beer, they're not particularly good at conveying what a certain beer might be like - simply comparing one beer to another, or giving a general style isn't at quite the level of service that they want to be at. Or at least not at their prices, which are on-par with the exceptional Gramercy Tavern in Manhattan.

So, with all of that said, I wouldn't recommend Amis as a beer destination unless you're looking for a casual but upscale place to enjoy a quality meal - the food and service come first here, and the beer is third.
Jun 30, 2011

Reviewed by corby112 from Pennsylvania
4.2
/5
rDev
-0.9%
vibe: 3.5 | quality: 4.5 | service: 4.5 | selection: 3.5 | food: 5
This is one of Mark Vetri's restaurants that focuses on authentic Roman cuisine, and most dishes are small plates/tapas format. Although you should come here mostly for the incredible food, they have a small but impressive selection of great beers.

The place is really small, basically one large room wiu a small, slick bar and an open kitchen. Because of this and the loud classic rock playing(WTF?) it can become incredibly loud. The decode is nice and it could be a romantic place bu they designed it poorly and the deciboe level is outrageous. I've been to concerts that weren't as loud. This hurts the atmosphere because you have to talk very loudly or scream to be heard.

If you can get past how loud it is the service and cuisine are top notch. The menu is broken down into snacks, cheeses, charcuterie, small plates, pastas and appetizers. Every dish that my wife and I ordered was incredible. Serrano ham in a honey glazed sauce was one of the best things I've ever consumed. The crudo, pasta dishes and vegetable salad were also delectable.

Our server was very knowledgeable and friendly and even accomidated us when we requested a table change. They were very busy but still foundnus something more to our liking. He also seemed knowledgeable abou the different beers that were available.

For a fine dining restaurant thay had an impressive selectionnof draft and bottles. Only one Italian beer on draft, Birrificio Del Ducato Nuova Mattina, but they had ome Belgians, somehing from Brooklyn and a few locals. The bottle list is extnsive with many Italian offerings but they are crazy expensive! A 750 of Baladin was $40+! The non Italians wernt as bad but still $5-10 more than you should pay anywhere else.

Overall this is a great restaurant with an impressive beer selection. The food is amazing but the place is incredibly loud, even at 10:00 on a weekday night and the bill can get up there if you're not careful.
May 23, 2011
Amis in Philadelphia, PA
Place rating:
4.24
out of
5
with
3
ratings