Brunch Money

Armadillo Ale Works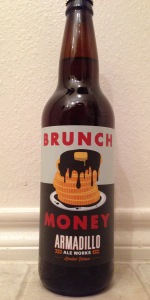 Rate It
Beer Geek Stats
| Print Shelf Talker
Style:

ABV:

10%

Score:

Avg:

4.11

| pDev:

16.3%

Reviews:

12

Ratings:

From:

Avail:

Rotating/Seasonal

Wants

Gots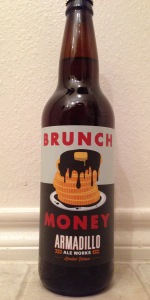 Notes:

puck1225 from Texas
4.35
/5
rDev
+5.8%
look: 4.25 | smell: 4.25 | taste: 4.5 | feel: 4.25 | overall: 4.25
Had it on tap at the local World of Beer. Pours a hazy brownish yellow color with excellent head and lacing.
Smells and tastes like coffee and vanilla cookies! Lots going on here! Pleasant citrus and hoppy background. Not boozy, comforting and enjoyable.
Dec 14, 2019
ShaneBlair from Texas
3.95
/5
rDev
-3.9%
look: 4.25 | smell: 3.5 | taste: 4 | feel: 4 | overall: 4.25
I get an overall residual sugar sweetness complimented by nice roast coffee and possibly cocao flavours with a decent hop backbone and finish. Hides the 10% abv remarkably well. A nice brew for sure!
Jun 01, 2019
zonker17 from Texas
3.88
/5
rDev
-5.6%
look: 4.5 | smell: 4 | taste: 3.75 | feel: 4 | overall: 3.75
Taster pour, near clear golden, small head, excellent lacing. Some biscuit and light floral nose. Malt sweetness along with somewhat big hops make for a unique brew. Bitter finish with lingering sweetness maybe some off flavor. Heavy body and moderate carbonation.
Feb 07, 2018
brurevu from Texas
4.1
/5
rDev
-0.2%
look: 4 | smell: 4 | taste: 4.25 | feel: 4 | overall: 4
Inspired by brunch Armadillo Ale Works adds maple syrup, cocoa nibs, vanilla, coffee and lactose sugar to the base golden ale that has flaked barley and oats and a hint of honey and caramel malts. This all adds up to a dynamic drinking experience that is truly Brunch in a bottle. The beer poured a light copper with a small tan head that disappeared quickly. The aroma has a vanilla and maple sweetness intertwined with coffee that can trick you into thinking stout. The taste hits you with an initial coffee roast followed immediately by the sweet vanilla and maple sugar that is boosted by the lactose sugar. The cocoa lingers on the back end and coats your palate with a pleasant bitterness. This beer truly takes your taste buds on a ride. It may seem like a lot but the parts equal a tantalizing whole that was surprisingly drinkable given the high ABV.
Jan 05, 2015

stephens101 from Oklahoma
4.12
/5
rDev
+0.2%
look: 3.5 | smell: 4 | taste: 4.25 | feel: 4 | overall: 4.25
Per the label it looks like someone is tinkering around in someone else's lab with this "stout-inspired golden ale"? I don't know what exactly to make of all that, but I will very soon.
Pours dull amber with miniscule froth. Smells of espresso, vanilla and various fruits including peaches and persimmon. Tastes of sweet bread, coffee and a side of fruit. Medium-bodied and creamy.
Pretty much like brunch in a glass, and works a helluva lot better than I expected, so what if someone else's Bunsen burner is being used.
Jan 04, 2015

joeyfeets from New York
4
/5
rDev
-2.7%
look: 3.75 | smell: 3.75 | taste: 4.25 | feel: 3.75 | overall: 4
The beer is light amber in color with a thin, white head. Coffee, chocolate & caramel immediately hit your nose. Upon taste, I initially pick up sweet, syrupy malts & a bready flavor. It finishes with a hint of vanilla & a coffee bite of bitterness that really helps balance out the sweetness. Great beer to pair with my morning short stack. These Denton boys were right on the "money" with this one.
Dec 22, 2014

AndyEdgar from Illinois
1.25
/5
rDev
-69.6%
Apparently this one is great on draft. From the 22oz bottle it was not the same experience. Drain pour for all. Tasted like green peppers and smelled putrid like vomit. Infected? I dunno, but it was the worst beer i have had in some time
Nov 09, 2014

ONovoMexicano from New Mexico
3.75
/5
rDev
-8.8%
Poured from the bomber into a nonic pint glass. The beer is brown, amber and has light hues. There's a haze to the liquid and some robust carbonation. The head is a finger thick, creamy but dissipates quickly. 4
While pouring, the aroma reminds me of bourbon, like a jack and coke. From the glass, it does have a syrupy aroma and big vanilla notes. It's both a sweet and boozy smell. 3.75
The sweetness continues, but there's an astringent taste here that's a bit of a bummer. This competes with a maple-like flavor that does remind me of pancakes. Caramel and toffee are all over this brew. Vanilla is a big presence as well. As this warms, the booziness on the flavor subsides well.
3.8
While overly boozy initially, this settles to a sweet, almost syrupy and, potentially for some, cloying concoction. The sweetness could be toned down and I wish there was more hops to balance this. 3.6
This beer could be great but for the sweetness. 3.75
Sep 03, 2014

WTKeene from New Mexico
4.41
/5
rDev
+7.3%
look: 4.25 | smell: 4.5 | taste: 4.5 | feel: 4.25 | overall: 4.25
Poured on tap at Craft and Growler on 3/29/14. Reviewed from notes.
Appearance: Pale, creamy eggshell head, no lacing. The beer itself is a hazy, dark amber color. "Golden Stout" definitely applies as far as the appearance.
Smell: Loads of coffee, and roasty, sweet malts. I can tell this is not a beer brewed with roasted, dark malts, but it's about as close to a stout as I could imagine considering the pale malts.
Taste: A beautiful amount of coffee, vanilla comes through as well. There's a sugary aspect to the taste as well, adding an almost Belgian characteristic to the beer. More coffee. And then there's some coffee, too. Did I mention coffee?
Mouthfeel: Moderate carbonation, very thick and creamy.
Overall: Well, this is definitely a "Golden Stout." I can tell it's not a true stout, but it's a remarkable, pale recreation. Some real creativity on the part of Armadillo Ale Works going on here, great job.
Aug 01, 2014
MattSweatshirt from Texas
3.77
/5
rDev
-8.3%
look: 4 | smell: 3.75 | taste: 3.75 | feel: 3.75 | overall: 3.75
Hard pour only generates a finger of sudsy off-white head and a somewhat clear deep orange body. Leaves some lace.
Smells like a stout due to the roasty coffee additions. The smell and color are confusing. Chocolate, vanilla, and maple syrup. Definitely a sweet smelling beer.
A little sticky sweet from the lactose and sugary additions. Good thing the coffee is in this thing for "balance". Chocolate, brown sugar, syrup.
Smooth and thick with medium carbonation.
Pair with a salad so you don't feel like a fatass while drinking this stuff. Or brunch.
May 28, 2014

cam12 from Texas
5
/5
rDev
+21.7%
look: 5 | smell: 5 | taste: 5 | feel: 5 | overall: 5
Poured from growler into a tulip
Appearance- light copper color with a tan head that fades quickly and does not leaving much lacing.
Smell- chocolate and oatmeal cookies, maple sugar, faint roasted coffee. Smells like a great imperial stout and immediately your eyes begin to question how light in color this beer is.
Taste- chocolate, cocoa, oats, and lots of coffee. The coffee taste isn't the normal coffee I get from most stouts, its a bit sweeter. So much complexity with every sip. First comes the chocolate, then you take another sip and it changes over to a sweet coffee and oatmeal taste. And some maple sugar sweetness.
Mouthfeel- medium to full mouthfeel, medium carbonation, the coffee lingers for a few seconds.
Overall- Quite a tasty beer. The drinkablity is off the chart. Its so complex but yet you just want to drink it so quickly. This will be great for summer when you want to enjoy a refreshing roasted/chocolaty beer, which I've never said about a 10% stout. The light color of this beer really does change how you perceive your drinking experience. I can't wait until they bottle it. Pairs best with brinner.
Apr 06, 2014
tubeyes from Texas
4.13
/5
rDev
+0.5%
look: 3.5 | smell: 4.25 | taste: 4.25 | feel: 4 | overall: 4
A blond, white head and some lace
S Has the nose of a vanilla Starbucks espresso, some hops.
T lots of coffee and chocolate, hops as well, quite tasty.
M nice silky wonderful mouth feel, coffee aftertaste.
O lovely beer, quite good and surprising. I know you shouldn't judge a beer by its color but this is my first blond stout, so I was quite surprised at the stout punch this little blonde beauty had in her. Had I'm shaker pint at OSDH in Denton
Apr 02, 2014
Brunch Money from Armadillo Ale Works
Beer rating:
90
out of
100
with
159
ratings