Nail Stout
| Nail Brewing Australia Pty Ltd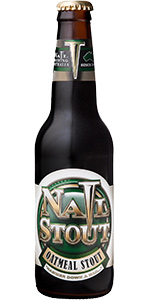 BEER INFO
Brewed by:
Nail Brewing Australia Pty Ltd
Australia
nailbrewing.com.au
Style:
English Stout
Alcohol by volume (ABV):
5.20%
Availability:
Year-round
Notes / Commercial Description:
No notes at this time.
Added by rastaman on 02-29-2004
Reviews: 14 | Ratings: 25
2.96
/5
rDev
-21.3%
look: 4 | smell: 3 | taste: 3 | feel: 2 | overall: 3
330ml bottle sent to me my Mulder, drank from a tulip... A dark brown body, nothing of note. The head is medium tan, about two fingers rises and leave a full finger cap for several minutes. Ok lacing... Right away I don't get much out of this weak head so I give it a couple minutes to open up. Even as it warms, still not much comes through. The front gives off a very small bit of chocolate, a touch of smoke, then you get a weird body aroma. As bad as that sounds its not horrendous, primarily weak and boring... The taste is much stronger but the taste and mouthfeel are distracting. Its very ashy, charred ash, harsh. Some stale coffee and prunes. This is not very good... The mouthfeel is off, over-carbonated and dry is not a good combination.
My first impression of Australian craft, not off to a great start. I we go up from here.
840 characters
3.2
/5
rDev
-14.9%
look: 3 | smell: 3 | taste: 3.5 | feel: 3 | overall: 3
Not bad. Bit sweet though. Sweet mollasses and chocolate at the start, finish is roasty and bitter, but still sweet. Some tarryness in their aswell. Not too bad in the end, was hoping for something a little better, but its OK, can't complain, pretty tasty.
256 characters

3.52
/5
rDev
-6.4%
look: 3.75 | smell: 3.5 | taste: 3.75 | feel: 2.5 | overall: 3.5
From Beer Cartel. No BB.
Pours black 'n' tan. One finger coarse head subsides to film.
Aromas of roast and coffee. Moderate.
Taste is good and bad. Good in that it has good choc/coffee/roast notes, plus hint of smoke/wood, but bad in that they do not stay around too long in the mouth. Somewhat watery taste.
Mouthfeel light to watery even taking into account low ABV.
Good stout, not a great one, tho not getting a lot of oatmeal.
436 characters
3.57
/5
rDev
-5.1%
look: 3.5 | smell: 4 | taste: 3.5 | feel: 3 | overall: 3.5
Pours a thick jet black with reasonably-sized head that quickly fades to a thin layer.
Huge chocolate and coconut aroma wafts from the glass along with the expected roasted expresso. Lovely sweet background reminds me of morning coffee on the way to uni. Very slight hops aroma.
Huge roasted malts/grains hit slightly offset by acidic tang. Well countered by lasting bitterness. Taste doesn't quite impress as much as the aroma.
Rather smooth, but quite lively carbonation (more than I expected at least). Was also expecting it to be a tad creamier.
Aroma is what really defines this beer. A very enjoyable stout none the less.
627 characters

3.65
/5
rDev
-2.9%
look: 3.75 | smell: 3.75 | taste: 3.75 | feel: 3.25 | overall: 3.5
330ml bottle, no freshness date, poured into pint glass. Label states it has 6 different malts in the mash.
L - jet black, almost completely opaque. There is a thin, pale brown head than is gone fairly quickly, leaving a thin creamy ring.
S - milk chocolate and lighty roasted malts. Hint of hazelnut and burnt porridge.
T - creamy, roasted malt taste with a some coffee notes that are not overpowering, but are definitely noticable towards the end. The finish is mildly acidic dark chocolate taste with a subtle herbal hoppy bitterness.
F - feels a bit watery for an oatmeal stout. The texture, while creamy, isn't a thick as other oatmeal stouts I've had. The beer has a nice chewy texture at the finish. Carbonation is moderate, maybe a touch on the lively side.
O - a little bit dissapointed. This is one of my favourite beer styles and while this stout was certainly decent with a creamy texture and balanced low key mix of choc and coffee , the light body and slightly acidic finish was not appreciated. Still, its a solid beer thats definitely drinkable.
1,075 characters

3.69
/5
rDev
-1.9%
look: 3.5 | smell: 4.5 | taste: 3.5 | feel: 3 | overall: 3.5
330ml handbottle of the latest batch. Huge thanks to MordeciaFunk for this. Into a Kishimoto Duvel tulip.
Pours a matt black colour with a finger of foam. The mocha foam falls to film over a couple of minutes.
Strong aroma of chocolate, chocolate topping and a touch of licorice. Really nice, especially for the abv, smells like there is plenty coming.
Sadly not quite as much. Taste has some coffee upfront and waves of chocolate after that. Some cocoa in there, but mainly chocolate and plenty of it.
Some coffee bitterness upfront but the smoothness of the chocolate takes care of that swiftly. Needs more bitterness in the back end as it sort of drops away as it becomes more akin to a milkshake.
Nice interesting stout that needs a bit more bite to see it become something special. Does get a touch watery at the finish, but still worth chasing. Hopefully the new brewery will see the capacity to be able to meet the solid demand for this beer that Nail have previously been unable to satisfy.
1,004 characters

3.92
/5
rDev
+4.3%
look: 4 | smell: 3.75 | taste: 4 | feel: 3.75 | overall: 4
Black draft pour, but still with good clarity; reddish brown cap with good retention; great lacing. Roasted malt nose. Semi sweet roasted caramel malt flavor. Creamy medium mouthfeel with lite carbonation. Light bittersweet roasted malt linger - a perfectly fine stout.
269 characters

3.93
/5
rDev
+4.5%
look: 3.75 | smell: 3.75 | taste: 4 | feel: 4 | overall: 4
A tasty, sessionable stout with great balance and variety of flavours
Aroma: dark malt/yeast
Taste: dark malt, dark fruit, slight smoke and vegemite and very slight dark chocolate
at or near the top of the Australian stouts - very nice and balanced beer
256 characters
3.96
/5
rDev
+5.3%
look: 4 | smell: 3.5 | taste: 4 | feel: 3.75 | overall: 4.5
On-tap at Harts Pub in Sydney.
Pours a deep brown colour, lighter at the edges, but mostly consisting of a solid, heavy colour. Fine head forms a foamy, musky brown crest that leaves some middling but decent enough lacing. Looks like a solid, dependable stout: decent and tasty. Like it should.
Nose is relatively bland, but fine. There's nothing wrong with it: it's standard stout material. Fine, light dusty roasted characters, a little vegemite and a slight butyric suggestion (that is so faint I'm pretty sure it's not actually butyric acid). Quite restrained otherwise.
Taste is lovely. Toasty malt with a mild sweet uptilt and roast to balance it. Exceptionally smooth. Some char towards the back, but restrained, and just a hint of some banana esters coming through. It's all very nicely kept in balance, whatever is happening.
Feel is a little light, but that just aids the drinkability and sessionability.
And sessionable it is: this is a lovely, relatively lightweight stout. We need more sessionable, easy-drinking dark beers, and this is a good one. I like it a lot.
1,083 characters

3.97
/5
rDev
+5.6%
look: 3.5 | smell: 4 | taste: 4 | feel: 4 | overall: 4
On tap at the Sail and Anchor in Fremantle.
A - Pours a deep dark black/brown with a tinge of red. A dense finger of tan head caps the body and creates some lace sheets.
S - Coffee, cocoa beans, brown sugar and ash.
T - Smooth combination of bitter coffee, dark chocolate and caramel. Nice depth.
M - Medium body, not as thick and full as some oatmeal stouts, moderate carbonation.
O - Was stoked to see this up on the board at the Sail and Anchor. I live in Perth and it's the first time Ive had the opportunity to try this celebrated stout after a good two years of craft beer enthusiasm. I wasn't let down.
614 characters
3.98
/5
rDev
+5.9%
look: 4.5 | smell: 4 | taste: 4 | feel: 3.5 | overall: 4
Drank on Tap at Clancy's fish pub.
A - Pours a dark deep Ebony colour befitting of a stout. TAneed head last a while before slowly fading away.
S - Expresso aromas are present, with soem caramelised sugars, maybe a little citrus.
T - Some nice dark cocoa flavours up front, before some roasted malts kick in, a little bitter on the finish.
M - Medium to full body and carbonation, maybe a little light on body.
O - I don't know of a better stout made in Australia at this ABV. It is smooth and offers plenty in flavour
523 characters
4
/5
rDev
+6.4%
look: 4 | smell: 4 | taste: 4 | feel: 4 | overall: 4
Appearance - 4.0
Poured 2-3 fingers of bubbly dark beige head over a solid black body that is only penetrated by light around the edges. Good head retention.
Smell - 4.0
Very smooth and balanced aromas of roasted malt, expresso coffee, dark chocolate and leafy hops.
Taste - 4.0
As I have professed in earlier reviews, I am not a lover of stouts, but I can tell that this is a cut above the majority. There is the usual burnt flavour from roasted malt, but it is not overpowering and is well balanced with a dark sugar sweetness. Flavours of roasted coffee, leafy hops and a little pepper. There is little alcohol presence.
Mouthfeel - 4.0
Low to moderate level of carbonation feels somewhat rough over the tongue and thick in the mouth, although it is not heavy.
Drinkability - 4.0
For a stout of 6%ABV I would say this is very drinkable. It was not a struggle to finish by any means, I would drink it again.
OVERALL - 4.0
An award winner and deservedly so. This is a beautifully smooth stout that deserves to be drank overseas.
1,034 characters
4.03
/5
rDev
+7.2%
look: 4.5 | smell: 4 | taste: 4 | feel: 4 | overall: 4
330 ML bottle poured into a tulip
A-- Poured reddish black, settled jet black. Huge two finger mocha colored head that lasted for a good amount of time before slowly fading away. Head left big streaks of lacing. Looks like lacing from a root beer float. Excellent head retention upon swirling. Right back to two finger height.
S-- Coffee, mocha, brown sugar, roasted malts and roasted oatmeal. Faint bits of lemon citrus also come into the equation.
T-- Bitter chocolate coffee taste but not overwhelming. Reasonably smooth. Roasted malts and oats. A little bit of a lemony sweet and sourness as well.
M-- Medium carbonation and mouthfeel. Very smooth and easy to savor. Halfway through the beer the lemon taste drops off and am left with Coffee, dark chocolate and soft oats. Very well done.
D-- Smooth and easy to drink. ABV is listed on the bottle at 6% and it is very well hidden. Very good beer and can drink 2-3 of these in a sitting. Only bummer is how hard it is to find unless you are in Perth
1,007 characters
4.4
/5
rDev
+17%
look: 4.5 | smell: 4.5 | taste: 4.5 | feel: 4.5 | overall: 4
This beer actually should be classed as an oatmeal stout because thats what it is and even says so the front label and the ABV is actually 6%,it pours a black opaque colour with nice carbonation that leaves a one finger tan head,it has really lucious aromas of dark mocha and roasted caramel malts,it has a nice mouthfeel which feels just right for this style nice and thick and chewy with flavours of mocha and chewy roasted malts but is balanced out perfectly with a nice subtle bitter finish to balance out the sweetness and there is no sign of any alcohol taste at all,this is such a nice beer i can understand why it has won so many awards as it has and the best thing about it is its brewed here perfect.
710 characters
Nail Stout from Nail Brewing Australia Pty Ltd
3.76
out of
5
based on
25
ratings.