Nail Ale
| Nail Brewing Australia Pty Ltd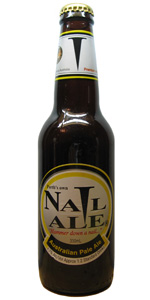 BEER INFO
Brewed by:
Nail Brewing Australia Pty Ltd
Australia
nailbrewing.com.au
Style:
English Bitter
Alcohol by volume (ABV):
4.70%
Availability:
Year-round
Notes / Commercial Description:
No notes at this time.
Added by rastaman on 02-29-2004
Reviews: 9 | Ratings: 16
4.33
/5
rDev
+26.6%
look: 4.5 | smell: 4 | taste: 4.5 | feel: 4 | overall: 4.5
I must admit im abit biased towards this brewery as its not only based in my hometown but it just creates the two best beers in their respective styles that they can and i must admit i do usually like a brewery to try different things but this is one of those breweries that decides to concentrate on brewing the two best beers in their styles that they can and not over exerting itself in trying new things and i must admit i wish they did try some new things as they far exceed at the two different styles so far and what the first reviewer said about this beer being a English Bitter is absolute rubbish as it clearly states on the front label of the bottle that is a Australian Pale Ale so would prob class this as more of an American Pale Ale than a ESB anyways it pours a pale golden colour with nice carbonation that leaves a nice one finger head with subtle lacing,it has aromas of spicey,fruity hops with a honeyish malty background,the mouthfeel is pleasantly medium bodied with a nice honeymelon,stonefruity taste that is very well balanced out with a nice pale maltish afterfinish that makes this beer a very nice example of an APA and so glad i bought more than the one of.
1,186 characters
4.01
/5
rDev
+17.3%
look: 4.5 | smell: 3.5 | taste: 4 | feel: 4 | overall: 4.5
Appearance - Pale amber, 2 fingers of white head with very good retention.
Smell - Mild grapefruit and kiwi fruit.
Taste - Despite the colour, I agree with this being classified as an English Bitter. The hops don't possess the strong fruit character of most American Pale Ales, and the malts surprisingly compete with the hops to be the dominant flavour. Well balanced with no significant flaws that I could detect.
Mouthfeel - Light and smooth with a good carbonation level.
Drinkability - Very drinkable, even by pale ale/bitter standards.
Overall - One of the many great Australian made pale ales.
605 characters

3.69
/5
rDev
+7.9%
look: 3.75 | smell: 3.5 | taste: 3.75 | feel: 3.75 | overall: 3.75
From a 330ml bottle, pours a hazey amber colour with a small white head.
Aroma malts, biscuit, light hops but more malt.
Taste very much like the aroma, it's ok.
161 characters
3.68
/5
rDev
+7.6%
look: 4 | smell: 3.5 | taste: 3.5 | feel: 4 | overall: 4
Appearance - 4.0
Pours two fingers of white head that slowly reduced over a slightly deep gold to hazy amber body.
Smell - 3.5
Pleasantly fruity nose suggesting of citrus, apple and pear with an almost Belgian yeast character.
Taste - 3.5
Solid biscuity malt backbone with hints of toffee, dusty, fruity yeast and sweet apple, finishing pleasantly bitter. Very well balanced pale ale.
Mouthfeel - 4.0
Persistent, fine carbonation, perhaps fizzier than most with a light to medium body.
Drinkability - 4.0
Sessionable, as all pale ales should be, and interesting enough to keep coming back.
OVERALL - 3.7
Nail Ale has always been an interesting beer with regards to pigeon-holing its style. Ultimately, it is best to agree go with the label - it is an Australian Pale Ale. Less malt and more hops than most English Pale Ales, more malt and less hops than most American Pale Ales, and more yeast character than either. A good, consistent beer, similar to but better than Coopers Pale Ale.
991 characters

3.53
/5
rDev
+3.2%
look: 4 | smell: 3.5 | taste: 3.5 | feel: 3.5 | overall: 3.5
A - Pale, yellowy amber, good retentive head with some light streaky lacing.
S - Fresh and clean, grapefruit, sweet malt.
T - Light but well balanced, kiwifruit and peach are prominent.
M - Light body, medium carbonation, dry finish.
O - A decent session beer. Not sure about the "English Bitter" categorisation though.
323 characters

3.26
/5
rDev
-4.7%
look: 4.5 | smell: 3.5 | taste: 3 | feel: 3.5 | overall: 3
Had on tap at the Sail & Anchor, 17/08/11.
Pours a burnished amber colour, mild haze and steady stream of bead. Head is slightly off-white, lovely and dense with nice lace. Pretty great.
Smells quite hoppy, in a herbal way. Slight tartness with citrus, lemongrass and a good dose of mint. Actually smells bitter without a lot of aromatic substance; but not bad.
Taste is really very bitter. Gentle enough grain upfront with touch of barley husks, then develops early hoppy bitterness; a bit POR dirty with hints of rocket, medicinal phenols and just very astringent overall. Just POR really, but a slight lighter lift late-mid. Finish is all dour.
Decent enough body with OK texture.
A fairly pedestrian effort without a lot of the flavours I've loved in PAs. The only beer from Nail I'd had prior to this was the Clout Stout, so it's only natural I'm a bit disappointed with this very standard offering. Have we made this our national beer style? If so we should keep looking.
982 characters
3
/5
rDev
-12.3%
look: 3 | smell: 3 | taste: 3 | feel: 3 | overall: 3
Tap- pretty nice. Malts a lightly sweet, bland for the most part. Hops are bitter, citrusy and at times tea-like. Nice dry bitter finish, definitely not as bad as i thought it might be, and something thats pretty easy to drink, could do with a little more body and flavour. Fairly tasty.
287 characters

2.98
/5
rDev
-12.9%
look: 3.5 | smell: 3 | taste: 3 | feel: 2.5 | overall: 3
From Beer Cartel. No BB.
Pours a cloudy dark straw. Head fizzes and dies. Moderate lace.
Aromas of yeast, and a little pear flesh.
Taste is the same, yeast driven, and good old Aussie Hops, (PoR?) to finish and yep we are slap bang in Coopers Pale territory here, but with heavier flavours. Slight astrigent metallic twang on back palate.
Mouthfeel nice 'n' zesty, but a little toward medium bodied, and I'd prefer lighter for style.
Overall, this is difficult. I bought two bottles, and the first was in better condition. This is more harsh, however this is the one I am reviewing right now.
597 characters

2.95
/5
rDev
-13.7%
look: 3 | smell: 3 | taste: 2.75 | feel: 3.5 | overall: 3
Bottle: standard brown 330mL bottle with a pretty tacky macro label.
Appearance: pours a pale amber colour with a small white head that fizzles away quickly. A bit dull.
Aroma: again not particularly brilliant - a fug of herbal hops and some funky malts.
Taste: pretty much follows the nose - some hop bitterness with plenty of that awkward malt fug.
Aftertaste: the fug dissipates to be replaced by some earth flavours and some hop bitterness.
Mouth feel: a reasonable body with a good dose of carbonation.
Overall: not a brilliant beer, to be honest. The nose and the palate are dominated by an awkward malt fug that doesn't really sit well with the earth and herbal hops. Add to that the price of AU$70 a case of 24 x 330mL bottles (2014), and this one is a no go.
774 characters
Nail Ale from Nail Brewing Australia Pty Ltd
3.42
out of
5
based on
16
ratings.