Starsky & Dutch

3 Stars Brewing Company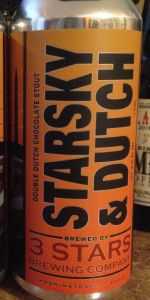 Write a Review
Beer Geek Stats:
| Print Shelf Talker
Style:

ABV:

8.3%

Score:

Avg:

4.01

| pDev:

7.23%

Reviews:

12

Ratings:

From:

Avail:

Rotating

Wants

Gots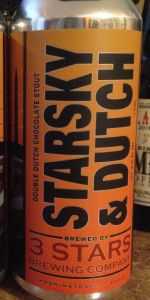 Notes: Double Dutch Chocolate Stout
4.07
/5
rDev
+1.5%
look: 4 | smell: 3.75 | taste: 4.25 | feel: 4.25 | overall: 4
Looks a deep brown nearly black. No noticeable head. Faint chocolate and an almost creme brûlée appear on the nose. As with the taste, there is an almost blue/blackberry note. The taste is typical of a milk stout if a little dryer and a little more chocolate-y. As mentioned there is something of a berry je ne sais quoi. Feel is lighter and with slightly larger, more intense bubbles than is typical for the style. Overall drinkable, and without the taste of booziness that one might expect from the ABV.
507 characters

3.99
/5
rDev
-0.5%
look: 3.75 | smell: 4 | taste: 4 | feel: 4 | overall: 4
Decanted from a 16 oz (473 ml) can into a conical pint glass; canned 17 November 2017, code Pass the Dutchy.
A: Pours a very dark brown with no more than a quarter inch, mocha brown head, low retention, and little lacing.
S: Aromas largely mocha/cocoa, vanilla, and toast with milky lactose sweetness, which I usually associate with milk stouts.
T: Sweet. Flavors are consistent with lactose sugariness, chocolate, vanilla, and sarsaparilla. Only light bitterness very appropriate for the style.
M: Light to medium bodied with modest persistence of carbonation.
O: Starsky & Dutch is a solidly composed, relatively light bodied, chocolate stout. I am assuming it is a milk stout, although it does not say so on the label, only that it is "brewed with dutch cocoa & finished with cocoa nibs from Undone Chocolate." It certainly tastes like one. Drinkable and enjoyable. Would certainly have it again.
905 characters
3.95
/5
rDev
-1.5%
look: 4.5 | smell: 3.75 | taste: 3.75 | feel: 4.75 | overall: 4
Review from BeerAdvocate Magazine #121
Creamy, Chocolate, Roasty, Currants
This is a huge beer. Loads of body jostles around on the palate with an intense roasted grain and chocolatey character. The use of both cocoa powder and cacao nibs provides some chocolatey depth, yet the sweetness is not over the top. It's definitely more of a bittersweet tone, especially when the roasted grain flavor sets in. A big kiss of dark fruit also emerges. Starsky & Dutch is super creamy, and while you can just knock this back, I have no problem continuing to sip this Stout. Another round is an easy choice.
Look 4.50 | Smell 3.75 | Taste 3.75 | Feel 4.75 | Overall 4.00
665 characters
3.96
/5
rDev
-1.2%
look: 4 | smell: 4.25 | taste: 3.75 | feel: 4 | overall: 4
20 oz Stout glass. Pours dark enough to block room lighting.
Smells of sweet malts, chocolate, and a cross blend of vanilla and berry/licorice. Tastes of heavy chocolate, and vanilla are quite evident, and not at all overdone.
A great balance between all flavors, smooth, with very little bitterness. A tad dry.. a little sweet. The vanilla hangs on after each drink, but not in a bad way. I really like this beer and look forward to revisiting again.
453 characters
4.2
/5
rDev
+4.7%
look: 4.5 | smell: 4.5 | taste: 4 | feel: 4 | overall: 4.25
This is a chocoholic's dream (as is anything with Dutch-processed cocoa). The smell of chocolate and even peanut butter hits you as soon as you pour it out of the can, but there's also a solid hint of malt and a smidge of espresso. The beer itself is full-bodied and slightly creamy, but not as thick as the smell or taste would lead you to believe. Dry and bitter chocolate makeup the bulk of the taste, followed by roasty malt, some espresso, and a bit of peanut butter. Sadly, I can't speak much to the look since I poured it in a mug (yes, I know, it was all we had), but there was a decent amount of head with minimal lacing. Overall, not a beer I'd drink every day due to the heaviness and sheer amount of chocolate, but definitely an excellent treat for when you're really craving some good-quality chocolate!
816 characters

3.85
/5
rDev
-4%
look: 3.75 | smell: 3.75 | taste: 4 | feel: 3.75 | overall: 3.75
Took a shot on something new, a "double dutch chocolate stout," but it poured light and the body/feel is relatively thin, which was a little disappointing - decent enough, but lacks the depth and feel I was hoping for - good chocolate flavor, though not as good as Young's Double Chocolate, though it packs a bit more kick in the way of that 8.3% abv.
351 characters
3.55
/5
rDev
-11.5%
look: 3.5 | smell: 3.5 | taste: 3.75 | feel: 3 | overall: 3.5
Not unexpectedly, the nose is quite chocolaty. What is a little unexpected is how nutty the base stout seems - peanut butter is quite evocative. One could even say (taken together as a cohesive whole) this smells like a Reese's peanut butter cup! There isn't a whole lot to the beer beyond this, but it accomplishes its overall mission well. The flavor profile injects a bit more roasted malt than what was suggested, but it starts things nicely (and its welcome presence balances the chocolate sweetness). Chocolate shows up near the middle and finish, along with some notes of espresso and peanut butter. A small wisp of hop bitterness also shows up. I first thought it was pretty simplistic, but it ultimately displays nice nuance and subtlety. Its texture is a little more porter-esque than I'd like, though: it's thin bodied, somewhat sharply carbonated, and more slick than creamy. On the other hand, it's quite dry and surprisingly easy to drink. I like it, but I don't quite love it - it needs a beefier body to take that next step. Still, it's tasty, it's satisfying, and it's desserty without being too sweet. I'd pick it up again.
3.55/5: Where's Huggy Bear?
1,170 characters

4.17
/5
rDev
+4%
look: 4.25 | smell: 4 | taste: 4.25 | feel: 4 | overall: 4.25
Poured can into tulip. Has a dark brown color with a cream one finger head with decent lacing. Aroma of chocolate and light coffee. Great taste of chocolate and coffee again like the aroma but slightly better. Silkly well balanced mouthfeel has some carbonation could be making it a little thin. Great offering by 3 stars the 8% ABV is well hidden. Would definitely have again.
378 characters
4.23
/5
rDev
+5.5%
look: 4.25 | smell: 4.25 | taste: 4.25 | feel: 4 | overall: 4.25
Poured from the can into a nonic pint glass.
Deep dark walnut brown body and solidly opaque. Real nice cascading head creation out of the can, not amazing but close. Espresso brown at first, but lightens to a khaki like top and creamy flat surface. Small swiss cheese bubbles in a solid three finger capped head. A bit of power here, and also simple appearance, nicely done.
Nose is quite enjoyable. Small hints of faint dry and bitter dark chocolate. Noticeable amounts of peanut butter style malt qualities as well. A good sensing creamy character works its way in just giving a little touch of sweetness. Very nicely put together and balanced, almost a subtle peanut butter and chocolate pie like quality.
Palate hits with quite a nice angle. Light bodied but full of rich dark roast malt backbone and push, but has solid porter like lightness to it in feel. Lactose quality and sweetness is nicely toned down, letting the other flavors hit first. Dominant drying chocolate and an excellent char like roast malt mid palate. Hints of more peanut butter and even peppery like hop qualities filter out in the end,with an almost crackly grain flavor too.
This is a nicely put together done brew for a milk stout, with great balanced flavors.
1,256 characters

4.21
/5
rDev
+5%
look: 4 | smell: 4.25 | taste: 4.25 | feel: 4 | overall: 4.25
This tastes like real chocolate. Totally delicious - almost but not quite too sweet. Along with Raspberry Dissonance, this was one of my favorite beers from my visit to 3 Stars.
177 characters
4.13
/5
rDev
+3%
look: 4 | smell: 4 | taste: 4.25 | feel: 3.75 | overall: 4.25
Growler fill. Nice dark brown appearance with 1 finger light brown head. Smells of cocoa nibs, milk chocolate, and coffee. The taste was the same with the chocolate up front and coffee on the backend. Thought this could be balanced just a little better. The body was fairly light. Overall I was quite impressed. They have to bottle this one.
341 characters
4.1
/5
rDev
+2.2%
look: 4.5 | smell: 3.75 | taste: 4.25 | feel: 3.75 | overall: 4.25
Bottle on tap:
Pours with a close-to-black body, upon which sits a very light tan head. The head covers 75% of the surface with a film, and adds a decent ring at the glass. Lacing is in sheets and impressive.
Nose is a bit weak, cola and a lightly bitter coffee astringency. Sticking my nose in the beer yields a chocolate cake like scent.
Feel is somehow both a tad thin and creamy. Medium trying to be fuller in body.
Initial taste impression can be summed up I one word: brownie! Chocolate, cocoa, batter, light chalkiness. There's just the slightest tang - perhaps from lactose if it is the style claimed (listed as a double Dutch chocolate stout on website, whatever that is), or maybe just a light astringency. Quite chocolatey without being too sweet (though it dies fit the sweet stout category).
Very nice beer. People would fawn over it with more body, but I think it works just fine as is.
911 characters
Starsky & Dutch from 3 Stars Brewing Company
Beer rating:
89
out of
100
with
38
ratings