Southern Belle
| 3 Stars Brewing Company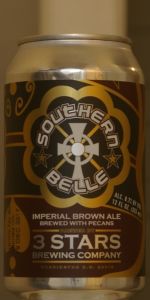 BEER INFO
Brewed by:
3 Stars Brewing Company
District of Columbia
,
United States
threestarsbrewing.com
Style:
American Brown Ale
Alcohol by volume (ABV):
8.70%
Availability:
Rotating
Notes / Commercial Description:
No notes at this time.
Added by smakawhat on 09-15-2012
Reviews: 8 | Ratings: 73
3.62
/5
rDev
-7.2%
look: 3.5 | smell: 4 | taste: 3.5 | feel: 3.5 | overall: 3.5
Poured on tap into a tall tumbler at the pug. Brewer describes this as an Imperial Brown Ale.
Not the best place to judge the color, but a deep dark brown, with red edges, served tall with no head, but manages to leave the thinnest of all colars while drinking. Decent.
Nose is nice dry toasted malts, faint milk chocolate, but a nice bit of carob or perhaps its light soy sauce. Meaty smelling, jerky. Interesting, but for and imperial it doesnt smell big. Nut and tannic action dry sense not very obvious.
Palate hits with a slightly wet classic standard brown ale flavor. Slightly toasty, a little density of nut and chocolate. Finish is strangely not boozy or big either, this is a good thing.
Overall good beer and even with the large abv its not noticeable and highly drinkable. But.. The richness and sense of bigness this beer advertises itself as does not come through. It tastes like a standard decent worthy brown ale, but special or particularly wow factor or amazing not really. Would drink again.
1,015 characters

3.86
/5
rDev
-1%
look: 3.75 | smell: 4 | taste: 3.75 | feel: 3.75 | overall: 4
On tap, revisit 3/2016 at brewery:
Appearance is solid deep brown, but looks a bit muddy. The head is a nice tan foamy top that lingers for a while, and does maintain at the edges medium thick. A little agitation bring a flurry of carbonation back.
Revisit: Definitely dark and brown, porter-color almost. Head behaves the same.
The nose is nice toasted nut, peanut, hint of coffee even, dark bread, and maybe a hint if wood.
Revisit: harder to tell here with all the other scents in the air, but can make out the nuttiness.
Taste is fairly classic brown ale up front. A little in I get nutty coffee (hazelnut?), woody, with a medium-light alcohol presence. At temp the beer is fairly smooth, medium bodied. Carbonation is somewhat light compared to appearance. Woody notes may come from hops, as late taste has just a bit of resin wood/pine feel/taste.
Revisit: stand by statement where this is a classic brown ale at heart, even if a tad darker and ramped up in ABV. Still get the nuttiness and a little coffee. The bitterness is not so woody to me today, more clean.
A fine beer, but definitely suggest letting it warm to a medium temp (room temp may be too much).
Revisit: pretty solid interpretation of the style, imperial or no. Maybe a tad more malty up front if I had to be picky, but a nice counter--balance from the bittering.
1,349 characters
4.23
/5
rDev
+8.5%
look: 4.25 | smell: 4.25 | taste: 4.25 | feel: 4 | overall: 4.25
Pours a dark brown. Very little light shines through. Thin tan head that dissipated quickly.
Smells of malted milk balls. Some roast with hints of vanilla. But malted milk balls is what comes to mind on every sniff.
Taste is roasty with hints of vanilla and a little nuttiness. Again, malted milk balls come to mind on the taste. This is a really nice brown ale. It's a style that doesn't get much love here on BA. My guess is that it's just too boring relative to the hop bombs and Imperial Stouts that rule BA.
522 characters
3.77
/5
rDev
-3.3%
look: 4 | smell: 3.75 | taste: 3.75 | feel: 3.75 | overall: 3.75
Pours an incredibly dark brown with a thin ring and an smudge of head. Nice lacing. The aroma is milder, but there is a nice roasted nut quality it with just a hint of earthy hops and a whiff of cocoa in the background. The taste is more dark roasted malt, verging into Schwarzbier territory, but it still retains a hint of the nuttiness and hops in the background. The body has a decent weight to it, with a bit of carbonation throughout.
439 characters
4.3
/5
rDev
+10.3%
look: 4 | smell: 4 | taste: 4.5 | feel: 4.5 | overall: 4.25
I love brown ales and this one ranks up there with the best I've tried. Nice color with 1 finger head. Aggressive pour. Aroma is faint chocolate with roasted nuts. The pecans were not over powering and this was quite smooth for the abv. I would purchase again.
260 characters
4.04
/5
rDev
+3.6%
look: 4 | smell: 4.25 | taste: 4.25 | feel: 2.75 | overall: 4
Pours dark brown, cola-colored.
Smell/taste is malt-heavy with roasted pecan nuttiness. Finish is more earthy than bitter. Alcohol is definitely present. Feel is a little sticky and flat - could use more carbonation. Would still get it again.
245 characters
3.69
/5
rDev
-5.4%
look: 4.25 | smell: 4 | taste: 3.5 | feel: 3.25 | overall: 3.75
Not a huge brown ale fan, but this was available at an event I was at, and I sort of enjoyed it. Look was very impressive--nice head and good lace. Taste was subtle, relatively smooth, especially given its ABV. Nothing really stood out about it, but it was pretty good.
269 characters
3.93
/5
rDev
+0.8%
look: 4.5 | smell: 4 | taste: 4 | feel: 3.5 | overall: 3.75
Poured into a grand snifter glass at 50°F
Appearance: This poured clean, Dark Brown, almost Black with a finger sized head that dissipated quickly and left practically no lacing.
Smell: The nose is roasty, nutty ending with slight airy cocoa and subtle alcohol
Taste: The roasted malts and caramelized sugars blend well with noticeable pecan, cocoa flavor that finishes a little dry and warm with alcohol. Flavors became bolder as it warmed, balancing it a little.
Mouthfeel: The mouthfeel is light to medium bodied and became a little smoother as it warmed.
Overall: A tasty offering from 3 Stars Brewing Co. and pretty much fits the style for Brown Ales as I have come to experience them. Despite the warmer and drier finish the aroma and taste make this a pleasant drinking experience. While I wouldn't actively seek this out, if it's readily available I would pick this up again as post-meal or general pleasure. Cheers.
943 characters
Southern Belle from 3 Stars Brewing Company
3.9
out of
5
based on
73
ratings.