Peppercorn Saison
| 3 Stars Brewing Company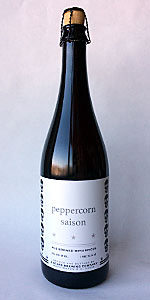 BEER INFO
Brewed by:
3 Stars Brewing Company
District of Columbia
,
United States
threestarsbrewing.com
Style:
Saison / Farmhouse Ale
Alcohol by volume (ABV):
6.50%
Availability:
Year-round
Notes / Commercial Description:
No notes at this time.
Added by Chaney on 02-04-2013
Reviews: 11 | Ratings: 135
4.3
/5
rDev
+11.4%
look: 4.25 | smell: 4.75 | taste: 4 | feel: 4.5 | overall: 4.25
Had on tap at Nana's Irish Pub. Poured a hazey honey color. Fruit, honey, and began year in the strong, excellent aroma. Outstanding taste, you get the spice that I missed in the aroma. Full and creamy with lingering spice, not unpleasant in the linger. Outstanding brew, can't wait to try more of theirs.
309 characters
4.07
/5
rDev
+5.4%
look: 4 | smell: 3.75 | taste: 4.25 | feel: 4.25 | overall: 4
This really surprised me. Needs to be drank on the warmer side, just slightly cooled. Lots of nice flavored coming through. I don't sense the peppercorns much but the malt and yeast or I. Great balance
201 characters
4.06
/5
rDev
+5.2%
look: 4 | smell: 4.25 | taste: 4 | feel: 4 | overall: 4
Dry, Chalky, Peppercorns, Hay
With everyone and their mother trying to brew a Saison or simply using the name out of popularity 3 Stars Brewing Co. rises well above the sham and fluff with a very authentic looking, smelling, and tasting version. Just spicy enough to keep the palate alive and quite dry which makes us go back for another sip quicker than the last. Great to see a brewer paying attention to style details and following all the way through.
STYLE: Farmhouse Ale | ABV: 6.5% | AVAILABILITY: Year-round
Review from BeerAdvocate magazine issue #95 (DEC 2014)
575 characters

4
/5
rDev
+3.6%
look: 4 | smell: 4 | taste: 4 | feel: 4 | overall: 4
Picked up a couple of growlers from "3 Stars" for Super Bowl Sunday and this was one of them. Awesome, friendly place!
Served in a DC Brau tulip, because that's the way we roll in the Capitol region.
A: Poured a very murky, yellow-orange color, with ever the slightest head (maybe a 1/4 finger or so).
S: Lots of spices: Coriander, pepper, and orange peel, with the pepper leading the way, with the wheat playing second fiddle. Nice.
T: I dug the bitterness slap on the end, with lots and lots of pepper (which I personally like), coriander (without being a bomb), and some hints of banana. On the verge of being a hefeweizen to my tastes, but that's totally okay by me.
M: The carbonation was on the low side, but that brought out the bitterness. Not much lacing, and the sweetness was kept in check.
O: My first outing with "3 Stars." Looking forward to many more of their gourmet entries.
912 characters
3.99
/5
rDev
+3.4%
look: 4.25 | smell: 4 | taste: 4 | feel: 3.75 | overall: 4
Totally dug this. Pours a hazy gold and smells great. Very traditional saison taste with just a hint of peppery cornery on the front. Just enough spice to make it interesting without overpowering things. Really good.
216 characters
3.94
/5
rDev
+2.1%
look: 4 | smell: 4.25 | taste: 3.75 | feel: 3.75 | overall: 4
nice smell of lemon and peppercorn up front. Bready citrus followed by a subtle late hit from the pepper. didn't get much bitterness at the end. Agree with the other comment that it almost reminded me of a hefeweizen.
221 characters
3.91
/5
rDev
+1.3%
look: 3.75 | smell: 4 | taste: 4 | feel: 3.75 | overall: 3.75
750ml
Thanks for the crazy good box, WIl! 3 Stars Peppercorn Saison sports a slightly tarnished copper body with just enough haze to make seeing through the body tough. The linen white foam rises easily to two fingers, it's active and lively, before crackling down to a sturdy crown. Bubbles stream up the side of the glass to bolster the head which remains throughout the drink.
The nose screams with that orchard fruitiness most famously found in saisons, It's not quite as clean, and it's a little sweeter than it's Belgian brethren, but it's there and it's good. Gritty Bartlet Pear and slightly underripe peaches lead the way. A touch of earthiness from the peppercorns adds to the fruitiness, complimentary. The wide range of peppercorns used certainly brings a lot to the nose. There's even a soft clove quality. Spicy with a nice sugar cookie malt profile, but the yeast and spice are the stars of this show.
The flavor is more vibrant than the nose, especially in the fruit department. The peach and pear mingle to the point of having no specific starting/stopping point, almost creating a new fruit, a pearch. The peppercorns pick up in the middle and instead of adding any kind of heat they bring along, earthiness, clove, even a cardamom like whisper. The malt brings a little caramel flavor to that previously mentioned sugar cookie sweetness.
The body has a moderate weight and the carbonation has died down a bit creating a mouthfeel that's not syrupy, but not effervescent either. The finish does dry up fairly quickly and even leaves a little prickle on the tongue. This beer is absolutely drinkable. Very easy to put away.
I've never heard of 3 Stars and I'm glad to have gotten the chance to try this guy. Cool label, not that that matters much. It's fruity and earthy with a nice depth of spice thanks to the variety of peppercorns added. It's extremely drinkable and refreshing. I'd pick this up from time to time if sold in my area. Thanks again, Wil!
1,978 characters

3.73
/5
rDev
-3.4%
Had on draft in DC as Peppercorn Saison. Pours cloudy yellowish orange with a super creamy half finger head. Aroma of fruity funk, pears, maybe some peaches, light peppery aroma but not much there, yeasty. Flavor follows the smell closely with sweet fruits balanced by light spice and a nice funky yeast character, on the sweeter and heavier feeling side for a saison, but I like it. Medium bodied with medium carbonation. Low scores surprise me on this, as I thought it was pretty good.
487 characters

3.69
/5
rDev
-4.4%
look: 3.75 | smell: 4 | taste: 3.5 | feel: 3.5 | overall: 3.75
Pours a solid two fingers deep head, eggshell white in color, smaller microfoam creates an even surface although probably contributes to below average retention, the lacing forms wide streaks but they lack stickiness. The liquid is a darkish golden color that at some angles takes on an brownish red cast, few beads but plenty of large bubbles which move with muscular authority, mild cloudiness throughout. The nose has a sweet honey to corn syrup quality, chamomile and lavender, no lack of yeastiness yet not sure how the peppercorn presence is supposed to register because it isn't, ends with bubblegum and dried peach and apricot scents, fills the nostrils softly, does not have a real penetrating punch. Full-bodied, soft and close to clingy, the carbonation gives it even more fluffiness. Yeast, uncooked pie dough and that bubblegum comes on first, some marjoram and fennel like spices but again minimal pepperiness. Here you get more spiced orange and tangerine citrus. The fruit remains basic — apricot, yellow apple, peach and moments of mango. Leaves you wishing it was drier so you could feel the skeleton more. Very drinkable and without much aftertaste.
1,172 characters
3.55
/5
rDev
-8%
Poured from the bottle into a tulip glass. Big pop off the cork but no gusher, really solid give. Dam this cage was on tight and painful to take off jesus...
Deep apricot orange with a good brown hue to it, fairly opaque and slightly murky and hazy looking. A nice very fine rising middle column of carbonation though, with a fleeting tan head that has little retention sitting tall at only two fingers. Settles to a half finger sized puck while drinking.
Mild hints of bready yeast and minimal funk. Some spiced like tangerine orange a bit, and very mild pepper. Some peanut butter aromas round out a bit also but quite a bit quiet down in there and subtle.
Palate comes with an interesting twist. Tropical juiced hop orange like body and flavor in the mid palate, with a noticeable malt and mellow sweetness. Slight front tongue pepper more in flavor with a bit of tingly carbonation, and not much aftertaste. Much of the flavor in the front with very little dryness or saison like character.
This sort of comes out like a muted pepper saison, almost tropical American subdued brew in a sort of way. It's actually tasty but really doesn't seem to have much saison farmhouse Belgian character to it at all. Otherwise fine.
1,238 characters

3.34
/5
rDev
-13.5%
look: 3 | smell: 3.25 | taste: 3.5 | feel: 2.75 | overall: 3.5
On tap at Pizzaria Paradiso in Georgetown
In a less than full 12 oz glass, which is not the way to serve beer
A slightly cloudy yellowish amber, not inviting
As expected the taste is peppery, with some saison funk on the back
Almost flat, little mouthfeel
Not bad but disappointing
288 characters
Peppercorn Saison from 3 Stars Brewing Company
3.86
out of
5
based on
135
ratings.