Dismiss Notice
Dismiss Notice
Zombie Date Night
| 3 Stars Brewing Company
BA SCORE
83
good
10
Reviews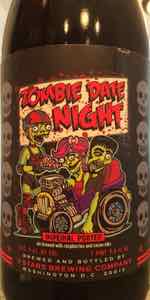 BEER INFO
Brewed by:
3 Stars Brewing Company
District of Columbia
,
United States
|
website
Style:
American Porter
Alcohol by volume (ABV):
9.60%
Availability:
Rotating
Notes / Commercial Description:
No notes at this time.
Added by nmann08 on 08-13-2013
Reviews: 10 | Ratings: 27

1.18
/5
rDev
-67.4%
look: 4 | smell: 1 | taste: 1 | feel: 1 | overall: 1
look =ok, smell = fowl+, taste: can be tasted over the fowlness for the raspberry and chocolate. total belching yuck.
I was loving this brewery and bought growlers of their Madness for a week straight. Great beer. This Zombie beer shows up at the Total Wine and all the wire on caps are already dislodged like the beer is ready to blow up. Me, stupid, trusts 3 stars, and buys 3.
I'm cool with 3 stars because Madness was great. Swing and a big miss on this attempt though.
★
477 characters
4.25
/5
rDev
+17.4%
look: 4.25 | smell: 4.25 | taste: 4.25 | feel: 4.25 | overall: 4.25
A: This poured an opaque black with quickly dissipating dark tan head.
S: It smelled like rich dark chocolate, with some sweet raspberries and roasted coffee.
T: It tasted like rich dark chocolate, with some sweet raspberries and roasted coffee. It had a clean mostly sweet aftertaste.
M: It was thick with moderate carbonation. Nice full body.
D: This was a decadent beer. Not terribly complex, but the scent and taste were simply delicious. The body was solid, and the finish was smooth with well hidden alcohol. So it was easy to drink, but good enough to sip and savor. Probably not for aging. Recommended.
★
611 characters
3.34
/5
rDev
-7.7%
look: 3.75 | smell: 3.5 | taste: 3.25 | feel: 3.25 | overall: 3.25
This is a very deep brown beer that comes out with an espresso head that just burns off. There really is very little aroma but what does come up is dark malts. The taste isn't awful but it isn't great, either. The raspberry doesn't come across as anything more than an unflavored tart quality and the cocoa nibs don't come across at all. The overall flavor is that of a relatively bland porter. The body is lighter, a little thin and a little too carbonated. A rare miss from Three Stars
★
488 characters

3.1
/5
rDev
-14.4%
look: 2.75 | smell: 3.25 | taste: 3.25 | feel: 2.5 | overall: 3
Got another bottle to retry after a potential bad bottle (see below):
Definitely seemed better, but still seeing it as a beer I'll avoid being "fooled" thrice.
Look is very strange. During the pour, I was thinking this is better than last pour as a nice deep brown head built up. But like a magic trick, wit a little guzzle the head disappeared. Flat looking reminds me of coffee in a glass.
I do get a little bit of the cocoa and raspberry in the nose early, but it still has a cola impression overall. With some warmth
Opening impressions on taste were also a little better than previously. The raspberry was more defined in this bottle, but only as an accent, and that's not a bad thing. I am still missing some sense of roasted notes (or the cocoa) I'd like from this porter. The raspberry cola concept seems to carry through to the taste. Aftertaste has a little cocoa nib lingering, though, that warmth brings forward a tad later in the drink.
Feel is light, overly wet and drinkable, just enough to hurt my enjoyment, but not enough to destroy it. Somehow there is some prickly carbonation in there. Light alcohol astringent tug near end on a warm beer that isn't distracting.
Too much of a raspberry cola mimic for me. It's not like one of those "hard cola" beers, the impression is more subtle.
Original:
I might have bad bottle b/c I not getting what others are. Flat look with prickly feel, soda-like flavor (no sour notes). Might get retry and update.
★
1,480 characters
4.74
/5
rDev
+30.9%
look: 5 | smell: 4.75 | taste: 4.75 | feel: 4.5 | overall: 4.75
Annual release from 3 Stars Brewing Company, coincides each year with Valentine's Day. Big chocolate and raspberry character shines above and alongside the big malt notes. Pours black and viscous with a great creamy head. 2016 batch is unreal. Get as much of it as you can. I have several vintages in my cellar. It's delicious!!!!!
★
331 characters
4.02
/5
rDev
+11%
look: 3.75 | smell: 4.25 | taste: 4 | feel: 3.75 | overall: 4
Drinking a 2015 and a 2016 Zombie Date Night side by side. Both cork/cage.
Both display a lovely nose of raspberries while the cocoa is stronger in the younger of the two.
The color of the black stout is accented by a bit of red around the perimeter of a brown head which displays well but does not linger long enough for a staring contest.
This is a raspberry-cocoa nibs imperial porter. It is sweet by the standard of beer, but not sweet by the style. It actually has a surprisingly dry aftertaste which tends more toward raspberry than toward porter.
That said, the full taste, for the fresh, reveals a bit too much of the malt and allows the aftertaste (Which I would describe as consistent across the 3 stars Portfolio) to be less coherent and more scattershot.
With a year of aging, the malt rounds out to work with the raspberry rather than counter and displays a drinkability quite surprising for the busy-ness of the material and the ABV of 9.6%.
I love raspberry beers (and raspberries. And beer.) and this is easily my favorite dark raspberry beer. It is sweet like beer, not sweet like desert. Yet... it has all of the makings of desert. I'd love to drink this with some peanut butter s'mores.
★
1,217 characters

4.1
/5
rDev
+13.3%
look: 4 | smell: 4 | taste: 4.25 | feel: 4 | overall: 4
This imperial porter does a wonderful job of fusing the chocolate, roasty, rich porter flavors with the bright sweetness of raspberry. I didn't expect the combination to work very well but 3 Stars pulled it off.
★
211 characters

4.08
/5
rDev
+12.7%
look: 4 | smell: 4 | taste: 4.25 | feel: 3.75 | overall: 4
Bottle. Corked and caged. Pours very dark; maybe black. Head is a short lived brown seltzer showing. It dies down to the mildest skin. Yikes. That's much more raspberry than I was expecting. The raspberry almost overshadows the base of the beer. The cocoa nibs pair well with the raspberry aroma. Chocolate covered raspberries rule the nose. The flavor has more of the Porter elements. A little smoky and accompanied with some roasty, bitter, dark malt. The cocoa nibs bring a bunch of finishing flavor; bittersweet, rich chocolate. Raspberries aren't quite as potent but they really impact the flavor. I get a feeling that this may have some artificial raspberry flavor because there is just so much of it. Raspberry & soda. Body isn't very full. I actually think I prefer a lighter body to pair with the excessive fruitiness. Pretty tasty. Love raspberries - lots of them here; more than I was expecting.
★
906 characters

4.11
/5
rDev
+13.5%
look: 4.5 | smell: 4 | taste: 4 | feel: 4.25 | overall: 4.25
Had on-tap at Birch&Barley in DC.
Served in a small chalice. Deep brown/black color, nice mocha brown thick head on top. Looks nice. Nose is dark and fruity - fresh raspberries up front, with a strong undercurrent of roasted malts, cocoa, and vaguely Belgian sugars.
Taste is great. The raspberries get lost a little, which is a good thing (no fake fruity flavors). Malts and bitter chocolate come through strongly. Some sweetness and vanilla. Comes across more like a stout.
Great beer; definitely worth a try.
★
515 characters

3.87
/5
rDev
+6.9%
look: 4 | smell: 3.75 | taste: 4 | feel: 3.75 | overall: 3.75
Pours a dark brown, nearing black color. Full beige head on top.
Nose of roast, rye, coffee, vanilla, toffee, dark chocolate.
Flavors are roasted coffee, candied sugar.
Finish is little like syrup, very sticky. Lots of vanilla that lingers.
Pretty good overall.
★
273 characters
Zombie Date Night from 3 Stars Brewing Company
83
out of
100
based on
10
ratings.