Steel Reserve (Alloy Series) Spiked Watermelon

Steel Brewing Company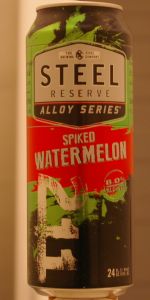 Write a Review
Beer Geek Stats:
| Print Shelf Talker
Style:

ABV:

8%

Score:

Avg:

3.01

| pDev:

17.94%

Reviews:

9

Ratings:

From:

Avail:

Year-round

Wants

Gots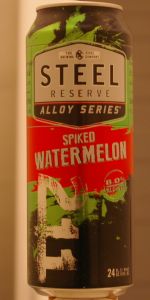 Notes:
2.06
/5
rDev
-31.6%
look: 3 | smell: 2 | taste: 1.75 | feel: 2.5 | overall: 2.25
24 oz. can:
Pours reddish pink with a thin head that has ok retention before disappearing. Minimal lacing.
The smell is of watermelon flavored Jolly Rancher mixed with cheap vodka.
The taste is sickly sweet - even sweeter than expected. Sticky Jolly Rancher with cheap vodka.
Not quite as harsh as expected from aroma and flavor, but it is sticky sweet.
Artificial, Jolly Rancher watermelon flavored. Hot but not harsh. If you want a cheap buzz and like watermelon Jolly Rancher candies that's what you will be getting.
525 characters
2.22
/5
rDev
-26.2%
look: 2.75 | smell: 2.5 | taste: 2 | feel: 2 | overall: 2.25
Well, grabbed one of these for some silly fun, so why not review. This 'beer' pours a bright orangey pink. The aroma is pure watermelon jolly rancher - the good news is I always rather likes watermlon jolly ranchers. In fact, TAB used to make an energy drink with a similar flavor.. but I digress. The is triple sweet watermelon candy, with some hints of cherry as well. Very little in the way of alcohol. The mouthfeel is, as expected, soda like. Overall, this what it is, and I cannot fault it for that. I can fault in in general though.
539 characters
2.75
/5
rDev
-8.6%
look: 2.75 | smell: 2.75 | taste: 2.75 | feel: 2.75 | overall: 2.75
Bought a 24oz can $2.00 Don Quiojte
Clear reddish pink color
Smells like a Jolly rancher candy
Light mouthfeel
Medium-light carbonation
Overly sweet, candy watermelon taste. More like a soda, not at all like a beer
Overall it is what it is, but don't know how this can be classified as a beer. More like a cheap spiked soda.
326 characters
3.57
/5
rDev
+18.6%
look: 3.25 | smell: 3.75 | taste: 3.5 | feel: 3.25 | overall: 3.75
Steel Brewing Co. "Steel Reserve (Alloy Series) Spiked Watermelon"
24 fl. oz. can, coded "FEB1218..." and sampled on OCT0417
$1.85 after tax @ New Stop Discount Liquor Outlet, Camden, NJ
Notes via stream of consciousness: Interesting pink color. They must be adding food coloring. Yep, the label reads "MALT BEVERAGE WITH ARTIFICIAL FLAVOR AND CERTIFIED COLORS ADDED". But why add coloring? Doesn't everyone drink this right out of the can? Anyway, there's no head, and thus no head retention or lacing. It smells like watermelon candy. The flavor follows, and it tastes like a Jolly Rancher candy, but there is something interesting about the watermelon, it's almost like there's a vegetal character to it as well. It's certainly an amped up watermelon though because I've never had such a sweet watermelon. Very intense, and yet not too overwhelmingly sweet like an actual piece of candy. Close though. I wonder what the calories are in this. All that sugar and 8.0% ABV... ? It's got to be a lot. The alcohol doesn't show though, even at the very end. That's good I guess. Medium bodied with a dextrin's side that makes it seem a little fuller. Moderate carbonation though, which leaves it smooth. Overall it's not the worst thing that's ever gone down my gullet but it's far from the best.
1,294 characters

3.25
/5
rDev
+8%
look: 3 | smell: 3.5 | taste: 3.25 | feel: 2.75 | overall: 3.25
You CAN have your Taco Tuesday, I am going with Watermelon Wednesday! The CANQuest (tm) makes no bones about its humble beginnings, mainly relegated to AALs & AMLs, so when something like this crops up, there is no shame in my game.
From the CAN: "Brewed for extra gravity & exceptionally smooth flavor".
There I was, faced with a massive 24-fl. oz. CAN of high gravity madness ... again! How to proceed? I wedged a coin under the tab for leverage and levered upwards until a loud Crack! occurred. I motioned the crane into position & once the CAN was secured, I began a slow, gentle Glug into the awaiting glass. Color was Light Pink (SRM = N/A) with NE-quality clarity. An in-glass swirl raised a brief finger of fizzy pink cotton CANdy-colored head that acted like pop & quickly fizzled away. Nose had a sweet, perfume-y watermelon quality, undoubtedly artificially flavored. Mouthfeel was thin-to-medium, not watery, but not terribly beyond it, either. The taste was actually decent, restrained for this type of flavored malt beverage. I have dabbled in the Four Loko series & found them to be gad-awfully sweet. This did not have that level of sweetness & was quite evocative of watermelon. That said, there was no way that it had been naturally flavored. This had the tang of the chem lab stamped all over it. As fa as its drinkability was CANcerned, it was pleasant enough, but its large format meant that one would be satiating. I would not want to tackle another 24 ounces. Finish was semi-dry, not at all sweet and it high gravity brewing meant that most of the fermentable sugars were gone. It was a decent drink, not worthy of disdain.
1,650 characters

2.15
/5
rDev
-28.6%
look: 3 | smell: 3 | taste: 1.5 | feel: 2.5 | overall: 2
Sometimes you feel like a Four Loko, sometimes you don't.
The Alloy Series line is 8.0%. Graphics are especially attractive and eye catching on this Spiked Watermelon flavor.
Glad to see this listed for what it is, an American malt liquor, and not a fruit/vegetable beer. "FLAVORED ALE. MALT BEVERAGE WITH ARTIFICIAL FLAVOR AND CERTIFIED COLORS ADDED."
A: Why am I actually pouring this into a glass? Color is darker than expected, more like a black cherry or cranberry flavor and surprisingly not neon pink. Soda-like clarity and carbonation bubbles rising from the bottom of the glass. Tiniest ring of foam possible. No lacing. Not at all off-putting, but what could I really expect for a flavored Steel Reserve?
S: Artificial watermelon. Extreme sweetness. I'll state the obvious, this smells like a Jolly Rancher. Booziness is surprisingly absent. Not at all uninviting.
T: Horrible and awful artificial sweetener taste attacks my pallet. I've experienced this before with the Redd's WICKED line, another MillerCoors product, and I don't understand it. Four Loko, Joose, Blast by Colt 45, Mikes Harder, and others don't have this nastiness and instead have a sugary sweetness to them, like fruit juice. The can doesn't mention artificial sweeteners and the MillerCoors website lists ingredients that don't seem to include artificial sweeteners but there is no mistaking what I'm strongly tasting. Past the nastiness are pleasant but artificial strawberry and watermelon flavors. The artificial sweetener horribleness ends midway and transitions to a more expected sugary sweetness. Finishes tart and asks for you to take another sip. Any hint of Steel Reserve is stripped from this lest you thought that you might be drinking a watermelon 211.
M: Strong, tight carbonation. Watery. Bitterness and tartness both cause a puckering effect.
O: Not something that I'd buy again due to that disgusting artificial sweetener flavor that really just ruins the entire product, one that would otherwise be more than acceptable and maybe even enjoyable.
2,077 characters

3.27
/5
rDev
+8.6%
look: 3.5 | smell: 3.25 | taste: 3.25 | feel: 3.25 | overall: 3.25
Steel Reserve (Alloy Series) Spiked Watermelon | Steel Brewing Company. Poured from the can into a pint glass, this hasn't got a head, nor does it have lacing, with a body reminiscent of Ocean Spray Cran-Apple juice.
Smells like watermelon Jolly Ranchers soaked in gas station vodka.
Tastes like pretty much the same thing, with a not-surprising metallic flavor.
Medium mouthfeel with fair carbonation.
Overall, I'll give Steel Reserve (Alloy Series) Spiked Watermelon | Steel Brewing Company a 3.25
519 characters
3.06
/5
rDev
+1.7%
look: 4 | smell: 3 | taste: 3 | feel: 3 | overall: 3
Steel Reserve (Alloy Series) Spiked Watermelon brewed by Steel Brewing Company, with an ABV of 8.00% This "brew" pours out a light pinkish color with a thin white head. Thin spotty lacing to this brew. The smell is rich with watermelon sweetness. Definitely different and lots of sugars,and alcohol. Minor grians and malts in the smell of this brew. Now for the taste, it is packed with jolly ranchers watermelon sweetness. If you are a fan of watermelon jolly ranchers look this brew up. You can pick up on the 8.00% ABV but it is to be expected with this type of brew. The body is a soild medium, there really is a decent balance to this brew. There is nothing overpowering about Steel Reserve (Alloy Series) Spiked Watermelon. This brew would go nice on a hot summer day. The month feel is Sweet, Watermelon, Clean , and Refreshing. Overall I'm giving Steel Reserve (Alloy Series) Spiked Watermelon a 3 out of 5. I would look this brew up again, givin the chance to. Not the best but not the worst I have had. Steel Brewing Company, did a decent job with this Jolly Rancher Watermelon brew.
1,094 characters

3.5
/5
rDev
+16.3%
look: 3.75 | smell: 3 | taste: 4 | feel: 3 | overall: 3.25
Taste is just as you'd expect, watermelon with just the right tartness needed. Feels like a typical malt beverage, overall great choice for the"gas station" type alcohol. Cheap beers get too much hate for their purpose... This alloy series all tastes great, for the price. Gets you feeling right and no damage to your wallet :)
329 characters
Steel Reserve (Alloy Series) Spiked Watermelon from Steel Brewing Company
Beer rating:
76
out of
100
with
22
ratings