The Conversion
| Logsdon Farmhouse Ales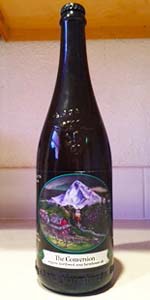 BEER INFO
Brewed by:
Logsdon Farmhouse Ales
Oregon
,
United States
farmhousebeer.com
Style:
American Wild Ale
Alcohol by volume (ABV):
7.80%
Availability:
Rotating
Notes / Commercial Description:
Logsdon's first wild ale, this is a tart, juicy ale brewed in the farmhouse tradition and opened to wild fermentation.
Added by anteater on 11-17-2013
Reviews: 10 | Ratings: 48

4.15
/5
rDev
+4.8%
look: 4.25 | smell: 4.25 | taste: 4 | feel: 4.25 | overall: 4.25
750mL (best by March 2021) into a tulip. Pours a clear golden color w/ a nice soft white head sustained by lively carbonation.
Aroma is tart, crisp and bright. Lemon zest, green apple.
Taste follows nose. Mouthwateringly sour, gently bready. Slightest hint of crushed aspirin, for which I have to dock it 0.25.
Mouthfeel is likewise bright, drinkable, refreshing. Perfect summer beer.
Overall another really nice offering from Logsdon. Getting so spoiled on so many great, easy to get Northwest beers.
★
506 characters
3.87
/5
rDev
-2.3%
look: 4.25 | smell: 3.5 | taste: 4 | feel: 3.75 | overall: 4
Bottle Date: March 2016
Palate Contaminants: other beer
Okay. Impress me.
Appearance is a nice light golden glow. The head sticks around for a while.
Smell is a lot like a saison, which unfortunately isn't a favorite of mine. A little bit of sweet corn (like a tamale), and it is savory. But like with any saison, it also strikes me as a bit like a hair salon. It just does.
Taste is interesting. It's not overly grainy like some saisons hit me; it's mostly fruit and a little funk. There are definitely apple and white grapes. Not much bitterness, and sour is actually pretty close to the sweet spot (so to speak), but it doesn't strike me as particularly complex. The mildly sour fruit stands out more as it warms up. This might go pretty well with some fowl dishes, especially something that has some sweetness, given the gentle sourness.
Feel is moderately fizzy, and the weight is thin to medium. Aftertaste is sweet-sour, mostly with the apple taste.
Alright, it was well crafted, but not complex enough to make it a "wow" brew. I'm convinced enough to try another from Logsdon, though.
★
1,098 characters

4.37
/5
rDev
+10.4%
look: 4.25 | smell: 4.75 | taste: 4.25 | feel: 3.75 | overall: 4.5
Hard to pass up a saison from Logsdon that I haven't had. Tasted 10 June 2016.
Pours cloudy straw yellow, clear from the top of the bottle. Two fingers of puffy white head, good retention, decent lacing.
Smell is stellar. A delightful blend of yeast, sour, and grains. Some fruity yeast notes, light stone fruit like peaches. Acidic tartness with lemon. A faint grainy sweetness and grassy aromas in the background. Fantastic.
Taste is really, really good, but a little less balanced than the smell. Plenty of citric sour up front, with a bit of bite behind it.
Feel is the low point, but not bad. A little thicker than I'd expect, almost chewy. Carbonation starts prickly but fades a little quicker than I'd like.
I'm really really enjoying this beer. Soured-up saisons are some of my favorites, and this one is up there with, well, not quite the best, but close. Well done, Logsdon.
★
889 characters
4.31
/5
rDev
+8.8%
look: 5 | smell: 4.5 | taste: 4 | feel: 4.25 | overall: 4.5
Appearance: beer started gushing out the bottle after opening. Good thing I didn't lose too much of it. In a glass, it left a very delicate, white fluffy head. The beer presents an opaque light peach in color.
Smell: it reminds me of a gueuze. It has a funky, fruity and mildly tart aroma with notes of kiwi. Authentic may not be the right word to use, but I find it has an earthy and homemade quality to it.
Taste: mildly dry and tart. Notes of kiwi, some esters, barnyard character upfront and bready in the background. A very balanced beer that allows the classic flavors of a farmhouse ale and the tartness to shine through equally. It does have a light sour component to it that makes it a great intro to sours.
Mouthfeel: has a nice crisp bite and very refreshing. Somewhere between a light to medium bodied beer.
Overall: an excellent beer that I'm so glad to try. Very balanced and easy beer to drink.
★
921 characters

3.79
/5
rDev
-4.3%
look: 4 | smell: 3.75 | taste: 3.75 | feel: 4 | overall: 3.75
Poured from 750mL bottle into a tulip.
Appearance: medium golden hue with a light-to-moderate haze and a very strong effervescence. Head is a couple fingers of frothy ivory foam with good retention and a nice, chunky lace. Very attractive.
Smell: malty base with kind of a deep funk and a mild tartness. Interesting, although the funk is just a bit too much.
Taste: lightly tart and rather funky; there's a dash of butteriness here but also a good level of hopping. I'm not 100% sold, but overall it's an interesting flavor profile.
Mouthfeel: medium body with a good carbonation and a satisfying creaminess.
Overall: an interesting wild ale, but it lacks balance or something. There's just something a little bit off about the funk for me.
★
755 characters
4.07
/5
rDev
+2.8%
look: 5 | smell: 4.25 | taste: 3.75 | feel: 4 | overall: 4.25
750 mL. enjoy by 3/2021.
looks like a farmhouse beer, hazy blonde bright white fluffy head. smells pretty barny. fruity too. touch of fruity apple. really dry finish. not too shabby.
★
183 characters
3.85
/5
rDev
-2.8%
look: 3.75 | smell: 3.75 | taste: 4 | feel: 3.75 | overall: 3.75
At Stout, the bar where I had this, this was labelled a "NW Sour Ale". I'm not sure exactly what that style implies. But this is a very mild sour, a bit tart, with noticeable Belgian yeast. It's good, and worth a try, if not particularly memorable. I'm not sure why this beer is archived by BA, as it's gotten several recent ratings.
★
337 characters
4.24
/5
rDev
+7.1%
look: 4 | smell: 4.25 | taste: 4.25 | feel: 4.25 | overall: 4.25
A- straw yellow, fluffy white head
S- funk, barn yard, apples, pear
T- light and refreshing, green apple finish, pears too
F- light
O- very enjoyable wild ale. Orchard fruits in the finish
★
189 characters

3.78
/5
rDev
-4.5%
look: 3.75 | smell: 3.75 | taste: 3.75 | feel: 4 | overall: 3.75
On-tap, reviewed from notes.
A: Served a very cloudy powdery lemon-drop yellow with a fuzzy bright white head that faded into a faint scummy collar.
S/T: Slight tropical notes on the nose. Brett is earthy on nose, stone fruits.Tart green apples, big notes of brett, lemon zest and slight stone fruits. Super earthy with mild spice notes. Green apples dominat but not overbearing. Tartness is not mouth puckering. Yeasty flavor with earthy brett. I get some mild peach and stone fruits in the finish, and a tart but not acidic punch in the aftertaste.
M: Very soft mouthfeel, soft and fluffy carbonation, and a medium-full body. Wet mouthfeel, drying finish.
O: A decent and drinkable beer but not their best nor their most exciting. Very mild overall.
★
753 characters

3.03
/5
rDev
-23.5%
look: 3.5 | smell: 3 | taste: 3 | feel: 3 | overall: 3
on-tap @ Belmont Station.
from notes.
Hazy golden with a foamy, long lasting white head.
Fairly standard, malty, bready base with some funky, tart wild ale notes.
Medium+ body, low foamy carbonation.
A decent beer, but nowhere near the other high quality beers I've come to expect from Logsdon.
An unexciting, yet unoffensive flavor profile, and a decent mouthfeel, but I would have prefered more carbonation.
★
413 characters
The Conversion from Logsdon Farmhouse Ales
3.96
out of
5
based on
48
ratings.