Seizoen Bretta
| Logsdon Farmhouse Ales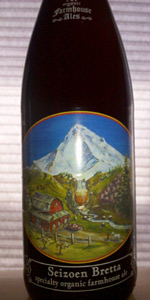 BEER INFO
Brewed by:
Logsdon Farmhouse Ales
Oregon
,
United States
|
website
Style:
Saison / Farmhouse Ale
Alcohol by volume (ABV):
8.00%
Availability:
Year-round
Notes / Commercial Description:
"Special Brettanomyces yeast provides added dryness and crisp complexity to the Seizoen Bretta. Bottle conditioned with pear juice for a natural carbonation."
Added by msubulldog25 on 06-03-2011
Reviews: 256 | Ratings: 1,478
4.64
/5
rDev
+8.2%
look: 3.5 | smell: 4.5 | taste: 5 | feel: 4.5 | overall: 4.5
Truly a delightful saison with brett, and I've had a solid handful of these! The nose is exceptionally diverse and complex, with enough going on to have you sniffing for a few minutes before you really take it all in. The flavor is exceptionally smooth, balanced, and easy to drink; especially for an 8% beer, with no alcohol showing through. It's definitely got that brett character, but it's not overwhelming to everything else that's going on - someone else wrote that brett is the genericizer of beers, and in some cases this is true, but this one seems to balance it well in such a way that brings that character out without it dominating everything else that's going on.
My one complaint, however, is that the head on this beer is downright difficult to manage - and I know how to pour beer properly. Between a handful of guys, we finished the bottle in about 10 minutes and the head had not died down even at the end. This is the first time I've felt frustrated by foam.
Despite that, truly an excellent beer in a category which has been remarkably popular of late amongst micro and craft breweries.
★
1,110 characters

4.15
/5
rDev
-3.3%
look: 4.5 | smell: 4.5 | taste: 4 | feel: 4 | overall: 4
Bottle SB1737, poured into my large Gulden Draak tulip, Logsdon's Seizoen is a chill hazed burnt gold with huge, frothy white head that leaves large chunks of foamy lace.
Smell is fruity esters, a hint off brett, bit mineral spritz, quinine, nice!
Taste is bretty, a little fruity esters, but really mostly smell in that department. The alcohol flavor is accentuated by the brett, but the esters bring out the sweetness of it as well. Brett is the genericizer of beers, and this is a good example. Any (insert beer style here) with brett is generally the same flavor unless it's really malty or has some other adjunct. But any Belgian blonde with brett basically tastes the same, depending on the brett strain, which I find boring, as I prefer fruity Belgian esters contrasted with a dry minerality in a saison.
Mouthfeel is dry, some crispness and medium bodied. A touch more attenuated then the regular saison (as expected from the brett, although the regular one showed some brett as well).
Drinkability is pretty good, a dry brett blonde with an awesome saison nose.
★
1,078 characters
4.68
/5
rDev
+9.1%
look: 5 | smell: 4.5 | taste: 4.5 | feel: 5 | overall: 5
Big thanks to Beerzebub for the bottle. Bottle SB 852, best by May 2016. The brew pours an orange-amber hue and is topped with a voluminous antique-white cap that deposits copious sheets of lacing upon the glass. The nose is a delicious and tantalizing melange of tart orchard fruit including underripe peach, apple and pear. There is also a very green grassy note with some undertones of white grape tannin. The whole thing is rounded out by a Brett nuance that is somewhere between Band-Aid and pineapple, and more toward the former than the latter. Taste-wise, it is very refreshing and juicy, though not terribly sweet. There are tart tropical fruity notes to lead the way: guava, passion fruit and papaya are implied along with the aforementioned orchard fruits. There is also a bit of a lemony citrus zest note. The feel is authentically Belgian, though the beer is domestic; the expansive creaminess, the balance between refreshing and toothy; they have nailed it all. A very very good beer overall; one I definitely want more of.
★
1,037 characters
3.53
/5
rDev
-17.7%
look: 4 | smell: 3.5 | taste: 3.5 | feel: 3.5 | overall: 3.5
On tap at Belmont Station during puckerfest.
The beer pours a fairly dark gold color with good head retention and lacing. On the nose I get a fair amount of honey and clove, with the beer coming across as a bit sweet for a saison. The flavor profile replicates the nose, except I'm picking up some light sour as well (not a lot though). Mouthfeel is fairly full, with the 8% abv. well integrated into the flavor profile. It's noticeable, but is not at all intrusive.
Shrug. A decent enough beer, but nothing to get very excited about either.
★
544 characters
3.91
/5
rDev
-8.9%
look: 4.5 | smell: 3.5 | taste: 4 | feel: 4 | overall: 4
Cloudy golden colour with a big, fluffy light tan head. Good head retention and great lacing.
Slightly tart lemony aroma with a nice funky overtone. Good, light spicy yeast note. Nice.
Bright and sparky funk with a lemon tartness. Good fruit flavour with some mild malt. Nice.
Medium body with moderately-high carbonation. Fine.
This is a really solid saison with some great Brett notes. The Brett is quite dominant but that is my style and I think that this really works.
★
476 characters
4.61
/5
rDev
+7.5%
look: 5 | smell: 4 | taste: 5 | feel: 4.5 | overall: 4.5
Traditional farmhouse white head, very stiff with large bubbles.
Color is a cloudy golden honey orange, unfiltered.
Smell is slightly fruity oranges and grapes.
Taste is very fruity with lemon, orange and citrus. It is light on the hops with a slightly earthy wheat finish.
Lot's of fruity flavor and body in this Saison. On tap was a little more mild, in the bottle had a stiffer head. Good either way
★
406 characters
Seizoen Bretta from Logsdon Farmhouse Ales
95
out of
100
based on
256
ratings.