Seizoen
| Logsdon Farmhouse Ales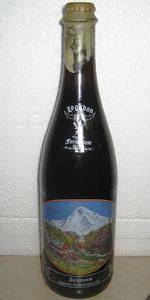 BEER INFO
Brewed by:
Logsdon Farmhouse Ales
Oregon
,
United States
farmhousebeer.com
Style:
Saison / Farmhouse Ale
Alcohol by volume (ABV):
7.50%
Availability:
Year-round
Notes / Commercial Description:
"Our unfiltered Seizoen, with its beeswax seal, is naturally fermented and carbonated with pear juice and select yeast strains, producing complex, fruity and spicy flavors balanced with whole hops and a soft malt character."
Added by msubulldog25 on 06-17-2011
Reviews: 108 | Ratings: 461

4.3
/5
rDev
+6.4%
look: 4 | smell: 4 | taste: 4.5 | feel: 5 | overall: 4
Nice beer, I'm drinkin' it right now.
A: Golden hay.
S: Lemony, yeast notes; bread and herbs. papery.
T: light;y tart, spicy, and a bit of banana.
M: Nice and dry, a bit peppery spicy as well.
O: Buy and drink this beer.
Served at cellar+ temp in a tulip glass.
★
265 characters
2.71
/5
rDev
-32.9%
look: 4 | smell: 3 | taste: 2.5 | feel: 2.5 | overall: 2.5
Appearance: Pours out a hazed, dark yellow toned body with a sudsy, bubbly, white head.
Smell: Sourish, funky notes atop the basic barley with touches of lemon rind and a floral touch blooming into a scent of menthol.
Taste: A faintly sweet taste of oven-crisped barley grains. Low, low hint of lemony citrus. Sliced tarnished fruits cut by unclean hands. Spiciness astringency akin to mentho-lyptus cough drops. Drying finish replete with muddled tastes.
Mouthfeel: Medium-thin body. Lightly carbonated, so don't let that sudsy head fool you.
Overall: I wasn't too fond at all of the flavor profile here and felt it just lacked pizazz as well as any cheerful effervescence.
★
678 characters

4.56
/5
rDev
+12.9%
look: 4.5 | smell: 4 | taste: 4.75 | feel: 4.75 | overall: 4.75
Poured a cloudy orange-amber with four fingers of fluffy white head that wasn't goin' nowhere. Aroma of pear, banana, and light peppery spice mixed with a trace of funk.
Light, crisp mouthfeel with ample carbonation that leads to a smooth, creamy finish. Bread and earthy spice up front mingling with apple, pear, white grape, and a dry, grassy finish.
I grew up in Hood River and am probably giving this a slight ratings boost out of nostalgia, but this is a delicious and refreshing saison that is well worth trying. Good balance of spice, earth, and fruit.
★
561 characters
3.03
/5
rDev
-25%
look: 3.5 | smell: 3 | taste: 3 | feel: 3 | overall: 3
Chilled bottle into a glass. A toast to ramnuts for sending this my way. Thanks, Frank!
A: Pours a brilliantly clear sunset orange-copper body that looks darker than I expected for a saison. Even a mild pour yields 4 fingers of well-retaining off-white head, and it leaves great streaks of lace down the sides of the glass. There's more foam than beer in my glass, but other than that, it looks great.
S: An intriguing aroma of lemon zest, apple skins, green grapes, bananas, a touch of earth, white pepper, and restrained, musty yeast. Some light sweetness to the nose gives it an aroma reminiscent of a tripel. A touch of alcohol knocks it down a peg.
T: Mild sweetness leads the way, lending a nice accent to the fruity ester-given flavors of apples, pears, grapes, and bananas. The beer closes with a touch of white pepper and yeast in the finish. Earthy flavors emerge in the aftertaste.
M: This isn't particularly dry, and a little wash of carbonation that closes each sip creates a distracting, burpy experience that prevents the beer from being completely refreshing. But it's solid.
O: A decent saison, but I've had better.
★
1,141 characters

3.83
/5
rDev
-5.2%
look: 4 | smell: 3.5 | taste: 4 | feel: 3.5 | overall: 4
Bottle S1192, poured into my large Gulden Draak tulip, Logsdon's Seizoen is a chill hazed glowing sunset gold with white head that leaves scattered lace.
Smell is modest (served at fridge temp), mostly some fruity esters.
Taste is rustic and complex. Doughy yeast, spicy, some brett horsehair (no this is not the designated brett version, but there is obviously some cross contamination). Nice mineral pith.
Mouthfeel is dry, crisp and medium bodied, but a little on the heavy side or my taste in the style.
Drinkability is pretty good, it's complex but quaffable. I prefer the fruity saison yeasts, however, and lacto to brett if they swing to the wild style. I wanted to like this a lot more, but they're still young. Great concept for the whole operation though, and well executed, just not designed to my preference in the style, which is my favorite, if admittedly broad.
★
884 characters

4.28
/5
rDev
+5.9%
look: 4 | smell: 3.5 | taste: 4.5 | feel: 4 | overall: 5
Served in a New Belgium globe. Best by: 6/2014.
Pours a cloudy amber-and-orange, with a thin cap of off-white head that sticks heartily, though sporadically, to the sides of the glass -- in the appropriate light, this beer is reminiscent of a setting sun, becoming more translucent and apple-like as the quantity wanes. Gorgeous.
Smells of crisp citrus (lemons), apples, tart green grapes, bananas, some mild funk, and the unmistakable presence of Saison yeast. A vinous, white wine characteristic is discernable, as well, with the sting of alcohol not entirely masked. There's an underlying, malty sweetness that balances the nose well.
Citrus and bananas are again dominant on the tongue, complimented by pepper-like spice, fruit, bready yeast, and malt. Alcohol is faintly noticeable, but is far from a distraction. The flavors seem subtle, at first, but build substantially as the glass progresses. This beer has quite the body for a saison, with a hefty amount of carbonation that perfectly suits the style.
Seizoen is an excellent Saison -- one of the best I've had (surprising, considering its American origin) -- perfectly-balanced, extremely refreshing, and wonderfully complex. This beer is also dangerously drinkable; I instictually want to guzzle the entire glass and must forcibly restrain myself. Logsdon is an intriguing and promising brewery; I'm highly anticipating their future releases.
★
1,409 characters
4.18
/5
rDev
+3.5%
look: 4 | smell: 3.5 | taste: 4.5 | feel: 4 | overall: 4.5
A brown 750ml bottle, its crown dipped in a thin sheen of golden beeswax. Poured to a teardrop goblet with a backyard 4th of July dinner (grilled steak, caprese salad, olive ciabatta).
Bottle No. S540
Best By: 5/2014
A: Hazed golden pour (later more 'bronze' as stirred sediment clouds the glass), topped with a gorgeous two-fingered dollop of rocky whiteness. Head retention is just ok (a higher score otherwise); it's gone in a couple minutes, reduced to a broad swirl and thin ring. Sea spray lacing.
S: Lovely aroma of yeasty dough and ample spice, charming fruitiness. In fact the fruitiness is bordering on TOO much, and a little fusel alcohol goes a long way (my first deep sniff left my nostrils tingling). Obviously robust, just not quite as enticing to my senses as it might be to others.
T: Oh, the wonders of the complex farmhouse ale! Doughy bread, mushy apples and pears, a quirky peachy tartness, grassy herbalness, and a zingy gingery/peppery spice. Love the drier, more 'mineral' finish.
M: Medium-heavy build, with a crispness that builds and a lasting spicy tang that tingles on the tongue and leaves a lip-smacking, show-stealing dryness.
O: I've only enjoyed a handful of US-made saisons as much this one - pretty outstanding! Logsdon (after years at the helm of well-respected Wyeast Labs) sure knows how to brew. In just a few short weeks since it's initial release (June 2011), I've had this beer at least three times (and its 'Bretta' sibling several more times). I'm an unabashed fan of the style and of this version. It's elevated 7.5% abv reduces 'drinkability' a tad, but its impossible not to finish the bottle once it's been opened.
★
1,670 characters

4.45
/5
rDev
+10.1%
look: 4.5 | smell: 4.5 | taste: 4.5 | feel: 4 | overall: 4.5
A: Pours a yellow/orange color, nice head with great lacing down the glass
S: Smell is fruity and spicy. Nice Belgian yeasiness as well
T: Much the same a the smell, fruity sweetness up front, earthy/spicy toward the end.
M: Medium bodied beer, carbonation seems about right
O: This is a great beer, havent heard of this brewery before but I'm interested in checking them out...very nice Saison. I need to make a trip up to Hood River I guess.
★
444 characters
Seizoen from Logsdon Farmhouse Ales
4.04
out of
5
based on
461
ratings.