Whole Foods Market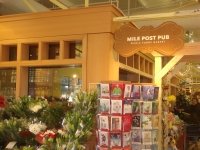 PLACE INFO
Type:
Bar, Eatery, Store
821 Lancaster Ave
Wayne
,
Pennsylvania
, 19087-2550
United States
(610) 688-9400 |
map
wholefoodsmarket.com
Notes:
No notes at this time.
Added by Blanco on 06-10-2011
Reviews: 12 | Ratings: 19

4.6
/5
rDev
+13%
vibe: 4.25 | quality: 4.5 | service: 5 | selection: 4.5 | food: 4.5
One of my go to spots for goodies. The staff is helpful and are open to providing information as to when the good stuff is coming. Although small, they manage to represent craft that should be represented. I've only had one stale beer which was last year's Ale Smith Yule Smith Xmas purchased in 2014. The date looked to be 2014, but after cracking the bottle, I realized it was not fresh. Please pull the outdated brews off of the shelves! I will continue to visit WF and appreciate the freshness of their beer.
*Update (12/26/14) Joe took the liberty to reach out to me based on my previous review and apologized for the outdated Ale Smith. Joe was unaware the 2013 Alesmith was on the shelf, and blew me away with a tremendous offer the next time I visited the store. Most places wouldn't care enough to reach out and take care of their customers like Joe did! Cheers Joe!!
P.S.- My brother and friend frequent your beer store based on my recommedation to shop there.
973 characters
4.57
/5
rDev
+12.3%
vibe: 4.5 | quality: 4.5 | service: 4.75 | selection: 4.5
It's weird to say that prices are cheap when referring to Whole Foods, but this place has the best-priced bottles in the area. I'm pretty sure that my mudroom closet is bigger than this beer store, but they make the best possible use of every square inch that they have. Despite it's small size and walled-off-corner-of-the-store location, I dig the atmosphere - it's cozy, friendly, and FULL of beer. The staff is excellent. Most of them really know their stuff and enjoy talking shop with fellow geeks.
504 characters
4.25
/5
rDev
+4.4%
vibe: 3.5 | quality: 4 | service: 5 | selection: 4 | food: 4.5
We live less than five minutes from this whole foods (walking) so absolutely thrilled when they put in the pub. Since it opened it has been a regular spot for us for many reasons. While it is a small place it is very cozy. People who come in for a beer are very friendly and you can often find yourself in multiple conversations with other patrons and staff. They have six rotating drafts and do a very good job of keeping quality beers with a varied selection available on those six taps. The cold case for six packs for takeout is small which limits their ability to have a giant selection however they do a great job of packing the area and having plenty to choose from. You can pretty much find any variety or style you are looking for and the staff are always open to hearing suggestions on stocking beers they don't currently carry.
The biggest selling point as to why we love the Whole Foods pub is the service. The guys and gals that work in the pub go above and beyond in every level of service. Their knowledge of craft beer is exceptional. They can handle educating anyone new to craft beer while having the most in depth discussion with the craft beer fanatic. You really get to know the staff and they get to know you. Often we walk in and they have a suggestion for something new they got in that fits mine or my wife's taste buds and they are always right on. Jason is about as good as you get of knowing his beers and making customers feel at home whether they are having a pint in the pub or carrying out a sixer. Joe does a great job of running the spot especially considering the limited space his selection is fantastic. Joel and Katelyn are about as nice and helpful as you can be. Overall it is a great spot for having a beer or carrying out a sixer (or more). Finally the food selection is excellent. Whether you are a meat lover or a veggie fan they have anything to suit your tastes. You can order from the pub menu or head over to the buffet area which is loaded with every variety of food you can imagine including an amazing selection of vegetarian and vegan options but many meat options as well. Price of carryout beer very reasonable. Food from buffet can get a little expensive if you have heavier items (pay by weight) but the you are paying for quality food that is not mass produced and it is still far cheaper than most bars and restaurants.
2,383 characters

4.51
/5
rDev
+10.8%
vibe: 4 | quality: 4.5 | service: 5 | selection: 4.25
Pop in here a few handfuls of times a year, easy drive from my work, and usually find something that I don't see much of elsewhere. The 'pub' is defined by the word cozy, haven't tried the food, but the staff is super knowledgeable and nice to chat with. Taps are always changing and you can always land a little sample to see what you like. I find there's a nice little section of sours, again with the same knowledge and passion about them if you inquire. Worth a stop if you're in the area!
493 characters

4.09
/5
rDev
+0.5%
vibe: 3 | quality: 4.25 | service: 4.25 | selection: 4.25
I have stopped in here a few times now, figure it is time for a review.
Not sure how much atmosphere a pub in a grocery store is supposed to have so I will just ignore that part. Quality is fairly high. They serve in the correct glasses and the beers are all very nice. Service has always been good for me. The guy at the front is always willing to help and he really knows his stuff. Selection, compared to the other grocery store bottle shops in the area, is quite good. They have quite a few tasty, and sometimes rare, bottles kicking around. I found a couple awesome gueuze's for a more than reasonable prices.
Overall an awesome bottle shop option when you are in the area. Worth a shot for sure.
703 characters
4.18
/5
rDev
+2.7%
vibe: 4 | quality: 4.5 | service: 4.5 | selection: 4 | food: 3
They do a great job here considering the size of the place. Their selection is excellent given the space constraints. The employees are knowledgable and always willing to help and advise. Their prices are very good-often cheaper than larger local places. They usually have a nice selection of beers on tap and offer free samples. It would be nice if they offered a little more in the way of food, but this is not a major drawback for me given the selection and convenience. Kudos to the people in charge as I think they do a very nice job with what they have.
559 characters

4.3
/5
rDev
+5.7%
vibe: 4 | quality: 4.5 | service: 4 | selection: 4.5
If you live in PA, then you have been getting gouged any time you wanted to by single bottles. At least, this was true until stores like Wegmans and Whole Foods entered the game.
Unlike Wegmans, this Whole Foods has a deeper selection (for example - I have found a good bit of Mikkeller here - would never expect to see that at Wegmans) Last Saturday they had It's Alive and Lagunitas Sucks on draft - it was great to have growlers like that for Christmas dinner! Or you could just sit there and enjoy a pint.
Many of the staff are geeks and they love talking about beer. They can pick up on whether or not you are a geek pretty early and begin to make recommendations (there is so much in the store that you could miss a lot of it).
Foodwise, They serve some food there but it is not spectacular - cured meats and cheeses from the store.
Finally, the prices are very reasonable. You don't experience the ridiculous mark-ups that you see at the bars in the area - even for highly sought after stuff like Dark Intrigue (recently).
1,033 characters
3.33
/5
rDev
-18.2%
vibe: 1 | quality: 3.5 | service: 4 | selection: 3.5
Interesting to find a "section" like this in a grocery store. The Milepost Pub is a small, um...section in the grocery store, dedicated to beer and wine. Not really the kind of place I imagine myself going out of the way for to go drink, but still a nice option.
The "pub" itself is very small, but there are a few little bar-like tables to sit at, with pretzels and simple food selections to chose from. Servers/registers are friendly and helpful. A variety of wine dispensers line the walls, and there are six generally local beers on tap, with the option for growler fills. There are a few six packs and twelve packs on display for purchase, as well as a decent selection of singles, and towards the back, there is a cold room with even more to chose from, though not an entirely extensive selection. Prices are pretty comparable to other bottle shops in the area...maybe a bit cheaper, but you sacrifice some selection. I'd go to Capone's or Pinocchio's before going here to buy singles. It's still nice to have the option though.
1,036 characters

4.45
/5
rDev
+9.3%
vibe: 3 | quality: 4.5 | service: 5 | selection: 4.5
This is a re-review. Originally reviewed 6/11 after it first opened.
I live about a quarter mile from here so I've been here several times already since it opened. The atmosphere is what it is...it's a bar in a grocery store built so they can sell takeout beer so don't expect much there. It's brightly lit with just a few seats and a checkout counter. The takeout section is a big walk-in refrigerator just like the Whole Foods in Plymouth Meeting, though smaller. They do occasionally hold special events and educational tastings, though admittedly I haven't gone to many.
The selection there is very good and has progressively gotten better. The staff here really makes it a point to get the latest limited releases and keeps a regular lineup that is excellent. Really, the only thing missing are really obscure rare beers or some of the really sought after lambics (Cantillon, Drie Fonteinen, etc.). Even if they sold them, they wouldn't stay on the shelves long because the pricing is the best I've seen in the area and anything highly sought after sells quickly. Draft selection is very good to great as well.
This has become my go to spot. The selection is awesome, and if you stop by regularly you can pick up most limited releases before they sell out. The staff is tremendous. Joe and Steve really care about the beer they are selling and developing a rapport with their customers and I couldn't ask for better service.
1,442 characters
4
/5
rDev
-1.7%
vibe: 4 | quality: 4 | service: 4 | selection: 4
The Whole Foods in Devon is conveniently located between my office and my house making it an easy stop off for good craft beer.
Like the Pub at WF Plymouth Meeting, the Mile Post Pub is located in the front of the store with its own separate register. The space is small but it does the job.
Most beer is kept in the cold room at the back of the pub. It's stacked floor to ceiling with six packs and bombers. There are some bombers and other large format bottles kept up at the register.
Selection is very nice. Local PA crafts, big national crafts as well as other selections. They always seemed to have the best selection in the area of Pretty Things and Jolly Pumpkin beers. Growlers are also available though I haven't purchased a growler there yet. Tip - Follow the pub on Facebook. They are great about updating the current tap list there. It seems like they run through a lot of barrels. Must be a popular place.
Service is very good and friendly. The staff seem interested and have been helpful.
Overall, the Mile Post Pub is a good addition to the Main Line beer scene. With it, Teresa's Next Door, Wegmans, The Beeryard, and TJ's, we're getting quite spoiled on Lancaster Avenue.
1,194 characters

4
/5
rDev
-1.7%
vibe: 4 | quality: 4 | service: 4 | selection: 4
Finally got to the Whole Foods in Devon. Been meaning to stop there for awhile now.
A: Cheery, bright and cozy (small) but overall very welcoming. This is basically just a walled out area inside the food store. You walk in the room and the cash register and a beer wall is on the right as you go in. Then the tap area with a few seats and in the back is a refrigeration area for cold beer.
Q: Very good. All the regular locals are present as well as some harder to find bottles. They had some RR stuff that Wegmens doesn't carry as well as some other harder to find stuff. Good quality beer.
S: Pretty good. The beer guy asked if I needed help and helped me find non-refrigerated bottles of the stuff I wanted to buy. Nice people.
S: Very good, goes with the quality. They do carry a ton of stuff that Wegmans does not carry. Rarer RR stuff, Hoppin Frog stuff, Sixpoints and various others. Nicer quality selection than Wegmans.
V: Very good, prices no par with other area stores and all clearly marked which was nice!
Overall I'll be back. I loved the growlers and half growlers, so I want to pick up one of those with hopefully some great draft that is on tap at that time. I really enjoyed the place, well done.
1,220 characters
4.04
/5
rDev
-0.7%
vibe: 3 | quality: 4.5 | service: 4 | selection: 4
Whole Foods Devon beer room is right through the front door to the right. It's a bit smaller than the Plymouth meeting location and it is laid out exactly the same. All the same stuff, wine by the glass through a dispenser, a mix a six section, a cold room full of beer full of bombers, six packs, cans, locals, west coast beers and foreign beers including some nice Belgians. Whats different is that there is a seperate wall in the warm room full of bombers of the more sought after/limited stuff. Laid out nice with prices listed clearly for easy picking. I love when prices are listed, all beer stores should employ this method. A growler station with six choices and 32oz, 64oz WF growlers. The draft selection is a bit different than Plymouth with some more expensive offerings on tap. Another difference is a small see through glass shelf with some of the pub food items displayed. I really wanted the Char board but time was a factor. Imma get it next time though along with some blue cheese. The lady working the register was very friendly but the beer buyer although helpful was kind of a douche.
1,105 characters
Whole Foods Market in Wayne, PA
4.07
out of
5
based on
19
ratings.