Chai Cream Ale
| SLO Organics, LLC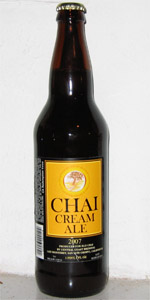 BEER INFO
Brewed by:
SLO Organics, LLC
California
,
United States
chaicreamale.com
Style:
Cream Ale
Alcohol by volume (ABV):
4.50%
Availability:
Year-round
Notes / Commercial Description:
No notes at this time.
Added by blitheringidiot on 05-17-2007
Ratings: 13 | Reviews: 12
3.62
/5
rDev
+30.7%
look: 3.5 | smell: 4 | taste: 3.5 | feel: 3.5 | overall: 3.5
Review from BeerAdvocate Magazine Issue #54 (July 2011):
The chai hits the nose right away; dull golden color with a lacing to be proud of. Iced chai tea ... that's the nose, noth- ing more and nothing less. First sip reminds us that we are drinking beer, with smoothness and a solid medium body. The malt backbone is sturdy enough to hold this beer together, as the focus is on the spicing. The level of chai flavor is nearly perfect, and the beery backing works. The thing with tea is that one cup is usually enough, so about a glass of this is satisfactory, but it's certainly something we'd come back to.
615 characters
More User Reviews:

4.15
/5
rDev
+49.8%
look: 4 | smell: 4 | taste: 4 | feel: 4.5 | overall: 4.5
First, a warning that I'm new to reviewing and plan to review more viscerally about my overall impressions rather than address the main bullet points (appearance, smell, etc) and will never use the word "lacing." I enjoy and appreciate those reviews, but that's not me.
I never knew about this Chai Ale until I stopped into a deli in San Luis Obispo (SLO) for a bag of chips and scanned the wall-long refrigerated beer coolers. This single bottle popped and the friendly lady behind the counter was only too happy to get on the horn and call up to see if Central Coast Brewing Co. was still open for tasting. It was 4:45 pm and they said they were open til 5. I hauled ass.
I found Jim, the sales and marketing coordinator, behind the bar of the B.O.P./microbrewery, who was a wealth of knowledge and amicability. They will help you brew around 150 different beers, and bottle fewer than 10 commercially. You can try a flight for buck-a-taste, but the sign says 5 for $5.
My first was the Chai Ale, and it was like a great Christmas ale, nicely spiced but not over the top and lighter in color like you'd expect of an ale instead of most winter warmers. The chai spices were subtle going in and lingered nicely afterward. The beer on tap was chilled appropriately and had enough carbonation (OK, I'll use the word mouthfeel) to reinforce that this is beer and not something akin to eggnog.
One thing Jim 'fessed to was that, because of their tiny batch sizes, they don't earn high marks for consistancy, which is why readers could ignore all the Fs and Ds below for the 2007s and feel more confident trying the '08, which my bottle says.
Central Coast is primarily distributed to bars and restaurants in SLO and won't go farther than 100 miles. If you're in town, this place is a MUST. If you want to take home something interesting, I'd recommend the Chai, but I'd highly recommend the Drunkel Weizen (yes, "drunkel.")
1,924 characters
2.48
/5
rDev
-10.5%
look: 3 | smell: 2.5 | taste: 2.5 | feel: 2 | overall: 2.5
Pours cloudy gold with a puffy white head. Nutmeg, chai, cloves, phenol, and that ginger everyone keeps talking about. Very carbonated. Tart, astringent taste. The chai is right there. Comes across like a Flemish sour with a ton of bubbles. Overall: makes me want to avoid drinking any other beer from Central Coast.
316 characters
1.24
/5
rDev
-55.2%
look: 3 | smell: 1.5 | taste: 1 | feel: 1 | overall: 1
I just bought this on a whim - was intrigued by the bottle while on a business trip (picked up one bottle for each evening). It's also the first beer that I just cannot finish (less than half). I don't know what it is exactly - there are some definite spices, and I don't normally have a problem with that (spiced wassail and Ginger flavored beer). It's not the Chai, I'm normally a fan of that - but I don't taste that anywhere.
The spices are definitely intriguing; if that may interest you, give it a try. I've seen it online for ~$6 for the large bottle - it was under $5 at Whole Foods. The label says it is 2007.
619 characters

2.5
/5
rDev
-9.7%
look: 3 | smell: 3 | taste: 2.5 | feel: 2 | overall: 2
From the San Luis Obispo BevMo.
A mildly chill hazed beer that is the color of wild flower honey, this forms a decent but not excessive white head.
The scent is very strongly spiced. If you have had Chai tea then you know what this smells like.
The taste is a little malt and Chai spice, a beer version of the tea.
The Mouthfeel is OK.
An over spiced beer that pretty much obliterates the beer taste. I can't recommend it for anything other than its novelty value.
469 characters

2.23
/5
rDev
-19.5%
look: 3 | smell: 2.5 | taste: 2 | feel: 1.5 | overall: 2.5
A-Pours fizzy yellow with a brilliant white, foamy head. Leaves moderate soapy lacing.
S-Chai spices, pale malts. Not much else.
T/M-Watery. Very little carbonation. This tastes like a flat kolsch with powdered chai mix dissolved in it. There's a downright offensive metallic flavor about 3/4 of the way in that completely ruins what little this beer has to offer.
O-Skip it.
378 characters

3.19
/5
rDev
+15.2%
look: 2.5 | smell: 3.5 | taste: 3.5 | feel: 2 | overall: 3
Poured from a 22oz bottle into a pint glass.
A: Pours a clear golden color with limited carbonation. It looks very still. There is no head to speak of, just a very thin ring over the top.
S: It has a very chai sort of smell. Creamy and tea-like aromas come through. It is quite pleasant and very inviting.
T: The taste is pretty much exactly like the aroma. There is a dominant sense of chai and herbal aspects. The creamyness and tea come through as well. This is a nice tasting cream ale.
M: The mouthfeel is a bit on the watery and thin side. There is a bit too much carbonation for my taste. In my opinion, the feel could use some work, perhaps making a creamy-er feel.
O: This is a fine tasting cream ale with a nice twist with the chai. The feel and appearance could use some work, but overall, this isn't a bad beer and a nice change of pace.
854 characters
3.38
/5
rDev
+22%
look: 3.5 | smell: 3 | taste: 3.5 | feel: 3.5 | overall: 3.5
22oz bottle. 2007 vintage.
Poured a medium and hazy golden color with a huge sized white head. Aromas of chai tea and lots of spices (cinnamon, ginger, and lots more). Tastes of basically the same. This one definitely has tea in it. Has a light tart finish. Definitely interesting and I kinda like it.
Notes from: 12/4/07
324 characters

2
/5
rDev
-27.8%
look: 2.5 | smell: 2.5 | taste: 1.5 | feel: 2.5 | overall: 2
Purchased online from Bottle Trek for $6.10 (plus the shipping of course).
No freshness date, but it is labeled 2007.
a: Out of control frothy white head despite a typical pour.
Were talking like a 7 to l ratio of head to body following the initial pour.
Combined with great head retention, its 10 minutes before I'm able to take my first sip. Patches of lacing coat the glass. Oh yeah, now I can see the body, its a hazy, cloudy, murky yellowish brown. Very unattractive color.
(Some of this is positive, some negative, hence the average rating)
s: The nose is sour and spicy. Kind of wonder if the sourness was intended or if its the by-product of some sort of problem with the batch.
t: not good. I taste spices similar to chai, but the beer is just off.
It has a sourness and some flavors I can't quite place. I am assuming something went wrong with this at some point, either during the brewing process or maybe something happened to the bottle after production.
Either way, its definitely not appealing. Wish I could be more specific and constructive, but I guess I don't have enough home brewing experience to place these funky flavors.
m: Above average carbonation, sour on the tongue, dry finish.
d: very poor, glad my GF is splitting this with me, I sure wouldn't want to drink it all myself.
I like the idea, but it seems to be poorly executed.
Way too much chai spice and the sour funk is not good.
I love tart beers, but this is not tart in a good way.
Maybe they can make a few changes and produce a better version in 08.
1,546 characters

3.44
/5
rDev
+24.2%
look: 2.5 | smell: 3.5 | taste: 3.5 | feel: 3.5 | overall: 3.5
Bomber poured into a pint glass. Gold with a heart of orange and a fizzy cola-like off-white head. Aroma is sweet with obvious chai spices, vanilla, hay, candied citrus. Flavor is sweet as well, with a round honey malt base and a restrained chai spiciness that surprisingly doesn't become overwhelming. At first the beer is on the cloying side but with a little warmth, some mild tea tannins come out and dry the palate without being too astringent. I wasn't expecting much here but this beer is completely fine. The only flaw is it's sweet and fizzy.
551 characters


2.73
/5
rDev
-1.4%
look: 3.5 | smell: 3 | taste: 3 | feel: 2 | overall: 2
Pors with a frothy thin straw hue topped with an instantly vanishing ivory cap.
Muted nose of light caramel and lemon.
First swigs: Mixed up cocktail of sushi ginger and lemon or orange fruit. A tad of off color peppery lemon.
Feel is a tad too frothy and foamer. Foams up right away.
Last swigs: Not sure why this says cream ale but so be it.
356 characters
1.53
/5
rDev
-44.8%
look: 2 | smell: 1.5 | taste: 1.5 | feel: 1.5 | overall: 1.5
Hypercarbonated muddy ochre with swirling, ultimately settling, large black flakes that are probably spices. At least I hope so. The pale beige cap is massive and lasts for a bit, but it doesn't look great and doesn't result in any lace. Not a good way to kick things off.
Although the spices are appreciated in the nose, they're overwhelmed by a sour lemoniness and rampant phenols. I would suspect that this is old beer, but it says '2007' right there on the label. What are the chances that the flavor can turn things around? Yeah, that's pretty much what I think too.
I love chai, which the main reason why I bought this bomber. The thought of a chai-spiced cream ale (an excellent choice for a base beer) is appealing. When I learned of the spice additions, I was even more ready for something interesting and delicious. The potpourri includes nutmeg, clove, ginger and black pepper.
It's too bad that Chai Cream Ale is nowhere near good beer. The flavor profile, such as it is, follows the nasal profile directly. The beer is supremely sour, phantasmagorically phenolic and is destined for the kitchen sink as soon as I'm done here. Clove is the only spice that makes it through the muck. This can't have been the way the brewers wanted the beer to taste, so something must have happened somewhere along the way.
The mouthfeel is both watery and overbubbled. End of story.
Perhaps I shouldn't have reviewed this bomber of Chai Cream Ale. It isn't old beer, but it might be infected beer. Let these words and these scores be a warning to anyone who is tempted to see what Central Coast has wrought in the realm of chai beer. From this batch at least, they've wrought an unspeakable (and undrinkable) horror.
1,717 characters
Chai Cream Ale from SLO Organics, LLC
2.77
out of
5
based on
13
ratings.