Face Plant IPA
| Lost Rhino Brewing Company
BA SCORE
80
good
36
Reviews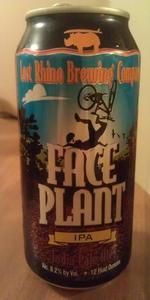 BEER INFO
Brewed by:
Lost Rhino Brewing Company
Virginia
,
United States
lostrhino.com
Style:
American IPA
Alcohol by volume (ABV):
6.20%
Availability:
Year-round
Notes / Commercial Description:
No notes at this time.
Added by robbrandes on 07-01-2011
Reviews: 36 | Ratings: 271

3.68
/5
rDev
+6.4%
look: 3 | smell: 3 | taste: 4 | feel: 3.75 | overall: 4
I can see why people would give this a low rating as an IPA however not being a Hop head fanatic I really rather enjoyed this beer.I like to call it a nice mildly hoppy APA,if you think of it that way it's quite a nice brew.I'm not sure if I would be correct calling this an APA but hey, It's beer it's not supposed to be confined to rules...
342 characters
3.46
/5
rDev 0%
look: 4 | smell: 3 | taste: 3.5 | feel: 4 | overall: 3.5
Enjoyed at Carpool Bar in Herndon, VA this IPA is a hazy copper color with a nice creamy white head and lots of residual on the glass. The aroma is just a modest herbal wheat and light citrus grass. Nothing to write home about but okay. The flavor speaks more of the citrus-herbal hop combo blended smoothly with a grainy malt backbone. A very easy drinking but respectable IPA. Hops are definite but not killer at all, just nice. Plenty of grain and touches of grass to balance this out without losing the hop focus. This is medium bodied with some constitution to it, peppered with a very fine but lively carbonation that makes for a refreshing summer brew with flavor. Well done though not very memorable.
708 characters
2.8
/5
rDev
-19.1%
look: 2.5 | smell: 2.5 | taste: 3 | feel: 2.5 | overall: 3
Had a glass of this at the brewery. Pours a nice orange with a nice two finger head. Appearance is ok. Smell is good, has some citrusy notes, fruits, but smells a bit off for an IPA...can't really find the words to describe it, but definitely missing something... Taste is ok, not bad, but not an IPA of note. Mouthfeel is good, average. Overall, a average IPA, not bad...
372 characters

3.23
/5
rDev
-6.6%
look: 3.5 | smell: 3 | taste: 3 | feel: 4 | overall: 3.5
I had this on tap at Cave Mezze in Arlington, VA.
A: Poured a very murky orange color, with a foamy off-white orange head that stuck around throughout the session.
S: The nose was almost non-existent, however, after digging in for a bit, I got a tinge of orange.
T: On the taste, I got a fairly fresh citrus component with a bitter finish and an overall taste that was a bit too boozy.
M: Good: Creamy, well carbonated for this style, and not too sweet or cloying... just not interesting.
O: Overall, the booze on the taste killed it for me, however, I'll keep drinking their beers. I'm always looking for some local sensations!
633 characters
3.56
/5
rDev
+2.9%
look: 4 | smell: 3 | taste: 3.5 | feel: 4 | overall: 4
A fair and quaffable IPA, maybe a tad unremarkable but a good brew.
Presentation: 16 oz draft serving. Tap handle with an identifiable Lost Rhino imagery, name of the brew with an illustration of a cyclist falling over for a Face Plant...? Served in a pint shaker glass.
A - Medium amber pour, small finger of good foam with fair retention, nice surface memory and rich touches of lacing.
S - Nose is fair but very, very tamed. Soft malty caramel with a citric bitter hint...
T - Luckily the flavor picks it up quite a bit with a nice bitterness, citric touch.. maybe a tad generic but not disappointing, soft malty sense holding it up with a memory of caramel.
M - Medium body and carbonation giving the flow a nice structure with a good lingering bite.
O - It actually works fairly well.
Notes: Hmm, not a top notch offering but that is OK. This is quality and while not that memorable makes me recuperate the interest in this brewery. The first thing I had was truly unremarkable to the point that I though the tap was off, on the other hand their Rhinoel cask and bottle were quite notable, and this is OK, which is fine. I´ll keep a curious eye out for other brews from Lost Rhino.
1,195 characters

3.53
/5
rDev
+2%
look: 4 | smell: 3.5 | taste: 3.5 | feel: 3.5 | overall: 3.5
Beer served in a snifter. Beer is reddish / copper and hazy with an offwhite head of small bubbles, some lacing, moderate to low carbonation, decent retention.
Aroma is citrus hops and a little sweet, perhaps some malt sneaking through there.
I'm not about to tell you that this is a great IPA, that drinking it will change what you think about IPAs but this beer does NOT deserve the beer snob IRE it is getting. It is solid, medium bodied, citrus forward sweet IPA. I enjoyed it, would have it again.
504 characters

2.78
/5
rDev
-19.7%
look: 3.5 | smell: 3 | taste: 2.5 | feel: 3.5 | overall: 2.5
From 07/28/11 notes. had on tap at Whitlow's in Arlington, VA. Served in a pint glass.
a - Pours a deep amber color with one inch of white head and light carbonation evident. No lacing or retention.
s - Smells of caramel malts and bready malts. Not getting much hops, and while not bad, pretty average.
t - Tastes mostly of caramel malts again, with some light bread. Again, no real hops to it, though there is a tiny bit of bitterness. Not that great.
m - Medium body and moderate to high carbonation, with a slight bitterness to it. A touch overcarbonated.
o - Overall an average IPA at best. Not a lot of hops and not a ton going on in the nose or taste, except a tiny bit of bitterness. Glad to see all the new breweries opening up in the area but this isn't one of the better IPAs/beers I've had so far from any of them. Wouldn't seek it out again.
858 characters
2.33
/5
rDev
-32.7%
look: 3.5 | smell: 3 | taste: 2 | feel: 2 | overall: 2
Sampled on draft at PP Dupont and WF Fair Lakes.
Move along, not much to see (taste) here. Pours a copper amber with an unretentive white head. Aroma and flavor are light caramel malt and yep, nothing. Hops? Bitterness? Complexity? Anything resembling a non-BMC beer is nowhere to be found. Medium light "body". Ugh, this is a boring disappointment.
350 characters
2.9
/5
rDev
-16.2%
look: 3 | smell: 3 | taste: 3 | feel: 3 | overall: 2.5
Gaahhh! Another tepid entry into the IPA category by a new Northern Virginia brewery! WTF guys? This is an amber ale, this is an ESB, THIS IS NOT AN IPA!!!
This is not the late 80's/ early 90's people. I can get Sam Adams and Redhook ANYWHERE these days, and so can everyone else that wants boring conservative craft beer.
This one has less hops than the Port City IPA - it's all caramel malt. This is an English Pale Ale minus the interesting candy apple/ stone fruit/ biscuity character.
So NOT a good step for an opening move by a new craft brewery in 2011.
563 characters

3.56
/5
rDev
+2.9%
look: 4 | smell: 3 | taste: 4 | feel: 3 | overall: 3.5
Appearance is slightly cloudy amber with little head
Smell is light, piney
Initial taste is agressivly bitter but not unpleasantly so, with some pine and citrus
Mouthfeel is also light on carbonation
Overall a hophead's interpretation of the style
251 characters

3.2
/5
rDev
-7.5%
look: 3.5 | smell: 3.5 | taste: 3 | feel: 3.5 | overall: 3
reviewed from notes.
5oz taster, poured @ northern virginia brewfest.
poured a bit darker than expected, slightly cloudy in color with a big, fluffy head on it. nose was good - citrus hops, nice strong maltback.
taste - something of a let down. brewer cites a desire for 'rich, malty IPAs'. well they got that right, but it's an IPA, not an American Ale. Bump up the hop profile, and we've got a solid IPA, as is, it's unremarkable.
sidenote - lost rhino's marketing was exceptional. far and away, the best at NOVA.
520 characters
Face Plant IPA from Lost Rhino Brewing Company
3.46
out of
5
based on
271
ratings.