Black Bear Ale
| Bear Brewing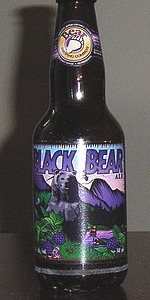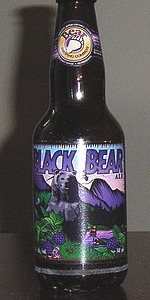 BEER INFO
Brewed by:
Bear Brewing
British Columbia
,
Canada
Style:
English Dark Mild Ale
Alcohol by volume (ABV):
5.00%
Availability:
Year-round
Notes / Commercial Description:
No notes at this time.
Added by Garin on 07-17-2003
This beer is retired; no longer brewed.
HISTOGRAM
Ratings: 7 | Reviews: 6
Reviews by GrimmReaper:
3.53
/5
rDev
-4.3%
look: 4 | smell: 3.5 | taste: 3.5 | feel: 3.5 | overall: 3.5
Had to order this one from my local LCB,heard so much about it and really wanted to try it,not the same label as shown,and i hear not the same brew either.Pours a dark almost black color with hints of ruby red,2 finger mocha head with decent lacing.Not much of a whiff on the nose,lite coffee and molasses,maybe a hint of roasted nuts.Taste is coffee,kinda flat,a little smoke flavor,a metallic flavor in there too,not much on the finish,just goes flat and leaves you with an unsatisfied feeling,not as bold and creamy as i expected.
533 characters
More User Reviews:
4.15
/5
rDev
+12.5%
look: 4 | smell: 4 | taste: 4.5 | feel: 3.5 | overall: 4
After hunting down the contract brewer, I can finally review this. I've been drinking it at Edmonton Earl's restaraunts under it's guise of "Winter Pudding Ale".
Pours a mirky, thick brown-red, and delivered after the head had disappeared to a faint ring. Lacing of a consistent spidery nature on the glass. Smells - plums, buttery malt and a mild sourness. Very pleasing bouquet. Mouthfeel is faintly viscuous with little carbonation. Taste, well, this beer has just had me coming back for more. Dark fruitiness, buttery, nutty character, thick, mildly sweet malt and hardly any hop bite. A sweet, warm, wintery brew that goes down smoother than it should.
At Earl's they told me in March that it would get discontinued because it was seasonal and I almost cried. Apparently it's so popular that they kept it, and I'm very glad. Every night after nine I can get 2.50 pints on special. Oh happy day.
906 characters
3.73
/5
rDev
+1.1%
look: 4.5 | smell: 4 | taste: 3.5 | feel: 4 | overall: 3.5
I found a six-pack of this in a neighboring town's liquor store. It looked interesting so I thought I'd give it a try. The packaging plays to my curiosity: a blurb on the side tells us that there is a secret to this beer and that they're not going to tell you, except by the taste. Well, like a black bear, I'm curious so I brought it home with me.
The first secret is that the bottles don't have a twist-off cap. One sore hand later, I dug out the bottle opener. Oh well. There's a certain charm to bucking the common trend.
I poured the first bottle gently and got no head at all. With a more aggressive pour on the second bottle, I got a creamy-brown head. Nice colour to the liquid -- dark reddish brown, very little light getting through.
I find a pleasant, somewhat subtle fruitiness to the aroma. The flavour has noticeable berry undertones but they don't crowd out the hops and carbonation.
By the second or third sip, the head was gone, leaving a lacy film.
I generally prefer a more hoppy beer but the taste of this one is unique and interesting enough that I'll buy it again. Oh, and may I assume that the "secret" is some sort of wild berries?
Edit: By the way, due to a change of ownership, it's now brewed by KB Brewing Co (aka Kamloops Brewery Ltd.) and Bear Brewing appears no longer to exist: http://www.kbbeer.com/
1,351 characters

3.95
/5
rDev
+7%
look: 4.5 | smell: 4.5 | taste: 3.5 | feel: 4 | overall: 4
It poured a deep chocolatey plum colour. A decent thick head formed, and slowly reduced to about a half an inch, where it lingered. A nice thick lace clings to the glass. It looks great.
The aroma is sweet and thick with malt. Rich chocolatey flavours mix with sweet fruits and amazingly delicious nutty grain aromas. Wow.
The flavour begins sweet and tart at the front, with hints of blackberry and currant flavours. It's a bit surprising, actually, as the flavour isn't quite as complex or inviting as the aroma. There is the slightest bit of tannic twitch on my cheeks. The added fruit flavours are nice, and the maltiness *really* complements the berry extremely well. I personally think it was a stroke of brilliance to add the fruit to this ale.
I'm torn between calling this a "mild ale" and a "fruit beer". I have chosen to call it a "mild ale" in my addition of this beer, simply because I think the mild ale style is more important to describe this beer than the fruitiness -- which I find to be an accent, rather than the entire point (like say in a cherry lambic or something). Does that make sense? I think of this as a mild ale, so that's what I called it.
Anyhow, The body is light, as is the carbonation. It is very easy drinking, and refreshing. The more I have, the more I like it.
1,313 characters
3.6
/5
rDev
-2.4%
look: 4 | smell: 4 | taste: 3.5 | feel: 3 | overall: 3.5
This used to be one of my favourite beers. Unfortunately, the quality just isn't consistent and I've had to return the last two boxes after attempting to drink the first one. If you get a really bad batch, it's a sour, lemony, metallic taste that requires no second opinion -- it's awful. Other times, you'll get a bottle without the sourness, but it's almost completely flat, with minimal carbonation. I don't know if it's a freshness issue or quality control, but sadly I've just stopped buying it in bottles.
That said, if you can get it on tap in a decent pub, this can still be a great brew. It's dark and rich with cherry undertones that never overwhelm the maltiness. Even on tap, I've noticed carbonation issues, so perhaps ask for a sample before ordering it.
769 characters

3.85
/5
rDev
+4.3%
look: 3.5 | smell: 3.5 | taste: 4 | feel: 4 | overall: 4
I had this at Earl's restaurant where it called Pudding ale. The beer pours rich and dark with a real old fruit undertone to the malty nose. The beer tastes like a Xmas ale with ale the cherry notes and lots of roasted barley. I like the complexity of this beer and that richness of the finish.
294 characters
Black Bear Ale from Bear Brewing
Beer rating:
3.69
out of
5
with
7
ratings