Bodebrown / Stone Cacau IPA
| Cervejaria Bodebrown Ltda.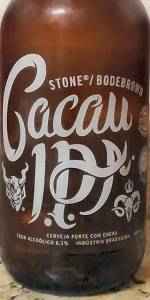 BEER INFO
Brewed by:
Cervejaria Bodebrown Ltda.
Brazil
bodebrown.com.br
Style:
American IPA
Alcohol by volume (ABV):
6.10%
Availability:
Rotating
Notes / Commercial Description:
No notes at this time.
Added by EgadBananas on 07-13-2013
Reviews: 9 | Ratings: 34
3.52
/5
rDev
-14.6%
look: 3.75 | smell: 3.5 | taste: 3.5 | feel: 3.5 | overall: 3.5
The American IPA goes south of the boarder, hooking up with the Brazilian beer makers of Bodebrown, a nutty, chocolaty overlay begins to garnish the IPA of which the Stone brewers are so adept.
Hazy and amber, the look of honey strikes the eye while the nose drifts above its frothy swath of foam, picking up caramel, cashew, white chocolate and toasted starch. And while those caramelized malts lay softly on the tongue, early impressions of honey, biscuit and crust resonate with flavor.
Across the middle palate, the caramel trails and the hops project, bringing about the classic grapefruit, orange peel and piney herbal taste that the IPA prescribes. But with the retracting carbonation, so does the cacao nib- laying something of buttery cashew, pecan, light chocolate and even 'white' coffee, even if ever so delicately on the tastebuds. Yet with the floral whimsy of perfume and mild soap, the finish comes quick as the throat braces for bitterness.
Creamy and moderate on the mouth, the beer's texture is smooth, soft and soothing with bitterness. Its drying sensation highlights the spice of hops and brings out the lemony verbena, sassafras and fresh cut pine character that's both quintessential and perpetual of the American (not just North American) IPA.
1,271 characters
4.44
/5
rDev
+7.8%
look: 4 | smell: 4.25 | taste: 4.5 | feel: 4.75 | overall: 4.5
Fresh beer from the brewery. I waited to have this until I travelled back to Curitiba (last time it was still maturing in the tanks). Expectations building up...
Clear copper color with a thick off-white head with good retention and leaving some laces.
Nice aroma that made an interesting match of citrus and buttered cocoa notes. Quite original. Notes of chocolate, sweet grapefruit and biscuit malt.
Delicious bold flavor with no sharp edges. Notes of grapefruit, resin, cocoa, Stone spiced profile that I am not worthy, specialty honey, earthy and citrus hops, some grass and pineapple. Quite dry and bitter aftertaste.
Medium half way towards full body with appropriate carbonation.
Perfect balanced IPA with a personality of its own. Best national IPAish. I would never have thought that this combination would match so well. Probably it did, given the spicy profile of Stone beers, maybe with other collaboration, it would have resulted differently. Though, ancient civilizations in Mexico thought alike with their Mexican "mole". Well worth it to try this.
I had high expectations and this beer went beyond. I was hoping for not really loving this once it is a bit hard to get and expensive for its small size.
Ap.4 Ar.4,25 Sab.4,5 Sens.4,75 Cj.4,5
1,260 characters
4.1
/5
rDev
-0.5%
Taking one of America's best breweries (Stone) and combining it with one of Brazil's best (Bodebrown) is a wet dream come to life. Cacau IPA takes the West Coast style of IPA and adds cocao nibs during the maturation process. From a stubby 300 ml bottle, on to the beer:
Flame orange colored and topped with a thick rocky head which retains very well initially, dropping to a lace with time.
IPA or chocolate beer? I smell more cocoa than IPA. The cocoa aroma is off the hook! And the IPA portion is no slim picking either (solid citric notes).
Did a chocolate bar melt into an IPA? If so, it was an accident that worked. It tastes of chocolate, and the IPA that's there is pleasantly bitter and citrusy like something I would find in my region. It's a medium bodied beer, with a hoppy and sweet aftertaste.
Some marriages work, and some don't. Cacau IPA does with its cocoa and IPA aspects. Not to mention Greg and Samuel seem to get along very well.
957 characters
4.1
/5
rDev
-0.5%
look: 4 | smell: 4 | taste: 4 | feel: 4 | overall: 4.5
This is a very good Brazilian IPA, made with cocoa, malts and great hops. Great beer! If you want to taste a Brazilian beer this is the one to have. Nice body, amazing flavor, great taste. it is made in curitiba, Parana, the brewery is called Bodebrown.
253 characters

4.36
/5
rDev
+5.8%
look: 4 | smell: 4.25 | taste: 4.5 | feel: 4 | overall: 4.5
330ml bottle served in a pint glass.
A: Nice bottle art. Silk bottle with both Bodebrown and Stone logos. Pours a slightly cloudy orange color forming a medium creamy and thin bubbled light yellow head. Great retention and lots of soapy, molasses and lingering thin lacings left in the glass
S: Awesome in the nose. Traditional American IPA perfectly combined with notes of cocoa and chocolate. Sweet malts, caramel malts, dry fruits: Raisins, mainly. Citrus and grassy hops profile, I would dare to say that there's Centennial. Notes of orange zest and grapefruit
T: Slightly sweet upfront. Notes of caramel, chocolate, raisins, grapefruit, orange zest, caramel malts, crystal malts. Intense but absolutely pleasant bitterness. Great bittersweet balance. Less aggressive than Perigosa. Hops are quite grassy and citrus with some light pine notes
M: Heavy and creamy body. A bit molasses. Medium to high carbonation. Caramel and citrus bittersweet in the aftertaste
O: Excellent drinkability. Definitely, the best Brazilian beer I've had so far followed by Perigosa and Invicta IIPA
1,087 characters
4.99
/5
rDev
+21.1%
look: 4.75 | smell: 5 | taste: 5 | feel: 5 | overall: 5
Although I have had the pleasure of drinking this beer on tap from the Bodebrown brewery tasting room, my review today comes from a bottle procured from my good friend Jose, visiting from Paraguay. It pours a medium to deep amber with a delicious, creamy and full white head. There is a slight haze, but to be colloidally expected from an IPA that has made an 8,000 mile journey to Denver. The aroma is sweet, but not cloying, with fantastic bouquet of caramel, cocoa, and earthy hops, and just a touch of heat coming through with the 6.1% ABV. The taste is brilliantly balanced with the bitter sweet flavor of the cocoa, the caramel from the malt, and the bittering level the of hops. The flavoring hops are suggestive of a slightly more fruity variety that compliment the cocoa and adds to the complexity. Overall I love this beer because not only is it different from any other beer I've tried, but it is extremely well done, and is a real pleasure to drink, and even makes me wish I had a whole case of this stuff.
1,018 characters
4.22
/5
rDev
+2.4%
look: 4.25 | smell: 4 | taste: 4.5 | feel: 4 | overall: 4
Tive a oportunidade de prova-la logo após o seu lançamento. Achei bem interessante. Normalmente esperaríamos a mistura de cacau com outros estilos, e não com uma IPA. Recomendo que a provem também. Infelizmente hoje em dia já é difícil encontra-la disponível, espero que façam mais uma leva na produção.
315 characters

4.16
/5
rDev
+1%
look: 4.25 | smell: 4.5 | taste: 4 | feel: 4.25 | overall: 4
Bottle obtained in a trade. Thx! 33 cl. bottle split. Very cool looking bottle. A Stone colab. Made only for the Brazilian market? Pours clearer amber with a big white head. Nose is sweet, sweet cocoa, caramel, sweet malts mixed with some pine & grapefruit hops. Taste is sweet cocoa, mixed with bitter herbs, sweet, caramel malts, bitter herbs & pine hops in the back. Bit fizzy body. Cocoa is pretty sweet which makes this a pretty sweet IPA, the combination doesn't really work in the aspect. Still it tastes very interesting & overall this was a nice brew to try.
569 characters

4.06
/5
rDev
-1.5%
look: 3.5 | smell: 4.25 | taste: 4 | feel: 4.25 | overall: 4
Very awesome to be vacationing in Brazil when they release a collaborative IPA with Stone! IPA brewed with cocoa nibs, on tap at Hop n Roll Beer Club, Curitiba, Brazil.
Pours murky orange, with an off white finger of head that leaves loads of lace in its wake.
Aroma bursts with cocoa and citrus fruits. Its not aggressively hoppy, which lets the nibs shine too. A very nice marriage.
Taste is again quite chocolaty, with some tropical notes and citrus. Its very good, but the ibus could use a boost, bitterness is light.
Feels great, medium body, creamy.
Very interesting IPA, but definitely in a good way!
622 characters
Bodebrown / Stone Cacau IPA from Cervejaria Bodebrown Ltda.
4.12
out of
5
based on
34
ratings.