Two Brothers Roundhouse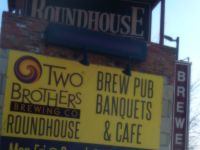 PLACE INFO
Type:
Bar, Eatery
205 N Broadway
Aurora
,
Illinois
, 60505-2663
United States
(630) 264-2739 |
map
twobrothersroundhouse.com
Notes:
No notes at this time.
Added by emerge077 on 06-27-2011
Reviews: 13 | Ratings: 58
4.19
/5
rDev
+1.9%
vibe: 4 | quality: 4.25 | service: 3.75 | selection: 4.5 | food: 4.5
Huge brewpub/eatery with great food and a large beer selection. Stop at the main entrance bar where they occasionally randall their fresh brews with hops. Plenty of to go beer available via growler or bottle.
210 characters
4.21
/5
rDev
+2.4%
vibe: 5 | quality: 4.25 | service: 4 | selection: 4.25 | food: 3.75
As an Aficionado (my current BA title) and an urbanist (and someone who did not get along with his brother in a business venture), this brewpub was on my list for a long time. Plus, their original brewery later was built three miles from my childhood home.
Amazingly, I got everything tied together in one visit (well, not the sibling reconciliation... that was too complicated to do over a beer.)
First, why we are here: the beer. Over this century and perhaps 100 bottles, my general impression: good, sometimes very good, but not yet great. These 2 Bros built their business on two cash cows (Cane & Ebel, and Domain Dupage... for both, I like the brew along with the double meanings in the names.) I frequently try their other offerings and go back to a few... but more based on sentiment and support for local efforts than extraordinary quality.
This outing, I had a flight of four to get warmed-up and the DuPage biere de guarde with the meal. All good. All worth the price... well, maybe the dish was undistinguished. But, a Northwind stout with chocolate ice cream made up for the dish.
Stop right now, unless you want to hear about my urbanist side.
Retired from the headaches of developing mostly affordable housing, I now blog about central stations. (If you are interested, ask for the link to my series on Americans largest central stations.)
I'm also a transportation gadfly and wrote an article for changing how Chicagoland funds this. A former staffer from the key agency (also a blogger) emails me. He lives in nearby Naperville. We take the train here. And, we solve every cities' problems with beers !
The Two Bros are to be commended for this adaptive reuse and saving one of the oldest and largest 19th Century roundhouses. It adjoins the multi-modal Aurora Transportation Center. And if you take the train from Chicago, you will come to it through 30 miles of suburban sprawl. Aurora's downtown is mid-way through its revitalization. Among Chicago's several satellite rust-belted cities, Aurora's chances are best.
There is a lot wrapped up in this roundhouse. You will enjoy it.
Maybe now, I should bring my sibling.
2,144 characters

3.6
/5
rDev
-12.4%
vibe: 4 | quality: 3.5 | service: 3.5 | selection: 3.5 | food: 4
Aurora is like the odd suburb where everyone is Mexican but there is a massive brewery complex in the middle of town. The Roundhouse is attached to the working train station and contains the restaurant, brewery,an event space, a second bar and what not.
9 regular taps and 2 seasonals at the main bar, and sadly the DIPA was sold out. Boring lineup, as expected from a boring brewery. But the food menu is cool (if not always well-executed), with a series of small plates including risotto, corn croquettes, bone marrow, vegan tacos and duck'n'grits).
Check out the separate casual café to the left as you enter the roundhouse- they have three taps with better brews than at the main bar (Smoked Black Tea, Imperial Stout, HopJuice, Berliner Weisse). Very expensive and widely unsatisfying, but still worth a trip.
823 characters
5
/5
rDev
+21.7%
vibe: 5 | quality: 5 | service: 5 | selection: 5 | food: 5
Great atmosphere, great people, and great beer. I love two brothers. They have really good beer and there are always events going on at the roundhouse. If you ever in the aurora area Two Brothers is a must. It's historic and fun and the people are awesome.
256 characters
4.31
/5
rDev
+4.9%
vibe: 4 | quality: 4.5 | service: 4.25 | selection: 4 | food: 5
Were there for a New Year's Eve party last night. Great selection of beers although a few less Pale Ales would have been appreciated since I tend to like stouts and darker beers better. Although I did try their single stout offering which was excellent. Would definitely go back and highly recommended.
305 characters
4.34
/5
rDev
+5.6%
vibe: 4.75 | quality: 4.5 | service: 4 | selection: 4.25 | food: 4.5
Had to pay $24 for samples, that being said, beer pretty good not top tier. The venue was awesome. Old train station built in 1850s with unique qualities that I couldn't fully take in due to two teens waking up coming in to nag wife (DD) and I when you guys done? Bartender knowledgeable and friendly. Atmosphere extremely airy. Kids gave me a bite of phenomenal bbq wings.
378 characters
4.1
/5
rDev
-0.2%
vibe: 5 | quality: 4.5 | service: 4 | selection: 3.5 | food: 3.75
Went for lunch on a fall Saturday. The building is a huge historical landmark with a great patio in the middle - definitely coming back in the summer.
Bar area was amazing: rustic, cozy, fireplace lit, one tv. Worth coming here just for that.
Dining area is huge, again very rustic. Slightly cool because of the building size. Got a booth for the three of us which was nice.
They had all the standard Two Bros beers plus 5 seasonal/local taps. Had a sampler of four of them : three wet hops and the Cascadian.
Food was good: large selection of sandwiches. The wife had a steak salad that was great, I had a house cured reuben. Delicious.
Service was great. Overall, it is worth the drive from Chicago any day.
719 characters

4.64
/5
rDev
+12.9%
vibe: 4.5 | quality: 4.5 | service: 5 | selection: 4.5
The atmosphere and quality are all very nice (set in an old roundhouse used for actual trains)
The main thing I want to point out is the service. I spilled my snifter of RedEye by means of my own self being a dumbass and they gave me an entirely new snifter full even tho mine had been less than half full before I spilled it
Top notch service here on top of having 12 taps of Two Brothers beers
I didn't order any of the food but they use organic/local ingredients as well as having eco friendly menus. I know this doesn't mean much to some people but I appreciate knowing that TB helps the environment out when it can
Cheers!
631 characters
3.68
/5
rDev
-10.5%
vibe: 4.5 | quality: 4 | service: 3 | selection: 3.5 | food: 4
Finally visited the Roundhouse since Two Brothers bought it. The Roundhouse is an old - yes - roundhouse for the railroad. Great atmosphere here with gazebo outside for concerts - looking forward to coming back for one.
Typical Two Bro's beers on tap, plus a couple seasonals. Quality throughout. Not brewing on premesis at this time - will come in time. Plan is to add special beers here.
The biggest upgrade over previous ownership is the food. High quality, fresh ingrediants, well prepared. Nice job.
In time, I am sure the Ebel Bros will make this their own. I only hope the location (downtown Aurora is a bit depressed) does not hinder their efforts - if in the area - a great place to visit. Live music Friday and Saturday. Check it out.
747 characters
4.24
/5
rDev
+3.2%
vibe: 3.5 | quality: 4.5 | service: 4.5 | selection: 4
Visited for the first time on a Thursday night around 10pm.
I guess I expected a little bit more of a crowd for a Thursday night, but it also seemed dead because of how huge the place is. There were a handful of people at the bar for the entire time I was there. Therefore it was pretty quiet. Could see this being a big improvement in atmosphere on the weekends. A few tvs here and there. Pretty much laid out exactly as the old roundhouse.
Service was pretty good, maybe it was because the bartenders were bored, but he was very attentive and always kept our drinks filled. The bartender and I had a few conversations about beer and Two Brothers. He seemed to know his beer pretty well, but wasn't up on all the two brothers beers yet.
Selection was pretty much the same as the two bros taphouse plus the two special roundhouse beers, the imperial pilsner and porter. There was a handful of belgians and other american craft to choose from in bottles if you weren't satisfied with the 10 or so two bros taps.
Prices were pretty much the same as the two bros taphouse as well. 4 for the few standards up to 6 dollars for the more specialty beers.
Love two bros beers. I think I like the taphouse a tad more, but I'll be back to both places in the future.
1,261 characters
4.08
/5
rDev
-0.7%
vibe: 4 | quality: 4.5 | service: 4 | selection: 3.5 | food: 4.5
Made a trip into Aurora the other day with the girlfriend and decided (demanded?) we go to Two Brothers Roundhouse for lunch as I've not yet been since the changeover.
From everything I can remember it is the exact same looks-wise as it was when it was Walter Payton's Roundhouse. The island-bar is in the middle of the booths and table in the bar area and then there is a more open area that's closer to the kitchen.
We started off with some deep-fried green beans (awesome!) and moved on to out meals which was a chicken sandwich (really good) and she got the burger which I believe she liked.
Beer-wise it was kind of a let down to find out they only had two "Roundhouse-only" beers, an imperial pilsener and the robust porter...hence the dings on the 'selection' aspect of this review. All the rest of the year round Two Bros. brews were available as well. The impy pils was delicious, one of the better examples of the style I've had.
Overall it was a good lunch date. An appetizer, two entrees, and four beers set us back about $65 including tip. Would come back sooner if I knew they were expanding the beer menu.
1,125 characters
3.8
/5
rDev
-7.5%
vibe: 4.5 | quality: 4 | service: 3 | selection: 4 | food: 4
Stopped in here last Saturday. Heard about this place being open for a bit but wanted to let them work out the kinks the inevitably follow the opening of a new restaurant.
First off, this place is absolutely gorgeous. Gorgeous and enormous. Walking in you get an immediate sense of the vastness of the space, 30 or 40 foot ceilings, flagstone flooring, the brewing equipment all seem to dwarf the hostess station.
I went with my girlfriend and we were seated right away. On the walk to the table we were given an unintentional tour of the dining space, which was nearly full. Looking over the place my mind was flowing with the potential for this place. It looked like a beer hall/castle with an enormous tapestry draping nearly the entire back wall of the dining room. Massive windows gave a full view of the outdoor dining area, complete with a gazebo for entertainment and an outdoor bar. The things that could be done with this space are nearly limitless it seems (brew on premises, beer classes, Octoberfest dinners, Hop Juice release???)
The food is a bit more dressed up version of the Tap House fare. They offer small plates with emphasis on small. We ordered skirt steak and pork belly tacos and were given four tacos to the tune of $11. Food was good but for the price close to an entree I was hoping for a bit more. Focus is pork heavy. I ordered a half slab of ribs which was more than enough food for $11. My girlfriend got the Roundhouse burger for the same price and was generally pleased with the results.
The beer is generally what you will find at the Tap House, though the Roundhouse does have some proprietary brews. On tap at the time were and imperial pilsener and a porter, both of which were quite good.
The only negative note was that service was a bit slow, but I would chalk that up to a full dining room and perhaps the newness of the place.
Also a small complaint, which I do not think is ever going to change but I figured I'd mention anyways: the price of their beer. The Tap House will charge 5 bucks for a beer that the brew on site and the same is true here, though I don't think the Roundhouse brews the full Two Brothers lineup. I just find it a bit strange that Cane and Ebel costs $6 a glass, heck you won't even see the Map Room charge that much, but it is what it is I suppose.
In any case, I am very excited for what the future holds for the Roundhouse. Hopefully Two Brothers can overcome the rather tough location and make this work.
2,485 characters

4.33
/5
rDev
+5.4%
vibe: 4 | quality: 4.5 | service: 4.5 | selection: 4 | food: 4.5
Went with the wife and kids and had a great time. I believe the restaurant has only been open a month and a half, and it definitely feels like a work-in-progress (there are still many elements of its previous incarnation as Walter Payton's Roundhouse evident), but the space is very open with lots of nice, dark wood--a beautiful space with loads of potential.
The food was exceptional, especially the Roundhouse Burger (you can see their menu and descriptions at their website), and we were told an expanded menu will be coming in a few weeks. Along with the food, the service was also excellent. Our server was more than willing to discuss both the food and beer menus, and occasionally, other servers would chime in with recommendations or comments.
My only disappointment was that beyond the regular Two Brothers portfolio, only two extra beers--an imperial pilsner and a porter--were on tap (I didn't try either). I had a Hop Juice on tap, and it was fantastic. Another disappointment (which you may or may not care about) was that the only beer-to-go was in growlers, no bombers or six-packs, and they didn't have any other gear for sale (no pint glasses or t-shirts, et cetera).
You should absolutely go here if you're in the neighborhood (we were at the nearby outlet mall), but I wouldn't make a special pilgrimage just yet. The space needs time to develop its own unique personality and settle into its true potential. I assume much of this review will be nullified in a few months time, but this was my experience.
1,531 characters
Two Brothers Roundhouse in Aurora, IL
4.11
out of
5
based on
58
ratings.