Powder Hound Pilsner
| The Grizzly Paw Brewing Company
BA SCORE
78
okay
11
Reviews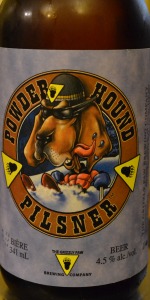 BEER INFO
Brewed by:
The Grizzly Paw Brewing Company
Alberta
,
Canada
thegrizzlypaw.com
Style:
Czech Pilsener
Alcohol by volume (ABV):
4.50%
Availability:
Year-round
Notes / Commercial Description:
A Western Canadian pilsner with its roots steeped in Czech tradition.
A light beer, the Powder Hound greets you with a pleasant citrus aroma and continues with an earthy slightly sweet flavour.
The combination of fresh Saaz hops, pure glacial water and local pale malts make this an ideal beer for all occasions.
Added by IronDjinn on 02-22-2006
Reviews: 11 | Ratings: 22

1.75
/5
rDev
-43.2%
look: 2 | smell: 2 | taste: 1.5 | feel: 1.5 | overall: 2
FOund a single bottle and decided to give it try.
Pale grassy yellow color with a small fizzy head and no real lacing.
Smell was slighty yeasty, slightly sweet.
Taste...watery with a slightly sweet grassy spiciness to it. Certainly lacking in malt and no hops to speak of...why is a Pilsner then?
A thin, bland, watery beer. Glad I purchased a single instead of a sixer as I'd be stuck with 5 more of these
420 characters

1.78
/5
rDev
-42.2%
look: 2 | smell: 1.5 | taste: 2 | feel: 2 | overall: 1.5
I take it this is a winter seasonal offering, or a one-off limited edition, as the brewpub's website says nothing about it. Came in a 341 ml brown bottle, with an illustrated dog in skis on the label.
Pours out golden but hazy, as if it wasn't allowed clarify long enough, or not filtered. Suspended particles, no head but some carbonation, so at least the bottle didn't go flat. In fact it looks just like homebrew. It has that "home-brew" aroma to it as well, yeasty and smelling somewhat like extract. Some grain manages to sneak through. Tastes a lot like homebrew as well, the Grizzly Paw is getting sloppy, at least with the bottling of this batch. Husky grains with mild herbal hops comprise the flavour beyond the typical "home-brew" taste, yeasty... I'm not sure what's going on with the Grizzly Paw's brew staff these days, I'm very surprised this made it past any sort of quality control. Don't bother with this stuff unless on tap at the source. Not sure why they needed to produce another pilsner either, they already have the Rutting Goat in their line-up, although I think they should drop that as well and bring back the recipe for their Moose Drool pilsner, which was the best to be had in Alberta in its hey day.
3.25.06
Purchased another bottle of this from a different liquor store in a different city from where I picked up my original sample, just in case I had picked up a bad bottle. However from what I can tell this is what this stuff is supposed to be like, even if it wasn't intended to turn out this way. A poor batch that made it to market. As much as I'd like to support regional brews, I'd have to strongly recommend to avoid this stuff, it's not even that good for an amateur effort, let alone a professional brewery charging money for it.
1,780 characters
3
/5
rDev
-2.6%
look: 3 | smell: 3 | taste: 3 | feel: 3 | overall: 3
20oz pint. This sure doesn't seem retired to me, as it's on tap at the Original Joe's in Okotoks, AB, where my Mom chose to have Mother's Day dinner, of all places, and I wasn't going to complain, no sirree.
This beer appears a slightly hazy medium golden straw colour, with very minimal soapy, weakly sudsy dirty white head, which leaves a bit of weak coral reef lace around the glass as things move southwards.
It smells of faint pale grainy malt, wet cardboard, fibrous toasted wheat, and very, very plain earthy, weedy hops . The taste is semi-sweet pale grainy malt, mildly biscuity in its bearing, a touch of flinty fruit pit, and highly subdued earthy, floral hops.
The carbonation is a bit on the high side, the body an adequately gruff medium weight, and generally solid in its hard water smoothness. It finishes off-dry, barely, the graininess kind of left without anybody with which to dance, sadly.
This seems to me to be a prototypical, and yet so-so gateway beer, nothing more, and certainly not a Czech Pils, but rather something to mindlessly pound back apres-ski (not that there's anything wrong with that). Or with your Dad, apparently and just a bit strangely, on Mother's Day.
1,202 characters

3
/5
rDev
-2.6%
look: 3 | smell: 3 | taste: 3 | feel: 3 | overall: 3
Its absolute clarity notwithstanding, this beer doesn't strike me as a pilsner. For one, its colour is awfully dark. Rather than the customary yellow this is a hardened, deep-dyed tone of gold. Secondly, and even more importantly, it has exactly zero head. (Funny isn't it that this PowderHound should actually require some fake snow for its peeks?)
You can't have a Greek salad without feta, a Philly steak without cheese or French baguette without butter - that's the good stuff that make the otherwise ordinary foods taste so delicious! Likewise, you can't make a pilsner - Czech or German style - without aromatic hops! This smells dull and boring, like bready, biscuity malts and nothing else.
The "(North) American" pilsner, should you insist such a thing exists, is characteristically without aromatic hops, true, but let me stop you right there. This doesn't resemble one of those either. This is actually much closer to an English-style pale ale: it has that chewy, doughie, biscuity, bready maltiness and, if at all, an earthy English variety hopping.
Its body, furthermore, is much thicker and heavier than is customary for a pale lager. It has a good deal of body, very few bubbles and a long lasting aftertaste. For anyone who doesn't have their style guidebook handy let me save you the trouble of looking it up - no, it's not suppose to have those characteristics! Moreover, they bring nothing to the table.
I've rated this about average as a middling lager but if I were more inclined to stick to style guidelines these marks would take a huge hit. If you wanted just an agreeable, ordinary beer - which, granted, most commercial pilsners are anyway - this is fine. But if you were looking for a real pilsner, look elsewhere. This one belongs in the doghouse.
1,782 characters

3.05
/5
rDev
-1%
look: 3 | smell: 3 | taste: 3 | feel: 3.5 | overall: 3
341ml bottle poured into pint glass nov17 2009
A cloudy golden yellow with tiny suspended particles, not much head yet somehow left a few patches of lace
S a little yeasty with some sweet grains
T again yeast and grains with some mild lemon and a little salty I think I'm tasting salt anyways
M enough carbonation too give it a slightly creamy feel
D pretty average beer, I remember this being better when i lived in Canmore and drank it at the brew pub. perhaps I've just grown up a bit since then
maybe try this one on the sample tray at the brew pub and decide for yourself
584 characters
3.2
/5
rDev
+3.9%
look: 3 | smell: 3 | taste: 3.5 | feel: 3 | overall: 3
On tap. One finger white head, which soon diminishes to a thin layer, on a clear golden colour. Some lacing. Grassy grain smells. Big fruit in the taste up front. A bit of a surprise. Sweetish. A grainy finish. A very fresh taste. As it should be, at the brewery. Medium body. Drinkability is very good.
303 characters
3.27
/5
rDev
+6.2%
look: 3 | smell: 3.5 | taste: 3 | feel: 3.5 | overall: 3.5
A - a crystal clear pale golden, short white head left sparse lacing
S - grainy and toasty aromas with a light grassy and herbal note
T - starts with pale bready malt, light hint of grassy hops with herbal and mineral on the finish
M - very light and crisp, slight hop dry with a relatively bready base
O - by no means a top notch pils, but it is very drinkable with just enough hop flavour to make it stand out from your run of the mill mass swill, I'd like to try it on tap
475 characters
3.38
/5
rDev
+9.7%
look: 3.5 | smell: 3 | taste: 3.5 | feel: 3.5 | overall: 3.5
Appearance - Pours a clear gold colour with a 1/4 finger width of bubbly white head. Lots of fizzy bubbles.
Smell - Grains, wheat, sweet malts, grass/straw, light hops.
Taste - Sweetness of the malts is most predominant, and supported by the grass, wheat and grain flavours. Slight hoppy bitterness in the finish.
Mouthfeel - Light to medium bodied with moderate carbonation. Crisp feel.
Overall - A crisp, easy-drinking Czech Pils by Grizzly Paw. Could use more hops to contribute to the bitterness factor. Otherwise, still enjoyable.
539 characters
3.4
/5
rDev
+10.4%
look: 3 | smell: 3 | taste: 3.5 | feel: 4 | overall: 3.5
Poured with a very small, off-white head. Some slight haziness to the dark yellow body. Not much to the aroma... slightly sweet. Medium-bodied on the palate, with a fairly creamy texture, and soft carbonation. Tasted pretty basic for a pilsener, with a slightly bitter finish to it. Overall it was decent, but nothing spectacular. It'll do in a pinch if you're in the mood for its style.
387 characters

3.64
/5
rDev
+18.2%
look: 2.5 | smell: 3.5 | taste: 4 | feel: 2.5 | overall: 4
This beer pours a bright yellow color, with not much head. The smell is a bit weak, but strawery, and has a bit of a spice aroma. The taste has a nice spice aftertone, very easy to drink. A weak flavor, but still good. Overall I found this a very enjoyable pilsener.
266 characters
3.92
/5
rDev
+27.3%
look: 3 | smell: 3.5 | taste: 4.5 | feel: 3 | overall: 4
First off, I am 100% sure this is not a retired beer...I did buy some of this in summer '08 and still had a bottle left for this review. I remember this being readily available bottled and on tap at the brewpub. I will take note in March '09 when I'm back in Canmore. If this turns out to be in-fact retired, I will take this portion of my review out and apologize. Now to the review...
A- Pours a crystal clear light golden color, with an average foam head that doesn't last too long. There is visible carbonation and the bubbles don't rise overly rapidly, suggesting there is a little substance to this brew. There is also some mild lacing but nothing special.
S- Typical citrusy/floral aromas provided by the hops are welcome and there is a clean hop bitterness detectable in the backround, but not as strong as in other pilsners I've tried. I'm also reminded just a bit by a bit of a pine needle note somewhere in the backround.
T- I'm a big fan of the flavor....it's slightly sweeter than the aroma lets on and there is a smooth hop flavor detectable here, along with some light malts to help balance it out. Nice lingering aftertaste that is slightly herbal and mineral like...a nice touch and something different.
M- The carbonation is certainly there but helps to make this a thirst quenching brew. Not as harsh as I would have thought, but surprisingly smooth and not as watery as I would have first thought.
D- Nice attempt in my opinion...slightly different than a traditional pils but in a good way. I think this would be a great patio beer and would compliment an outdoor evening in the Rockies! I would recommend this one and wouldn't mind putting a few of these away myself!
1,694 characters
Powder Hound Pilsner from The Grizzly Paw Brewing Company
3.08
out of
5
based on
22
ratings.