When Pigs Fly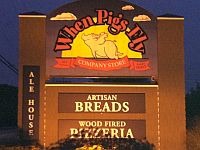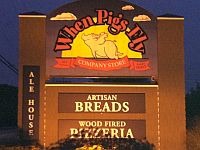 Bar, Eatery
460 US Route 1
Kittery
,
Maine
, 03904-5507
United States
(207) 438-7036 |
map
sendbread.com
Notes:

3.93
/5
rDev
-9.7%
vibe: 4 | quality: 4 | service: 3.25 | selection: 4.25 | food: 4.5
The family and I stopped in here for lunch on the way home from Portland last weekend. There's the bread store where you will spend to much money on bread you just sampled next door. The pretzels are great and Chocolate bread is a real thing and you'll love it. Then there is this small brick oven pizzeria/sandwich shop/pub with a great tap list where you will spend too much money but you'll be smiling about it. So a tap list 20 or so deep and half pours and flights are available if you can't decide. Lots of Maine beer as well as regional and some well thought out national beers. The food is fantastic! I had an incredible pastrami on rye. Our table shared an order of fries with ketchup, sriracha, and horseradish dipping sauces. also great Two of us got pizza and one got buffalo chicken tenders. I sample all and loved what I tasted. My one beef with this place: We were here on a Sunday afternoon and it wasn't horribly busy, several empty tables. We were seated at a table that was waited on by the bartenders rather than a waiter or waitress. When the bar got busy with drink orders we got somewhat ignored. My glass was empty they didn't notice, we wanted to pay the check same thing. The food was superb atmosphere good tap list great I would go back in a heartbeat just give me waitstaff.
1,303 characters

4.19
/5
rDev
-3.7%
vibe: 4 | quality: 4 | service: 4.5 | selection: 4.25 | food: 4
We love this place - it is a must-stop every time we head North for the bakery and a nice lunch with a good beer.
An industrial chic vibe to the place, yet somehow it feels "homey". Very comfortable, reasonably spacious. The patio-like indoor area is usually a bit more quiet. It can be loud and raucous in the main area around the kitchen, but it's a "good" noisy if that makes sense.
In general, the food has been excellent. We usually get an appetizer or two with the ungodly sounding sopressata, Medjool date, and hot honey pizza - yeah, well it is an awesome pie. The flavor that coal-fired over gives a pizza and the chew on the crust it develops is just fantastic. The only thing I can't recommend is anything to do with calamari - we had two plates of it that were BAD (soggy, fishy). The waitress handled it very nicely and we were happy with the eventual outcome, but it literally left a bad tastes in our mouths. While pizza is the big deal, we've had excellent sandwiches and small plates as well. Service has always been top shelf, and they do know the beer menu as well as the food menu.
The beer selection is nicely varied and interesting, but is never the same twice in our experience. I usually don't drink when we're on the road, but I always feel like this place calls for a beer. Rarely will I revert to me default iced tea. But we do the restaurant followed by the bakery for their amazing bread, ample samples, so I don't worry about hopping right back into the vehicle.
It isn't the least expensive place to eat, but the bread is a bargain. In our minds, it's worth the cost overall.
1,610 characters
4.3
/5
rDev
-1.1%
vibe: 4 | quality: 4.5 | service: 4.25 | selection: 4.25 | food: 4.25
I'll admit, I was shocked at the quality and quantity of great beer on tap. No, it's not the most or best I've ever seen but you could plop this place down into a sizable city with lots of good beer options and it would still stand among the best. Amazingly, it's located sort of in the middle of nowhere. Food too was great and the service was prompt.
352 characters

4
/5
rDev
-8%
vibe: 4 | quality: 4 | service: 4 | selection: 4 | food: 4
Standard stop for me and my family on our annual trips to Maine. Nice family atmospher great temperature for dining with inside and outside dinning. 20+ tap list full if local and abroad beers that will satisfy most pallets. Great wood fried pizza with a wonderful bread shop next door. Hostess was a bit of a bitch but the server was super friendly. Very good place deserving of a visit.
388 characters

4.14
/5
rDev
-4.8%
vibe: 4 | quality: 4.25 | service: 4 | selection: 4.25 | food: 4
A real nice surprise, beer-wise in a tourist-centered area of Maine. The tap list hosts about 20 offerings, all of which are of decent quality. I went with a Stone 10th Anniversary Ruination and an Evil Twin Yang...nice choices not just for the area. Service was timely and somewhat knowledgeable about beer. Food was a bit more upscale than a typical pub or pizzeria...very solid.
381 characters

3.63
/5
rDev
-16.6%
vibe: 2 | quality: 4 | service: 3.5 | selection: 4 | food: 3.5
Finally stopped in to When Pigs Fly Pizzaria. I only live a mile from this place and only been one other time, my first experiance was just just after it opened and I was less than impressed. But my wife and I tried again. Must say it was a better than before all around for the most part. Beer selection rotates, so diferent brews on tap and bottle all the time. But they keep a good selection of craft brews from around the country and world. Pizza was much better this time around than last. Of course we had to try the bread sampler, which I highly recommend because I am a huge fan of their breads! Staff was knowledgable and friendly. The only thing I can complain about was the atmosphere. It is way too loud in that place, I had to yell to my wife, who was right next to me, just to ask what she was getting. But overall decent place to stop if you are in the area and looking for something differant, in the line of pizza and beer that is.
948 characters
4.33
/5
rDev
-0.5%
vibe: 4.5 | quality: 4.75 | service: 4.25 | selection: 3.75 | food: 4.5
This place has some great pizza and a decent selection of taps for the area. Beer selection includes a lot of well know craft breweries, as well as some less know local beers. They offer a beer sampler at a pretty decent price. At one point I think the sold beer by the growler but I haven't seen the growlers for sale in a while.
330 characters
4.88
/5
rDev
+12.2%
vibe: 4.5 | quality: 4.75 | service: 5 | selection: 5 | food: 5
Amazing to see When Pigs Fly grow from a bread bakery in a converted house a little further down Route 1 into the expansive retail store and pizzeria they are today. In opening up the pizzeria, they seem to have done everything right.
The atmosphere is very pleasing. The restaurant can be found on the right side of the building - the left side houses the bakery's retail store. When you walk in, the bar is right in front of you. There is maybe 15 seats at the bar as well as a few seat-yourself tables in the bar area. To the right is the restaurant, including seating on the enclosed patio. The kitchen is back right, open to the restaurant.
Quality, from the food to the beer selection to the staff, is top notch. They are clearly going for the best of the best in everything they do.
Service, in my experience, is excellent. When I've sat at the bar the bartenders are attentive, knowledgeable about beer and very friendly. The servers in the restaurant are the same way, knowledgeable and they don't let you sit with an empty glass.
The selection is top quality, very comparable to what's available at Black Birch down the road. 20 taps, with a nice selection of crafts - locals, imports and other American crafts. You'll often find Marshall Wharf on draft here, which I haven't seen at Black Birch.
The food is excellent. The pizza is the focus here, but don't overlook the rest of the menu. The snacks and small dishes are delicious and varied, and the sandwiches are some of the best I've found in the area. I'm from New York and picky about pizza, and while this is in no way New York pizza it's the best pizza you're going to find in the area. Think more Italian style.
1,686 characters
4.73
/5
rDev
+8.7%
vibe: 4.75 | quality: 4.75 | service: 4.5 | selection: 5 | food: 4.5
Too save time and space, let me say I agree with everything everyone else has mentioned about W.P.F. The food is excellent, the staff helpful and friendly, if busy, and the beer... well this is a beer lovers paradise. I say that not only because of the great brews available, but for the fact that they change constantly, not monthly, not weekly, but almost anytime. And the brews are not the normal craft types found in many pubs/restaurants, these are the offbeat, the unique, and the foreign brews that are what makes the beer hunters among us want to come back again and again!
Further they've instituted for 2013 a half year "1st Monday of every month Beer School", wherein for a $10 admission starting at 6PM you get a buffet meal and a "lecture" (I use this term loosely, but it is educational!) along with 5 different 2-4 oz. sampler flutes of beers "under study" for the evening. Come early for half price happy hour and stay after school for one more thanks to the half price voucher that comes with the admission. All of the "students" I've met there are happy beer nuts, so the conversation is lively, and because the whole production takes time, you never feel rushed to drink or eat or leave, so it's very enjoyable.
1,231 characters

4.45
/5
rDev
+2.3%
vibe: 4 | quality: 4.5 | service: 4 | selection: 5 | food: 4.5
Walk into a open bar area with tall and short tables. We ate in a side room that was more like a restaurant.
Waitress was good but a little slow I kept pounding through the 4.75 oz. glasses pretty quickly, they also offer 16 oz pours.
Here is a list taken from their FB page,
NØGNE - Ø IMPERIAL BROWN, BROOKLYN SORACHI ACE, EVIL TWIN SOFT DK, My Blueberry Nightmare, SLUMBREW HAPPY SOL, ANCHOR PORTER, VICTORY SUMMER LOVE, SIXPOINT RESIN IPA, STONE 16TH ANNIVERSARY IPA, ABBAYE DE SAINT BON - CHIEN, MARSHALL WHARF ILLEGAL ALE- IEN, GREEN FLASH HOP HEAD RED, 1809 BERLINER STYLE WEISSE, MAINE BEER CO. PEEPER ALE, EINBECKER BRAUHERREN PREMIUM PILS, SCHNEIDER ORIGINAL WEISS, TO ØL OVERALL IPA, KISSMEYER STOCKHOLM SYNDROME IPA, HOP-RUITER, AND ALLAGASH CONFLUENCE ALE, Victory Fest Bier. The blueberry nightmare was a pleasant surprise.
Food was eclectic, had a late lunch with 3 other people. We had a cheese and meat antipasto plate that was good. I had a spicy octopus bowl that was another pleasant surprise. Everyone else enjoyed their meals.
Bill came out to $125, $60 of it was mine.
This is our yearly trip up to Maine, we have a number of must go to places that we try to visit each year. When Pigs Fly has been added to this list, hopefully we go more than once.
1,282 characters
4.45
/5
rDev
+2.3%
vibe: 4 | quality: 4.5 | service: 4.5 | selection: 4.5 | food: 4.5
This place is just down the road from the outlet stores, and is a must stop if you are in the area. WPF started out as a bakery, and when they built the flagship in Kittery, they built it with a pizzeria/restaraunt. The wood oven pizzas looked delicious, but my wife and I ordered from the sandwich menu. Desserts were pretty awesome, as well. Everything on the menu is local and homegrown, and the prices are very reasonable for the quality of the product. The eatery is wide open and very clean, well lit, and with an overall nouveau feel to it. The staff was very cordial and attentive throughout our entire meal there. Now, on to the beer. The tap list is impressive, and ever changing from what I hear. Lots of local beers from Maine, ranging from Belfast down to Portland, as well as an interesting grouping of imports and some that I have not seen elsewhere. The bottle list is impressive, as well, with a similar blend of locals and imports. Great stop for beer, and the menu provides a ton of great opportunities for some interesting food and beer pairings. I can't wait to get back there and get some more good food and great beer.
1,141 characters

4.33
/5
rDev
-0.5%
vibe: 4.5 | quality: 4.5 | service: 4 | selection: 4.5 | food: 4
This place is just north of the Kittery outlets, about a 10-minute drive from downtown Portsmouth. Stopped in for lunch. Atmosphere is clean, warm and inviting. Long bar with big TVs. Pizzas and salads are excellent. Sandwich options look good too. Beer selection was very impressive. Beer prices are pretty good, and they offer 4.75 oz. tasters for about $2 each, so you can sample a bunch. I did a 7-sampler flight, which came in nice fluted glasses in a wood rack. About 20 beers and 5 wines (yes, red and white wines) on tap. I had DFH Pangaea and Faithfull Ale, Bigfoot, Lunch IPA, Oxbow Farmhouse, Allagash Hugh Malone, and Long Trail Triple Bag. First time I ever saw Maine Beer Co.'s Lunch IPA on draft. They also had Peeper Ale and some other nice offerings, several good bottles too. Definitely worth a visit if you're in the area - possibly the best draft list in the seacoast area, plus great food.
910 characters
4.63
/5
rDev
+6.4%
vibe: 5 | quality: 4.5 | service: 5 | selection: 4.5 | food: 4
A local purveyor of beer and such made a suggestion
that we check this place out when we travel in that direction
VanillaMike is a BA user that I owe a debt of gratitude to
For mentioning this place,and their awesome M-F 3-6 happy hour, too
After hours of early afternoon bargain hunting
Me and my wife were totally "down" to eat and drink something
That would be considered craft by BA crowd
We placed an order that would make Uncle Jessie proud
A lamb pizza was what we requested to be had
To accompany beers such as Pangea and Peeper, not Pumpkinhead
We also enjoyed Rogue Chocolate Stout and North Coast Pilsner
A last order of Brooklyn Companion was anything but wicked pissah
Do I suggest that you stop by this place?
I ask you, whether a bear in the woods does defecate.
777 characters

4.5
/5
rDev
+3.4%
vibe: 4.5 | quality: 4.5 | service: 4 | selection: 5 | food: 4.5
An expanded venture from the bread store, the pigs fly pizzeria is a welcome addition to the southern Maine scene and a great option post outlet shopping
The beer selection is fantastic. They offer fifteen craft brews on tap, with two flights available which feature seven four oz pours. My flight had al aghast, brooklyn, rogue, and dogfish, including both the 90 and 120 minute IPA. And there were many more to choose from including smutty, Maine beer co, and otter.
The food is also top notch. Interesting apps and lots of great creative pizzas. A real culinary treat, not just cheese and sauce pies.
Great bar area too, if you are there just to work through the beer selection.
686 characters

4.65
/5
rDev
+6.9%
vibe: 4 | quality: 5 | service: 4.5 | selection: 4.5 | food: 5
Located on Route 1 just north of the outlets, this is a welcome addition to the beer and food scene. The building is brand new. On the left side is the retail bread store, and the restaurant is on the right side. The interior is high-ceilinged with exposed duct work. Gray and black are the colors, with the tables light wood. Nice contrast.
The bar is straight ahead as you enter, seats 10-12 people. A single TV sits over the bar. The main dining area has regular tables and communal high top tables. The brick wood ovens are located in the rear. There is a screened in porch in the front and an open deck with a retractable awning off to the right in the rear. It can be a little noisy when there is a crowd, but conversation is still possible.
A lot of attention has been paid to the beer list. On tap are regional craft breweries like Allagash, Moat Mountain, Belfast Bay, Maine Beer Co, Long Trail, and Smutty. Other breweries on tap are Brooklyn, North Coast, Victory, Rogue, Stone, and DFH. No macros on tap. In bottles are Brooklyn, White Birch, Unibroue, Allagash, Moat Mountain, Brooklyn, and Rising Tide. You can also get PBR and Miller Lite in cans. Beers on tap are all in the $5-6 dollar range. You can also get a flight of beer (seven 4 ounce servings) for $12.
The food is excellent. Pizza is king. You can make your own, but there are also interesting ones like Medjool date pizza, Littleneck clam pizza, and grilled pineapple pizza, to name a few. Interesting and flavorful appetizers like Portugese style Red Chowder, Grilled Octopus, Crudo of Yellow Fin Tuna, Red Pepper Hummus. Salads are great. There's three sandwiches on the menu, and a couple charcutiere and cheese platters. I have thoroughly enjoyed everything I've eaten there.
Service is very good. Attentive without being intrusive.
Judging from the crowds in the first week of business, When Pigs Fly Pizzeria is going to do very, very well.
1,923 characters
When Pigs Fly in Kittery, ME
Place rating:
4.35
out of
5
with
33
ratings