Devil's Heart Of Gold
| Perennial Artisan Ales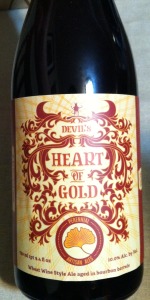 BEER INFO
Brewed by:
Perennial Artisan Ales
Missouri
,
United States
|
website
Style:
Wheatwine
Alcohol by volume (ABV):
10.00%
Availability:
Rotating
Notes / Commercial Description:
The name "Devil's Heart of Gold" comes from what they call the "Devil's Cut". When a bourbon ages in a barrel, a portion of the bourbon evaporates - this is called the "Angel's share". Another portion of the bourbon gets absorbed into the new oak barrel - this is called the "Devil's cut". Therefore, the Heart of Gold beer aging in the barrel starts to absorb back some of the Devil's Cut and hence the name "Devil's Heart of Gold". We took our Heart of Gold and aged it in a Knob Creek 9-year old barrel from our friends at The Wine and Cheese Place in October 2011. The beer rested in these barrels for 7 months. 204 bottles will be released exclusively at The Wine and Cheese Place.
Added by MasterSki on 06-07-2012
Reviews: 7 | Ratings: 32
5
/5
rDev
+17.6%
look: 5 | smell: 5 | taste: 5 | feel: 5 | overall: 5
2016 version tried twice. This beer is different than the original version, in that it was aged longer. Untappd says 12 months and someone working at a Side Project release said 18. I did email Perennial directly, but they never responded to me. Not going to knock the beer for that, but it is a little irritating when you do not know how long the beer was aged. Anyway...
Beer in the glass has a light reddish brown appearance. I swear when I poured it I saw a little pink. Smells on the sweeter side, with hints of the tastes to come.
The taste is what really surprised me. I've had a lot of barrel aged barleywines, so I was really expecting a raisin sweetness to be prevalent. That was not the case at all. The time in the barrel truly transformed this brew! Toffee and caramel notes for days, with some vanilla added in. There is a very slight alcohol presence, but it was in no way a detractor.
Overall I loved this beer. It tastes very similar to The Bruery anniversary beers, which I love.
★
1,016 characters
4.26
/5
rDev
+0.2%
look: 4 | smell: 4.25 | taste: 4.25 | feel: 4.5 | overall: 4.25
Thanks to Cat for sharing this one!
Dark reddish amber color, good clarity, thin compact head of creamy off-white foam. Flecks of spotty lace.
Aroma is rich, hugely malty and dense with caramelized sugars. Vanilla and caramel syrup dominate, brown sugar.
Taste is a bit more boozy, laced with bourbon. Caramel toffee, vanilla, dense bready malt. Oak is nonexistent.
Body is big and burly, definitely a fireside sipper. Why they released this in the summer is lost on me.
★
473 characters
4.98
/5
rDev
+17.2%
look: 5 | smell: 5 | taste: 5 | feel: 4.75 | overall: 5
an amazing beer done by perennial for the wine and cheese place only. I was extremely pleased with the BA version of this beer and it was amazing. the color is almost completely brown with a hint of yellow. If i could i would have bought all of them but the limit makes that impossible.
★
286 characters
4.12
/5
rDev
-3.1%
look: 4.25 | smell: 4 | taste: 4.25 | feel: 4 | overall: 4
Thanks to tripelhops! Bottled 5/2012
Pours with a small tan colored head that quickly disappears. The brew is an orange, red and brown combination that allows plenty of light through.
The smell is rich in raisins, figs, and vanilla. There are hints of leather, oak, alcohol and banana. All of this play together nicely.
The flavor is somewhat similar to the nose, however some flavors are more prominent. There are large notes of raisins, vanilla and alcohol. The alcohol is definitely more evident in the flavor, than the smell. The finish has some bourbon and oak flavors.
The feel is medium and the carbonation is hardly noticeable. I don't think the minimal carbonation takes anything away. This brew does coat the mouth well, with oak and vanilla flavors.
Overall, this is an excellent bourbon barrel aged wheat wine. I can't recall having had any BBA wheat wines in the past, so I'm comparing this to other BBA barley wines. This one definitely fits alongside some of the greats such as MoAS and Sucaba. I am very happy to have landed this bottle. I was a little worried about the fact that I had waited nearly a year to open this bottle. From past experience, BBA barley wines don't age well, i.e. after a year they've lost rich flavor. I think this has held up really well, especially considering that I can taste the alcohol which is rated at 10% ABV. I can only guess that this was very rich and rather hot when it was fresh.
★
1,440 characters

4.13
/5
rDev
-2.8%
look: 3.5 | smell: 4.25 | taste: 4.25 | feel: 4 | overall: 4
Opened at the BA Abraxas release.
Pours a clear golden straw-hay color, smallish head.
Smell is kind of fruity sweetness upfront, some plum, following by butterscotch, vanilla, oak, bourbon.
Taste is like the smell. The wheatwine's base flavors come forth first, though the barrel aging has helped smooth them out. In the finish comes the barrel, which is quite strong. Vanila, caramel, oaky, tiny hint of alcohol. Very smooth.
Mouthfeel was medium thick, light carbonation.
This was a major improvement over the base beer for me. Too bad this was a one-off, I'd like to see what a bit more age would do to it.
★
615 characters
4.07
/5
rDev
-4.2%
look: 3.5 | smell: 4 | taste: 4 | feel: 4 | overall: 4.5
Poured into a Boulevard brewing tulip glass from a 750ml bottle.
Bottled: 5/2012
Pours a veyr nice murky dark copper color with some orange and amber hues. Very viscous/oily pour and a minimal white head forms even with an aggressive pour.
Starts off with nice caramel and butterscotch aroma. Definitely some Bourbon barrels in there with some vanilla hints and slight boozy heat. There are some nice sweet wheat and vanilla notes. Nice and sweet but with some bready undertones as well. Slight oaky wood notes in the nose.
Starts off with some good sweetness, butterscotch, caramel and some molasses. Some nice smooth wheat notes mixed in as well. There is some nice intense heat is perceived along the middle of the brew. Nice grassy hop notes are perceived as well behind all the intense bourbon barrel notes. On the finish there are intense. Mouthfeel is so smooth and oily with some lower carbonation but still some crispness. The viscosity and the heat suppresses it a bit though.
Good barrel aged Perennial brew. I think I enjoy this version more than the base beer. Very nice sweetness and intense bourbon notes. As the brew warms there is some nice oak notes and cinnamon as well as sweet caramel and vanilla hints.
★
1,228 characters

3.9
/5
rDev
-8.2%
look: 3.5 | smell: 3.5 | taste: 4 | feel: 4.5 | overall: 4
Thanks to one of ChrisPro's friends for sharing this. Served in a tulip.
A - Quick-dissolving white foam settles to some wisps and a thin collar. Dark caramel body with some transparency to it.
S - Lots of oak, as well as some bourbon, wheat, vanilla, and sweet fruity malt flavors. And more oak.
T - Taste is sweeter, with a nice mixture of caramel malts and vanilla and butterscotch notes from the barrel. Vaguely reminiscent of cotton candy, and thankfully not as oak heavy as the aroma.
M - Smooth body, lower carbonation, chewy texture, with a lightly tannic and oaky finish. Some mild warming alcohol, but nothing unexpected.
D - I generally dislike wheatwines, so this was a huge success in my book. Other than the moderately harsh oak in the aroma this was quite enjoyable, albeit in limited quantities. Would be interested in revisiting in the future to see how this develops, but as Perennial's first bourbon barrel-aged beer this is a success.
★
959 characters
Devil's Heart Of Gold from Perennial Artisan Ales
4.25
out of
5
based on
32
ratings.