Violet
| Perennial Artisan Ales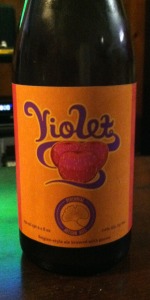 BEER INFO
Brewed by:
Perennial Artisan Ales
Missouri
,
United States
perennialbeer.com
Style:
Tripel
Alcohol by volume (ABV):
7.80%
Availability:
Limited (brewed once)
Notes / Commercial Description:
No notes at this time.
Added by zeff80 on 06-17-2012
This beer is retired; no longer brewed.
Reviews: 12 | Ratings: 43

3.58
/5
rDev
-7.5%
look: 4 | smell: 3.5 | taste: 3.5 | feel: 4 | overall: 3.5
Poured into Tripel Karmliet glass. Appears a slightly hazy gold with a generous, pillowy white head. Heavy coat of lacing left behind. The nose features familiar Belgian esters up front, notes of lemon, cloves, and apricot come through. I have never experienced a pluot, so I can't say that I pick it up in the aroma, but I certainly get some faint apricot notes which pair nicely with the lemon and doughy yeast character. The taste has some candied fruit up front, pluot I presume, with a slight tartness to follow. The tartness brings a dry tannic quality to the palate and finishes with a crisp and slightly sweet note. The notes don't exactly all agree with eachother. Mouthfeel is medium with moderate to high carbonation. Overall, interesting to drink, the pluot doesn't seem to elevate the style, if anything it detracts things in this brew.
★
849 characters
3.72
/5
rDev
-3.9%
look: 3.5 | smell: 4 | taste: 3.75 | feel: 3.5 | overall: 3.5
A - Bottle gushed when opened. Hazy apricot color with 3-4 four fingers of head even with a delicate pour.
S - Plum and plum skins with belgian yeast. Spice, candi sugar and white wine notes. Alcohol notes as it warms along with a light sweetness.
T - Fruity and tart. Stone fruit, white wine, very dry, spice and pepper, plum with a touch of alcohol heat.
M - Medium fizzy mouthfeel and very dry. A touch of alcohol heat.
D - Not sure if it is supposed to be this dry and tart or if that has something to do with the bottle gusher. Decent and interesting.
★
561 characters
3.73
/5
rDev
-3.6%
look: 4 | smell: 3.5 | taste: 4 | feel: 3.5 | overall: 3.5
Poured this one into a Chimay chalice, and the beer makes a two finger thick white head. The body is copper in color and a little hazy.
The aroma is of candied sugar, plum juice, and metallic hop qualities.
The taste is of fleshy plums and has that metallic hops trait.
Feels oily and mildly carbonated.
★
306 characters
3.77
/5
rDev
-2.6%
look: 3.5 | smell: 4 | taste: 4 | feel: 3 | overall: 3.5
Hazy orange body, a fingers width of white foam on top that leaves behind some irregular spotty lacing. Trails of carbonation visible, slowly rising.
Fruity and yeasty aroma, some minimal white wine traces that come to the forefront more in the taste. Some trace alcohol as it warms, but not out of place in a Tripel.
Flavors of tart fruit, white wine, yeasty esters further the fruit character somewhat, which is unique and expressive. Feel is a little astringent from the alcohol, moderate carbonation, slight alcohol burn as with cheap wine. Paired ok with Peruvian food, though it was a little slow to finish after dinner.
★
628 characters
3.8
/5
rDev
-1.8%
look: 4 | smell: 4 | taste: 3.5 | feel: 4 | overall: 4
Poured into a tulip glass from a 750ml bottle.
Pours a slightly hazy golden-copper color. There is a nice tall 2 inch white head with some nice retention and leaving some sticky lacing along the way.
Aroma of yeasty esters with some nice slight tart notes. Some cloves and spices can be noted as well. Slight coriander and pepper notes with some fruity tartness and sweetness to compliment.
Taste starts off with some fruity tartness. Notes of spice are also present with some yeasty esters as well. some peppery notes intermingle with the tartness and slight fruit sweetness. Some plum notes can be picked up with slight peach sweetness as well. Nice dry mouthfeel with some good tart and a slightly grassy finish.
Pretty good Tripel. It has some nice tart notes and good yeasty spice. The fruits used give it some nice flavor and aromas.
★
843 characters
3.83
/5
rDev
-1%
look: 4.5 | smell: 4 | taste: 3.5 | feel: 4 | overall: 4
(Served in a tulip glass)
A- This beer has a touch of hazy to he orangish-yellow body with a sticky foam of soft rocky white peaks that stick to the sides of the glass with each sip. The second pour is completely hazy and the head is just as beautiful.
S- The light plum skin aroma has a dry abbey yeast ester note in the finish.
T- The dry tartness has a slight fruity hint to it with a dry jam note growing as the beer opens. A field corn flavor finishes the beer with some triple yeast esters of club soda and dry spun sugar aswell.
M- This beer has a light mouthfeel with a tight fizz and no alcohol heat or astringency noticed.
O- The nice triple qualities are very soft with the tartness standing tall. The corn flavors grows really strong and covers the delicate hints of fruit that are already fading.
★
818 characters
3.85
/5
rDev
-0.5%
look: 3.5 | smell: 3.5 | taste: 4 | feel: 4 | overall: 4
A - Poured out a golden amber color with some red highlights. It had a small, off-white head of bubbly foam that left some thin rings of lace on the glass.
S - It smelled of apricot, yeast and caramel.
T - It tasted of sweet apricot and a touch of plum. It had a sweet caramel backbone with a spicy/yeasty bite.
M - It was crisp, sharp and smooth. A medium bodied ale with a dry finish.
O - This is an interesting tripel. Never had a pluot but it works in this beer.
★
478 characters
3.92
/5
rDev
+1.3%
look: 3.5 | smell: 4 | taste: 4 | feel: 3.5 | overall: 4
Poured golden in color with two fingers of white head to Perennial Tulip glass. Smell packs plenty of yeast spice, clove, everything you'd expect from a triple with notes of apricot and apple. Taste brings much of what the nose allows: clove and spice, some apple juice, slightly tart and funky. Moderately carbonated. I'm usually not a big fan of triples but I like the spin on this very much.
★
394 characters
4
/5
rDev
+3.4%
look: 3.75 | smell: 3.75 | taste: 4 | feel: 4.25 | overall: 4.25
Bottle opened on 1.10.13
A - Pours a hazy light orange with a clumpy off-white head with good retention and spotty lacing.
S - Fruity, yeast, subtle but sweet.
T - Nice subtle fruit, wheat and yeast.
D - Good carbonation with a light body.
O - Nice fruit, not overly sweet. WTF is a pluots. A light beer, but tasty.
★
320 characters

4.01
/5
rDev
+3.6%
look: 3.5 | smell: 3.75 | taste: 4.25 | feel: 4 | overall: 4
So, this may be the first Frankenfruit beer that I've had. It is a hazy, cloudy orange-gold. It is a complex, fruity, and a little yeast-earthiness. Subtle malt. I am usually critical of fruit beer, but this one is very nice. A mix of sweet malt and mild tartness, layered with lots of fruit. There is a lot of plum flavor, and the apricot is also detectable. No ho flavor at all. Medium body with soft notes. This is a very solid and well-made beer.
★
450 characters

4.03
/5
rDev
+4.1%
look: 4.5 | smell: 4 | taste: 4 | feel: 4 | overall: 4
750ml into a Cantillon tulip.
A: Pours a clear gold with a huge white head. Nice lacing.
S: Bright, perfumy pale malt and yeasty esters. Vanilla, sugary grain, a slight fruitiness to it.
T: Dryish pale malt and more esters in the taste, with a slightly tart fruitiness (a bit plummy I suppose). Grainy, some alcohol.
M: Frothy carbonation. medium-bodied.
O: Pleasant tripel. The fruit wasn't super assertive but it adds a bit of acid to mix things up.
★
456 characters
4.03
/5
rDev
+4.1%
look: 4.5 | smell: 4 | taste: 4 | feel: 4 | overall: 4
Poured from a 750ml bottle into two St. Bernardus glasses. Thanks to HeatherAnn for the assist!
A: Heathers' serving poured a brilliant gold with subtle hazing due to both chill & suspended yeast. 1 1/2 fingers of puffy white meringue floated on top and left a bunch of lace. My serving was a bit darker. True to form, I swirled in all of the yeast stuck at the bottom of the bottle and ended up with a much murkier presentation topped with 2 full fingers of purple tinted (!) meringue. Beautiful!
S: Big whack of spicy yeast and boozy fruit. A bit of white white and subtle herbiness as it comes up to temp.
T: Same as above with a bit more of a musky, tart fruit edge.
M: The booze in the nose, for me, didn't translate to the taste or the mouthfeel. Nice and smooth with a hint of astringency and berry tartness during the finish.
O: Extremely enjoyable and will certainly visit this again.
★
898 characters
Violet from Perennial Artisan Ales
3.87
out of
5
based on
43
ratings.