Vermilion Barleywine
| Perennial Artisan Ales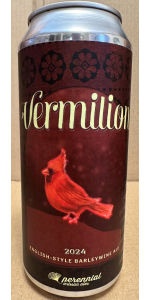 BEER INFO
Brewed by:
Perennial Artisan Ales
Missouri
,
United States
|
website
Style:
English Barleywine
Alcohol by volume (ABV):
10.50%
Availability:
Winter
Notes / Commercial Description:
No notes at this time.
Added by MasterSki on 01-13-2013
Reviews: 32 | Ratings: 237
4.1
/5
rDev
+3%
look: 4 | smell: 4 | taste: 4 | feel: 5 | overall: 4
A: This poured an opaque dark mahogany with a little tan head.
S: It smelled like nutty malt and copper hops, with some toffee and raisins and a little honey wheat bread and alcohol.
T: It tasted like raisin and honey wheat bread, with some copper hops and earthy toffee. It had a clean and mostly sweet aftertaste with some alcohol warming.
M: It was thick and oily with a little carbonation. Great huge body.
D: This was a great English barleywine, with solid scent and taste, and an excellent body. The finish was smooth, but it was a little hot, so it was better to sip. Age may help mellow. Very nice brew, but pricey.
★
623 characters
4.09
/5
rDev
+2.8%
look: 3.75 | smell: 4 | taste: 4.25 | feel: 4 | overall: 4
A - Poured out a dark, burgundy color with a one-finger, tan head of bubbly foam. It left sudsy rings of lace on the glass.
S - It smelled malty and boozy.
T - Malty - caramel and toffee with light hints of chocolate. Sweet and boozy with a hint of bitterness.
M - It was crisp, sharp and smooth. A medium to full bodied ale.
O - This is really good. Another high quality brew from Perennial.
★
396 characters
4.1
/5
rDev
+3%
look: 4.25 | smell: 4.25 | taste: 4 | feel: 4.25 | overall: 4
Poured from tap into snifter at flying saucer in Kansas city. Pours a deep brown amber with a finger of tan head. Nice chewey sticky head. Great boozey fig and dried fruit aroma..some slight oaky vanilla notes. Nice warming dried fruit...lots of date and sweet vanilla. A bit boozey and sweet but nice.
Overall, nice strong brew.
★
329 characters
4.02
/5
rDev
+1%
look: 3.75 | smell: 4.25 | taste: 4 | feel: 3.75 | overall: 4
750ml brown bottle, no freshness date though this beer is cellar strength.
Dark rusty brown color, some haze. Thin lacing but it sticks around. Caramel, booze, anise, taffy, hermit cookies, toasted bread and ripe figs make for a complex nose. Super creamy, thick body with a light level of carbonation. Very figgy, suggestions of chocolate, brown bread, grapenuts and caramel. Very warming but not hot at all. Balance hopping with a slightly sweet boozy finish.
Very tasty and definitely comparable to many of the old school English Barleywines, no many beer get "better" with age ... most just evolve. My guess is that this will do both though it is great to drink right now as well.
★
686 characters

3.77
/5
rDev
-5.3%
look: 4.25 | smell: 4 | taste: 3.5 | feel: 4 | overall: 3.75
On tap at Maria's, into a snifter. Bartender said it's a barleywine made with peated malt.
A: Pours a woody red-tinged brown with a nice light tan head.
S: Light peat, roasted malt, figgy sweetness in the nose. Interesting.
T: The taste is a balance between sweet barleywine and smoked malt. The smoked grain presents as peaty and a little earthy rather than meaty like many smoked beers. Other than that, there's lots of sweet figgy and raisiny notes, plenty of residual sugar.
M: Thick-bodied, moderate carbonation.
O: This is interesting, but I'd prefer it to be a little less sweet. As it is, the sweetness clashes with the peatiness a little bit.
★
656 characters

3.61
/5
rDev
-9.3%
look: 4.25 | smell: 3.25 | taste: 3.5 | feel: 4.25 | overall: 3.75
A: pours a deep chocolate brown with sublte hints of ruby are also noticed. it created a very thin film of light mocha head formation that dissipated rather quickly.
S: definitely a weird smelling brew. big bon-fire like smoke, roasted malt, pecan nuttiness, moderate alcohol burn.
T: definitely more sweetness here than in the nose. it has a nice toffee and caramel body, again the nuttiness comes out making this one of the most interesting brews I have had to date. i still pick up on a big toasted malt and smokiness that lingers during the after taste. it really reminds me of bon-fire smoke. there are some interesting spice (nutmeg?) that also integrates into the beer adding more complexity. there is an ever so faint of chocolate that lies in the background as well, and a fruit character that i struggle to pinpoint
M: strong medium bodied brew, that leaves a touch of toffee and roasty malt on the palate in a fairly nice balance. alcohol is felt here this a slight tingling aspect that is rather delightful
O: 1st offering by Perennial, and this one was just simply weird for its denoted style. i really picked up on a ton of nuts and smokiness in this one which I was never expecting. However, it it is labeled a Winter Ale, so the play on the season is definitely in full effect. I just dont think it is that well balanced for its style.
★
1,356 characters
4.13
/5
rDev
+3.8%
look: 4.5 | smell: 4 | taste: 4 | feel: 4.5 | overall: 4.25
On tap at Northdown Taproom.
$8 for a goblet.
From the menu:
Vermilion is a big, rich, English style barleywine that, as its name suggests, has tints of ruby around the edges of its brown body, with a toffee, caramel, toasted pecan sweetness that is kept in balance with a smooth alcohol warmth an slightly fruity American hop note. 10.5% ABV.
Thick luscious body is velvety and smooth, nice carbonation-- firm. Some boozy warmth on the lingering sweet finish. Mild bitterness.
Smells and tastes slightly nutty, with caramel and toffee malt flavors. The hood seem to primarily add bitterness, but I get a little floral character in the flavor profile that blends quite well with the beer.
There is even a little note of bitter cocoa and some dark fruit on the finish.
Overall-- this is tasty enough to drink another. Part of me wanted to not like this beer... But to be honest, this is worthy of a try. It isn't nearly my favorite English barleywine, but it is a more than acceptable effort.
★
1,001 characters
Vermilion Barleywine from Perennial Artisan Ales
88
out of
100
based on
32
ratings.