Miss Fancy's Tripel
| Avondale Brewing Co.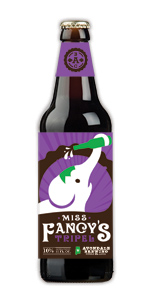 BEER INFO
Brewed by:
Avondale Brewing Co.
Alabama
,
United States
avondalebrewing.com
Style:
Tripel
Alcohol by volume (ABV):
9.70%
Availability:
Year-round
Notes / Commercial Description:
No notes at this time.
Added by Reaper16 on 04-26-2012
Reviews: 8 | Ratings: 72
3.93
/5
rDev
+5.9%
look: 4 | smell: 4 | taste: 3.75 | feel: 4.25 | overall: 4
Pours a clear, copper color. 1/4 inch head of an off-white color. Good retention and good lacing. Smells of strong belgian yeast, citrus, floral notes, hops, sweet malt, and alcohol. Fits the style of a Tripel. Mouth feel is smooth and clean, with an average carbonation level. Tastes of strong belgian yeast, citrus, floral notes, hops, sweet malt, and alcohol. Overall, good appearance, lacking in balance, good body and aroma.
436 characters

3.91
/5
rDev
+5.4%
look: 3.75 | smell: 4 | taste: 4 | feel: 3.75 | overall: 3.75
Poured from 32 oz growler into snifter.
A: Slighly hazy golden orange with 1-2 finger white head that settles to a thin ring around the edges. Little to no lacing.
S: Banana and clove mixed with sweet fruits - apricot and pears. Some floral qualities to the aroma.
T: Candied oranges, banana, and cloves. Alcohol is very well hiden. I never would have guessed the 9.7% ABV.
M: Medium to full body with light carbonation. Finish is a touch sweet.
O: Very nice American version of a Tripel.
503 characters
3.9
/5
rDev
+5.1%
look: 3.75 | smell: 3.75 | taste: 4 | feel: 3.75 | overall: 4
On tap at the brewery.
A: Opaque golden/amber with an off-white one finger head that lasted. Great lacing.
S: Sweet and fruity. Pears, apricots and peaches.
T: So nice. Floral and fruity. Follows nose. Goes down easy. So good, my wife had to have another.
M: Medium with medium, bubbly carbonation.
O: One of the big winners in Avondale's stable. What a tasty little pachyderm.
395 characters
3.53
/5
rDev
-4.9%
look: 4 | smell: 3.5 | taste: 3.5 | feel: 3.5 | overall: 3.5
served on-tap @ The Alcove, Tuscaloosa, AL, into a pint glass
Pours a vibrant orange color. Hazy yet bright at the same time. 1.5 fingers of white head stick around for a long time, lacing in clumps. This is a nice looking beer.
I can smell the yeast strain similarities between this beer and Avondale's Saison. But things seem more reigned in and refined in this Tripel. There's lots of candied orange, for starters. A moderate amount of spice. It smells at once strong and refreshing.
The taste follows the nose, but somehow is stronger. A bit too much orange, and a bit too much candi sugar sweetness and a bit too much clove/cardamom. It causes the back of my mouth to pucker, as if this beer were tangy. But these negatives are slight. It's still tasty and still nice to sip on a Spring/Summer day.
Like most American takes on Belgian styles, the mouthfeel lacks the proper effervescence. But Miss Fancy comes close. The beer's size -- in terms of thickness -- gets in the way a bit. But again, these are reasons why the beer isn't excellent. It's a fine beer. Overall, this is Avondale's best year-round beer. This tripel indicates a brewery that will soon come into their own. A fine effort.
1,210 characters
3.18
/5
rDev
-14.3%
look: 3.5 | smell: 3 | taste: 3.25 | feel: 3 | overall: 3.25
for what it is, an american tripel, it is quite good and a complement to the style, good exposure for a style most people in b'ham have never been exposed to, it's no trappist tripel, but all things considered very good
219 characters

4.67
/5
rDev
+25.9%
look: 3.75 | smell: 4.75 | taste: 4.75 | feel: 4.5 | overall: 4.75
A delightful triple; nice color (deep, dense orange flirting on the brown side) though the one I drank was a little hazy. Fair head retention with lacing. The aroma is one of the best features of the beer having a sweet citrusy scent that suggests the flavor but with sweeter brighter accents than the flavor itself. The flavor is pretty typical of a good tripel; orangey, with subtle floral notes and a even subtler and pleasant warming alcohol aftertaste.
457 characters
2.7
/5
rDev
-27.2%
look: 3.5 | smell: 3.5 | taste: 2 | feel: 2.5 | overall: 3
On-tap at the Avondale Brewing Co. Bar.
Appearance: golden, mid-to-light carbonation.
Smell: good; cloves, bananas, sweet but not too alcoholic.
Taste: fairly bland. While the body holds up to the alcohol, it doesn't do much more.
Mouthfeel: smooth, not too carbonated.
Overall, a tripel that is fine, but a bit much for a full glass.
341 characters
3.52
/5
rDev
-5.1%
look: 3 | smell: 3.5 | taste: 3.75 | feel: 3 | overall: 3.5
I'm not the biggest fan of tripels, but I enjoyed this beer. I bought it at a gas station out of their walk-in cooler.
This beer had a good head on it and was preserved its flavor well. (I bought a liter and nursed on it for a little while.) It was a little bit on the sweet side for me but I'd order if I found it at a bar.
325 characters
Miss Fancy's Tripel from Avondale Brewing Co.
3.71
out of
5
based on
72
ratings.