No Joka Mocha
| Avondale Brewing Co.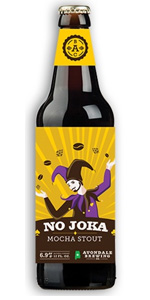 BEER INFO
Brewed by:
Avondale Brewing Co.
Alabama
,
United States
avondalebrewing.com
Style:
American Stout
Alcohol by volume (ABV):
6.90%
Availability:
Winter
Notes / Commercial Description:
No notes at this time.
Added by BhamBeerLover on 10-23-2012
Reviews: 8 | Ratings: 50
3.15
/5
rDev
-20.9%
look: 3.5 | smell: 3.5 | taste: 2.5 | feel: 4 | overall: 3.5
An enjoyable coffee stout, but a little bit sweet for my taste.
Appearance: dark brown, not quite black, medium, fairly rich head.
Smell: Lots of coffee and chocolate; if you lef tit under my nose, I could be convinced that it was a mocha rather than a beer.
Taste: a bit too much coffee and chocolate; lacking in the depth of many other 'specialty' stouts, but with too much sweetness to be a dry stout. This gets caught in between the two, in an unsatisfying way.
Mouthfeel: Substantial, rich, but lacking in complexity.
Overall: I'm happy to have had it, but their other offerings are better, as are others' similar offerings.
★
635 characters
3.89
/5
rDev
-2.3%
look: 4.25 | smell: 4 | taste: 3.75 | feel: 3.75 | overall: 4
Appearance - The beer was brownish black with a mocha color head.
Smell - The nose brings to mind a freshly opened can of coffee grounds.
Taste - The beer is highlighted by notes of coffee grounds and baker's chocolate. The sense of this beer is very dry. The finish leans far more bitter than sweet.
Mouthfeel -The feel is almost too smooth for an oatmeal stout. It seems more like a milk stout.
Overall - I would have like more sweetnees in this one.
★
461 characters
3.9
/5
rDev
-2%
look: 4.5 | smell: 4.5 | taste: 3.75 | feel: 3 | overall: 3.75
Served in a pint glass at the brewpub. From notes. Reviewed 23 November 2014.
4.5/4.5/4/3/3.75
Black. Impenetrable. Mocha-colored head.
Immense coffee in the nose. Intense, super-dry, and rich. Dark chocolate. This is great!
Mmm, tasty but not immensely so. Lamentably thin, with a cold coffee neutral finish. Still worthwhile, especially for coffee lovers. Some lightly sweet malt.
Drinkable (more so than many coffee beers) and tentatively recommended.
★
455 characters

3.94
/5
rDev
-1%
look: 4 | smell: 3.75 | taste: 4 | feel: 4 | overall: 4
22 ounce bomber poured into snifter
A - obsidian black with a two inch tall dark khaki colored head, average retention, and good lacing.
S - subtle and pleasing, roasted notes along with coffee and chocolate.
T - caramel malty goodness combined with coffee, chocolate, and roasted notes.
M - thick and chewy very pleasing with a clean finish
O - easy to drink, pleasant offering.
★
384 characters

4
/5
rDev
+0.5%
look: 3.5 | smell: 4 | taste: 4 | feel: 4.25 | overall: 4
Tasted On: 12-30-2013
Freshness: Not indicated
Packaging: 22 oz. brown bottle, pry-cap
Glassware: Tulip
Purchased: Single from Wish You Were Beer, Huntsville AL
Color is jet black and opaque, with a thin tan head that fades quickly but leaves a fair amount of lacing behind. Aromas are first all about the coffee, and then lend themselves to notes of vanilla, bittersweet chocolate and spiced pipe tobacco.
The taste is dominated by dark roasted grains, as in coffee, but is kept in check by enough malt sweetness to not be too bitter. There is also some earthy hop presence, but this doesn't add much bitterness. The oatmeal addition gives the mouthfeel a creamy texture. Carbonation is low. The finish has a moderate bitterness and flavor of coffee grains, plus a hint of chocolate.
Overall a delightful beer, my first from Avondale BC.
★
842 characters
4.1
/5
rDev
+3%
look: 4 | smell: 4 | taste: 4.25 | feel: 4 | overall: 4
Enjoyed on tap at Hop City, Birmingham, while beer shopping. Now that's how you do it.
A: Black with hints of chocolate brown. A pretty mocha head that stays for at least an aisle of beer. Thick lacing.
S: Mmmm. Smell that chocolate and coffee. The perfect wake up drink.
T: Oh, yeah. Smooth, rich, chocolate-y. I could munch down a chocolate chip cookie with this one. Robust and stout. Coffee slips in, but the mocha dominates. Very nice.
M: Medium with thick and chewy carbonation.
O: Well, after that pour from the growler bar, I had to buy a bomber of No Joka Mocha to take home. Terrific stout from my neighbor to the east. Well done, Avondale.
★
657 characters

4.31
/5
rDev
+8.3%
look: 4 | smell: 4.25 | taste: 4.5 | feel: 4 | overall: 4.25
A-black with a brown head that leave a lace
S-wow you can smell the coffee and chocolate with some vinilla
T-strong coffe and chocolate taste with a strong hop taste that fades back to a coffe and chocolate aftertaste
M-full body and low carbonation
O-this was a very good beer. I think the taste matches the name and hits the mark
★
331 characters
4.33
/5
rDev
+8.8%
look: 5 | smell: 4.5 | taste: 4 | feel: 4.5 | overall: 4.5
A - Luscious black in color with a solid, creamy tan head. This beer exudes coffee just in looking at it.
S - As mentioned above, the smell begins before even approach the glass. Both coffee and chocolate notes create a robust and complex treat for the nose when blended with the character of the roasty malts.
T - The flavor of bittersweet chocolate and strong black coffee blend well with the oatmeal and roasted malts balanced with the hop profile although not straying from the malty character one might expect from this style of beer.
M - Creamy and rich. Coats the mouth nicely.
O - The perfect breakfast beer. Coffee, great taste and smell, along with a little cereal bowl of chocolaty oatmeal.
★
713 characters
No Joka Mocha from Avondale Brewing Co.
3.98
out of
5
based on
50
ratings.