Oude Myrtille Sauvage Tilquin à l'Ancienne

Gueuzerie Tilquin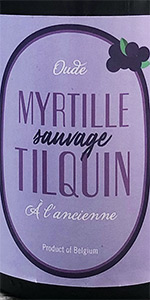 Write a Review
Beer Geek Stats:
| Print Shelf Talker
Style:

ABV:

6.6%

Score:

Avg:

4.19

| pDev:

8.83%

Reviews:

14

Ratings:

From:

Avail:

Year-round

Wants

Gots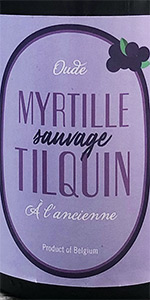 Notes:

kitch from Hong Kong
4.26
/5
rDev
+1.7%
look: 4 | smell: 4.25 | taste: 4.25 | feel: 4.5 | overall: 4.25
A 375ml corked and caged bottle, with a neck label of 2018-2019, and a best before date of 21st March 2029. Poured into a 3 Fonteinen stemmed glass.
Appearance: A hazy dark reddish purple colour with an orange hue and an almost two fingered pink head, that dissipated fairly quickly to a thin replenishing cap, while leaving some sparse lacing.
Aroma: Blueberry, blueberry skin, leather, funk, lemon, peppery spice, and notes of oak.
Taste: Tart, lightly sour, blueberry, light sweetness, blueberry skin, oak, funk, hay and lemon.
Mouthfeel: Medium bodied with moderate carbonation.
Overall: Nice and enjoyable with good blueberry and balance between the sour, sweet and funky flavours.
Nov 08, 2020
Snowcrash000 from Germany
4.5
/5
rDev
+7.4%
look: 4.5 | smell: 4.5 | taste: 4.5 | feel: 4.5 | overall: 4.5
Pours a cloudy, deep purple coloration with a medium, foamy, pink'ish head. Smells wonderfully of doughy malt, ripe blueberries and musty funk and oak, with just a hint of peppery spice. Taste is an excellent balance of soft, doughy malt, ripe, vibrant blueberries, some fruity and spicy esters, with notes of blackberry, gooseberry and black pepper, leathery funk and musty, slightly tannic oak, with a good underlying lactic, citric acidity. Finishes semi-dry, with a medium tartness and some blueberry, funk and oak lingering in the aftertaste. Effervescent mouthfeel with a medium body and medium/strong carbonation.
This is a truly wonderful Fruit Lambic with just an absolutely lovely balance of sweet, vibrant fruitiness, leathery, musty funk and oak and dry, citric acidity making for a drinking experience that is both light and refreshing, yet rich and complex at the same time, with all the different elements feeling very harmonious and subtly complimenting each other here, without anything standing out too much. It starts out with a light, fruity sweetness, but develops quite a lingering, semi-dry finish, with the funk and oak really coming out in the aftertaste especially, while the mouthfeel is truly effervescent and just sublime as well. A superb, rich and subtly balanced Lambic that is an absolute joy to drink and probably my favorite from Tilquin so far. Of course it helps that I really love blueberries, I guess. (Vintage 2018/19)
Sep 26, 2020

TheGent from New Jersey
4.39
/5
rDev
+4.8%
look: 4.5 | smell: 4.75 | taste: 4.25 | feel: 4.25 | overall: 4.25
Oude Myrtille Sauvage Tilquin (2018 - 2019)
Look: Murky and almost opaque. Crimson liquid with light pink foam that settles to a thin ring around the edge of the glass. Some visible carbonation. No lacing. This beer is attractive.
Smell: The nose on this beer is incredible. A melange of sweet and jammy blueberry, tart blueberry, lemon, orange, floral, powdery,
(more than I recall getting in Tilquin) barnyard funk (manure), peppery, sweet spiciness, herbal bay leaf, grassy.
Taste: The tip of the tongue is sweet blueberry. Mid palate it goes slightly sour and bitter. A soft lemon juice acidity with tart blueberry, blueberry skin and raspberry. Peanut and peanut skin. The finish is dry, woody, and leaves a pleasant, crackery wheat finish.
Feel: Semi-dry and well carbonated.
Overall: The is one of the more expressive Tilquin beers I've had. The nose is highly complex, and the flavor is wonderful. Great blueberry flavor.
Aug 29, 2020

JamFuel from Sweden
4.15
/5
rDev
-1%
look: 4.25 | smell: 4.25 | taste: 4 | feel: 4.25 | overall: 4.25
Pours a dark purple with pink head.
Smell is tart with huge notes of ripe blueberries and some hints of blueberry jam, lime, lemon, vinegar and funk.
Taste is sour, with nice acidity. Loads and loads of blueberries, with a little bit of the earthiness that comes with it. Hints of sloe, lime, funk, wood and vinegar. Dry and tannic.
Mouthfeel is medium, with strong carbonation.
Overall, a very nice sour that doesn't quite get up to the levels of Oude Mure.
Apr 28, 2020

gcamparone from Rhode Island
4.27
/5
rDev
+1.9%
look: 4.5 | smell: 4.25 | taste: 4.25 | feel: 4.25 | overall: 4.25
Poured from a 750mL bottle into a Tilquin tumbler. Best by 2029 ;)
Pours a deep maroon cloudy body with a one finger pink head that reduces slowly to leave a layer of retention. Nice color.
On the nose it's oaky, musty, a bit funky, vinous and lightly tannic, berry skins, smells like it will be tart but not overly sour.
Upon sipping, its very dry with oak and tannic berry/fruit skins up front, followed by tart underripe blueberries, follow through stays very dry with musty basement, a bit funky, woody aftertaste with a lingering astringency. Mouthfeel is light, easy to drink, carbonation is on point for this style.
If you're looking for an affordable blueberry lambic without paying for Blabaer, this is a good substitute. Very dry, would prefer a bit more fruit but I'm sure this will improve with age.
Feb 16, 2020

rodbeermunch from Nevada
4.44
/5
rDev
+6%
look: 4.5 | smell: 4.25 | taste: 4.5 | feel: 4.5 | overall: 4.5
Big thanks to Adam for bringing this to a Nevada Wolfpack football game. Can't remember which one, but I'm sure fb has a good idea.
Pours a color similar to that on the label (purple/blue mixture). More of a pinkish head to it that settles to about 1/4" and then slowly recedes from there. Its a pretty color and appearance overall. The aroma was dry blueberry sourness and oak. Did have some of that purported bug barnyard funk in a mild non distracting complementary way.
Taste was a flippin' joy. Right away I was like, "damn, I might like this more than the OG gueuze," (which I love). Acidity and sourness present, but not over the top. Same with the fruiting, which from all I can tell is just blueberry, and its better for it (I'm a single hop, single fruit kinda guy). Good tannic and drying presence in the mouth feel. Leather might be a lil heavy, but its like a pleather feel if you will.
This really makes chasing blabaer seem like even more of a folly (love the beer, but F scarcity).
Feb 14, 2020

FriedSlug from North Carolina
4.31
/5
rDev
+2.9%
look: 4.5 | smell: 4 | taste: 4.5 | feel: 4.25 | overall: 4.25
Funky hay and barn floor taste with a little blueberry flavor. Acidic and lightly sweet. Light and effervescent. Very tasty but slightly too acidic for me.
Feb 13, 2020

emerge077 from Illinois
4.27
/5
rDev
+1.9%
look: 4.5 | smell: 4.25 | taste: 4.25 | feel: 4.25 | overall: 4.25
Deep saturated reddish purple, ample pink foam, lasting skim, spotty lace. Huge Brett-forward aroma, funky sterile gauze and leafy berry clusters.
Moderately sour, puckering with a creamy texture, vinous, berry skins. Brett is dominant in the taste as well, some dry tannic oak in back. Leathery Brett and wet oak in the aftertaste. Funky and fruit forward.
Overall this is really nice, it reminds me of natural wine, more of black currant than blueberry, as it's fairly tannic and acidic. Sour and dry, with an unbridled wild funk. Makes a great pairing with Humboldt Fog.
Feb 11, 2020
Phyl21ca from Canada (QC)
4.12
/5
rDev
-1.7%
look: 4.25 | smell: 4 | taste: 4.25 | feel: 4 | overall: 4
Bottle: Poured a deep purple color lambic with a large foamy head with OK retention and light lacing. Aroma of tart notes, myrtilles and light funky notes with some acidic notes is pleasant. Taste is also a mix of tart notes, light acidity with some mytrille and light funky notes also noticeable. Body is pretty full for style with good carbonation. Solid fruit lambic.
Feb 07, 2020
DefenCorps from Oregon
4.45
/5
rDev
+6.2%
look: 4 | smell: 4.5 | taste: 4.5 | feel: 4.25 | overall: 4.5
12.7oz bottle, 2018-19 vintage, from ABV.
A mildly hazy deep rusty red with a dense , mildly pink head with good retention and lacing, good looks great. The nose is insanely soft and supple with soft, bright blueberries, jammy with mild skin tannins, a light plum note, a little vanilla and a touch of cinnamon, a little fruit leather. All this is just from the blueberries. A little leather, a touch of bandaid are also present, but holy shit, that blueberry note! The base lambic has some must, earth and a little lemon. As a whole, there is a moderate red wine character to the nose.
The palate opens fruity and tart with a ton of blueberry character. There's jammy berries, bright, mildly spicy with cinnamon and clove, leather, dust, earth, lemon peel, lime all present. Sweet and sour lemons. Anthocyanins. The berry character is insane, especially considering the relatively low amount of fruit used. Another astounding aspect is how vinous this beer is. It really reminds me of a deep, fruity red wine, almost Pinot noir like in ways. As this breathes, the bandaid flavor is a little stronger. Drying, mildly leathery with a blend of lemony spiced blueberries on the finish, this beer is medium light in body and highly carbonated. Once the carbonation dies down, this feels a little thicker, amplifying the fruit notes
A true joy to both drink and review , I can see this being particularly excellent in a year or so, but if the band-aid note takes off, this could mirror the experience of some of the more critical reviewers below.
In ways, this reminds me of fresh Oregon Native from Upright. Spectacular.
Jan 25, 2020
Alieniloquium from Florida
2.54
/5
rDev
-39.4%
look: 4 | smell: 2.5 | taste: 2 | feel: 4 | overall: 2.5
750 mL bottle. Reddish amber body. Big off white head. Smells of a touch of bandaid, berries, a little oak. After a bit, it's all bandaid. Tastes of berries and bandaid. Deep herbal notes and rubbery bandaid. Well carbonated. Berries and bandaid. Blah.
Dec 22, 2019
ArrogantB from Colorado
4
/5
rDev
-4.5%
look: 4 | smell: 4 | taste: 4 | feel: 4 | overall: 4
I had heard mixed reviews about this one but I was still excited to try it, I love Tilquin. Dark purple color, decent head. Aroma was funky, some plastic, some manure. Flavor was fruity, decent sourness. Not my favorite Tilquin but let's see what some time in the bottle does to it.
Dec 01, 2019
StonedTrippin from Colorado
4.66
/5
rDev
+11.2%
look: 4.5 | smell: 4.75 | taste: 4.75 | feel: 4.5 | overall: 4.5
this is astoundingly good, i am so glad these four new tilquin brews have shown up in idaho, this is everything i wanted it to be, just packed with natural blueberry character and lambic goodness, one of my favorites from these guys so far, an absolute pleasure to drink! the color is amazing, electric violet in shade, very blueberry colored, and with a fizzy head on it that lasts just a minute from the little bottle. aroma is lambic funk to the max, woody, mature, wild, some iodine and minerals, light aged hops and raw wheat, piquant tartness that brings out the blueberry immediately, and an insane degree of mouthwatering funk. the blueberry is as real as it gets and super bold, a bit vinous in the nose and taste, with some obvious red grape character to it, hints of blackberry and currant as well. the lambic and the berry together is just amazing, both doing their thing, about as real a blueberry profile as i have known in wild beer too, intense and piquant, a little tannic from the skins, still beery enough because of the ferment, but the fruit is in front of the grain. crazy mature and well developed, oddly dry for how fruity it is, and truly unique as they go. i love the medicinal funk to this, the natural tang of the blueberry, the effervescent carbonation, and the overall cohesiveness of the whole thing. truly expert and amazing, worth any price. a highlight of my lambic drinking this year for sure, stunning!
Nov 30, 2019
BEERchitect from Kentucky
4.34
/5
rDev
+3.6%
look: 4.25 | smell: 4.5 | taste: 4.25 | feel: 4.5 | overall: 4.25
Now with generous amounts of blueberries at hand, the Gueuzerie Tilquin gives their blended, 3-year lambic a robust fruitiness, body and balance to complement the natural sourness that makes their classic sour ale both alluring and cautionary.
The palate-friendly Oude Myrtille Sauvage drifts across the nose with those promises of robust blueberry, red wine, cider, citrus and a peppery spice that hinges on cellar-like funk. Underneath all that fruit and must rests a bright translucence of ruby, mauve and purple stained tones. Juicy with the robust fruitiness of dark berries, a pronounced taste of hard candy, branch-ripe fruit and a wafer-like malt crispness kisses the tongue briefly.
And then the beer simply blossoms upon the middle palate where the piquant tanginess of sourness begins to pang away at the tastebud .Sweetness begins to drift and the tartness of fruit aligns with the natural acidity of dry cider, red wine, dried citrus, and crabapple. Sharp but seductive, its the blueberries that brighten the tongue with a plethora of dark berry, currant, black cherry, red grape and boysenberry as nuances to go right along with the fruit and naturally souring fermentae.
Finishing off-dry, spicy and light in body, the linger of berries gives the ale a slight heft, creaminess and balance that's bold even on the late palate. Taking an edge off of the brazen sourness, the succulence of berry lead into a peppery bite that's remiss of acetone and medicinal qualities as the lambic closes.
Nov 22, 2019
Oude Myrtille Sauvage Tilquin à l'Ancienne from Gueuzerie Tilquin
Beer rating:
91
out of
100
with
40
ratings