Anaheim Brewery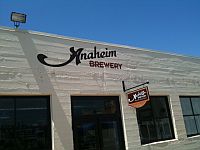 PLACE INFO
Type:
Brewery, Bar
336 South Anaheim Boulevard
Anaheim
,
California
, 92805
United States
(714) 780-1888 |
map
anaheimbrew.com
Notes:
No notes at this time.
Added by gskbrew on 07-04-2011
Reviews: 9 | Ratings: 29
3.86
/5
rDev
+9%
vibe: 4 | quality: 4 | service: 3.75 | selection: 3.75
Disneyland is obviously the number one reason to visit Anaheim, but you never heard anybody planning a visit to its downtown. No sir. Look, I have grandparents who live nearby, so I have been through this part at least a hundred times. There's little to do in downtown, even with Disney ICE. But if you squint, you will see some developement happening on Anaheim Blvd, which includes the restored Packing House, home to Anaheim Brewery. Wait, a brewery?> Despite traditionally being a town of German immigrants, Anaheim had never been a spot for beer during my lifetime.
Simple, modern interior with old photos of the original Anaheim Brewery (think 100 years ago) hanging on the walls. Large glass windows enable you to see the kettles of the brewery as you're sitting at the bar. Turn your head to the left and you'll see brewery merhcandise (shirts, hats, growlers), and a little further you can see the interior of Umami Burger. Very clean throughout. Close to 20 seats in-house, plus additonal tables and benches which sit in the patio outside.
7 beers were on-tap; four year-round beers (hefeweizen, gold, 1888, amber), and three seasonal beers (IPA, doppelbock, chocolate porter). The beer menu tells a brief despcription of each beer and their ABV, but does not list a price for each beer (hence a small deduction in service, however I did have a good and informed bartender). Samplers are available, but my visit, I wanted to focus on only a few beers, so I took a full sized pour of the hefeweizen and 1888, both which were good and tasty examples of their styles. I also like that they've avoided the dull, boring shaker pints and went with their own custom stange glassware.
Pour prices are a little higher for a brewery. Pours of their hefeweizen and 1888 were $6 each with tax. That said, it won't stop me from making another visit, as the quality and experience were there to keep me happy.
1,914 characters

3.7
/5
rDev
+4.5%
vibe: 4 | quality: 3.5 | service: 4 | selection: 3.5
I stopped in at Anaheim Brewing while in town this weekend and had a couple of beers. The place is nice, in an older building with a barn-meets-industry feel. There were only 8 beers on tap while I was there, but I had a tasting flight and they were pretty decent, for the most part. Service is good with very friendly bar staff; it's definitely a cool place to hang out. The beer didn't exactly blow me away but I like the place, so I'd be interested in returning at some point and seeing what other beers they may have on offer.
534 characters
3.9
/5
rDev
+10.2%
vibe: 3.75 | quality: 4 | service: 3.75 | selection: 4
I decided to check this place out since I was in the area. It's a pretty cool spot with a long bar (that I think was salvaged from the original Anaheim Brewery) which looks into the brewery area. There is also some seating outside. I was the only person in there when it opened so I got pretty good service with the guy giving me a bit of background on each beer I was served. The quality was good but the beers seemed a bit warm coming off the tap. The selection was good with 7 of their own beers on tap and no guest taps from what I could see. Prices were reasonable at about $2 per taster. I got a free taster glass since I ordered the flight which was cool. Worth a stop if you are in the area.
699 characters

3.56
/5
rDev
+0.6%
vibe: 4 | quality: 3.5 | service: 3.5 | selection: 3.5
Driving by this place, you could easily miss it. The parking situation is questionable at best, too.
The inside area of the brewery and bar is quite nice. A nice long bar with plenty of seats and there is an outdoor seating area which currently consists of some picnic type tables and an Easy-Up or two.
Service has been quick and friendly the times I've been there. The beers are mediocre to decent. Prices are fair, too.
They have about five or six different beers on at a time. So far the best has been the Chocolate Stout.
529 characters

3.36
/5
rDev
-5.1%
vibe: 3.5 | quality: 3.5 | service: 3.5 | selection: 3
Was in Anaheim visiting my dad so i thought i'd stop by to check this place out.
The brewery is across the street from the Arco station in the Packard building... and there's alot of dirt, dirt parking lot, dirt patio. Well, it's still being put together. With that said, this place shows lots of promise.
Stucco building with that citrus packing house look (if you grew up in Orange County, you'll know what i mean) and walls of glass as you approach the front doors.
As you enter, if you face right, the bar runs along the left and more stools along the right, up against the glass windows looking out. Behind the bar are glass walls showing the brewing equipment which is pretty sparkling clean. The ceilings are open and quite high up. You can see the hvac ducting and support beams which are painted white. The bar has an open and airy feeling to it which is quite nice.
I sat at the bar and have to say the stools are friggen comfortable. They're wood and the seat is like a wooden oval plate that curves up on each side... like a ladle for your ass, quite comfortable. There's a patio in the front of the bar that was basically a few easy-ups surrounded by a plastic construction net. But hey, what do you want, it's still being built. When it's done though, i bet it'll be sweet.
I got the taster flight of 6 beers and the bartender was pretty cool. The bar was full and there was a hum of conversations going on. For the flight, you get 6 wooden tokens. As you move on to the next taster, they fill a glass, take a token and toss it into the fish bowl. Pretty cool cuz your tasters stay cold (but i bet if it gets busy, you could be waiting). Well, for a review of the beers, you'll have to read the beer reviews... i really liked their hefe and chocolate stout.
This place is still being put together and i plan on coming back when everything is up and running to give it a proper review. I like the look and feel so far... i'll be back.
1,953 characters
4.29
/5
rDev
+21.2%
vibe: 5 | quality: 4.5 | service: 5 | selection: 3
Great place. Sticks straight to the beer.
Staff is well informed and very helpful.
Small building but gives it an at home feel.
First time going here i had the flight. It is a great way to feel out the beer offered. I was a huge fan of the Hef. It has a very nice taste and body with a hint of banana (yes, banana). Delicious and fair priced.
I will definitely be coming back here. They give you a beer tasting experience that is based specifically on their beer. I have been to other breweries in Southern California, and this place is in my top 3.
All in all, great experience and is a place you could take anyone to have a quite conversation over a couple quality beers in an old area of Anaheim.
706 characters

3.4
/5
rDev
-4%
vibe: 4 | quality: 3 | service: 4 | selection: 3
This brewery bar is part of the revitalization of downtown Anaheim, one of the oldest municipalities in Orange County. The owners took a gutted building that was once a Packard dealership and created their modern day vision of the original Anaheim Brewery circa 1870.
That said, it's a pretty cool place to drink beer, the centerpiece being a classic wooden long bar from where the breweries initial offerings are poured. Visited on the second weekend the brewery was open and the place was packed. No food at this point and unsure whether grub is in the future plans.
Not surprisingly, the first group of beers are relatively basic. A hefe, a malty amber, pale ale, and a hoppy pale ale that was too smooth to be an IPA. In keeping with the turn of the century theme, they seem to be going for classic recipes, classic tastes. I tried the amber, called Anaheim Red, and the pale ale, named Anaheim Gold. They were both decent efforts but lacked dominant flavors, which is my polite way of saying bland. But then, I'm a beer drink who enjoys aggressive taste. However, it was only the second weekend for this new brewery and newer, interesting beers are likely to emerge.
Another area that will probably develop with time is the 'German Beer Garden,' which at this point consists of a few rows of picnic tables set on dirt next to the parking lot, roped off by mesh fence. Considering the care that went into the tasting room interior, it seems likely they'll get around to making this area more hospitable. In any case, it was nice on a warm summer evening to carry our beers outside and soak in the downtown atmosphere.
1,624 characters

3.23
/5
rDev
-8.8%
vibe: 3.75 | quality: 3 | service: 4 | selection: 2.5
Atmosphere - Cool space at the new Anaheim Packing District (historic). Typical tasting room setup - looong bar seating inside, tall ceilings, minimal decor, interesting view to brewing equipment behind bar. Outdoor seating with picnic tables & shade structure adjacent to green space. Probably a fun place to hang out after work / weekend / etc. In true Lab Holdings fashion there is a contemporary designed park adjacent which is a fun space for the kiddies and animals to run around. Seemed like a lot of locals were coming in to fill growlers, catch a beer, etc.
Quality - Beer is not bad just fairly bland - traditional styles (Hef / Red / Golden / etc). Great for the typical public or tourist wanting to find a local flavor. Beers were average for their styles. Beers served in same glassware, but I suppose for styles it was not a big deal.
Service - very friendly bartenders who were willing to chat about the beer and brewery. Knew enough about beer to have interesting conversation.
Selection - See quality above - 5 beers on tap of all their own brewed.
Food - none, but apparently you can bring your own in and marinade outside. Umami is next door... So grab a burger and hit a refreshing traditional style beer.
Overall - Even though the beer selection is not exciting I am glad this place exists. Sometimes you just need a simple beer bar to hang out at in a cool local space. Once the rest of the Packing District fills in this place should shine.
1,469 characters
2.75
/5
rDev
-22.3%
vibe: 1 | quality: 3 | service: 3 | selection: 3
OK beers. This place has an odd empty feel to it, it could be the bar stools that are not shaped for human anatomy and are horribly uncomfortable. They have short hours, tricky parking and beer prices are high.
210 characters
Anaheim Brewery in Anaheim, CA
3.46
out of
5
based on
108
ratings.