Life On Mars
| Wild Rose Brewery & Taproom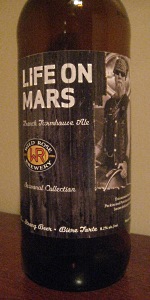 BEER INFO
Brewed by:
Wild Rose Brewery & Taproom
Alberta
,
Canada
wildrosebrewery.com
Style:
Bière de Garde
Alcohol by volume (ABV):
8.20%
Availability:
Spring
Notes / Commercial Description:
No notes at this time.
Added by biboergosum on 03-02-2014
Reviews: 5 | Ratings: 14
Reviews by Kmat10:

More User Reviews:
3.86
/5
rDev
-0.3%
look: 3.75 | smell: 4 | taste: 3.75 | feel: 4.25 | overall: 3.75
Bomber poured into a tulip glass. Cool to see a local brewery take a stab at such an obscure (sub)style. A dark rusty brown brew with ample choppy beige head and a unique aroma. I get sour ginger and citrus rind, something very bright and floral like fresh violets albeit more perfumed, faint chocolate and cinnamon, red current, and an mellow earthy funk like a root cellar. Palate is a similar blend of spicy, sour, and earthy elements: Well-steeped herbal tea, fermented limes, lemon, cola-like brown spices (a little cinnamon?), mixed peppercorns, another woody herbal element, caramel, molasses ... Although these latter darker and sweeter flavors are slight. Is that a tinge of barfy funk? Interesting mouthfeel, somewhat thick with a slow building tingly heat (presumably this is the ginger). Low to moderate carbonation. You cannot really taste the alcohol but make no mistake, it'll git ya on a less than full stomach. Finishes as it began, spicy, earthy, and sour. Unique taste experience and the spice additions do not overpower even if one can pick out some of the individual flavors. More than worth tracking down.
1,127 characters

4
/5
rDev
+3.4%
look: 4 | smell: 4 | taste: 4 | feel: 4 | overall: 4
650ml bottle. I first thought that the dude on the left on the label was an old photo of James Hetfield - sorry, Perkins! On to the beer - it proclaims to be Wild Rose's take on the bière de Mars sub-style of what it is listed as here.
This beer pours a hazy, dark red brick amber hue, with three fingers of puffy, loosely foamy, and bubbly ecru head, which leaves some streaky melting snowbank (subliminal wishing may be at work here) lace around the glass as it slowly ebbs away.
It smells of savoury spices up front - ginger, clove, and mixed milled peppercorns - a bready caramel malt, lime and orange citrus, and leafy, kind of perfumed hops. The taste is somewhat metallic ginger, faint cinnamon, white and black pepper, grainy pale and caramel malt, mild muddled citrus notes, a hint of dry yeast, a certain tart apple fruitiness, cold mojitos, and a further soft leafy, earthy hoppiness.
The carbonation is lively in its even-handed frothiness, the body a solid medium weight, and mostly smooth, with a sort of airy creaminess. It finishes off-dry, the bready caramel malt duly lingering, amongst a still active spice and vodka slime (this is an Alberta brew, so I'm using a historical Alberta underage drinking reference) fruitiness.
A pretty solid, and agreeably drinkable effort, even with all those extras tossed into the fray. I have to say that I've only sampled but a few versions of this style from the origin, and from what I remember, this does their influence a great service - you know, imitation being the sincerest form of flattery, and all that.
1,573 characters
3.53
/5
rDev
-8.8%
look: 3.5 | smell: 3.5 | taste: 3.5 | feel: 3.75 | overall: 3.5
Wasn't going to review this, but it's the most interesting beer I've had in a while so jotting a few really quick notes. Thanks wordemupg!
Appearance. Pours a murky amber brown with a finger of off-white head.
Smell. Huge lime rinds is the first blast to the nose. Some strange woody herbal notes that I really couldn't place, light floral perfume ...maybe lilac or some shit (I'm no fucking florist). Also a bit of anise and other citrus fruits. Probably a bunch more, lots going on here.
Taste. Tart lime, caramel and light fresh anise with some light floral perfume. Much like the nose, surprisingly enough.
Mouthfeel. Medium+ body, below medium amount of smooth carbonation.
Overall. Not my bag but very interesting stuff. Glad to have tried it, thanks again wordemupg.
780 characters
4.1
/5
rDev
+5.9%
look: 4 | smell: 4 | taste: 4.25 | feel: 4 | overall: 4
Appearance - Pours a foggy chestnut brown with two fingers of foamy cream head.
Smell - Caramel malt, citrus hop, Belgian-reminiscent yeast, coriander, citrus rind (lime), touch of ginger.
Taste - Caramel, toasted malts along with spicy citrus hop, yeast, coriander, and citrus fruit.
Mouthfeel - Medium bodied with light-moderate carbonation.
Overall - Excellent biere de garde by Wild Rose. Great malty sweetness accentuated by citrus hops. I liked the use of ginger, coriander and lime - quite original.
510 characters

3.95
/5
rDev
+2.1%
look: 3.5 | smell: 4 | taste: 4 | feel: 3.75 | overall: 4
650ml bomber poured into tulip 12/4/14
A brownish dark amber, very hazy but I can see a few bubbles here and there, a finger of foam leaves a couple random patches of lace
S white pepper, licorice, ginger, sweet orange peel, marmalade, faint coco, spice I can't place, in all honesty there's a fair bit going on here I can't place, interesting to say the least
T wet herbal tea bag, lime zest, and some caramel to go with what I smell, a fair bit going on and I'm still left scratching my head, I can't quite figure everything out
M has some weight to it but I couldn't say its full, a little foamy, just a little sticky on the lips, slippery on the palate, herbal citrus on the finish
O something different and interesting, not what I was expecting but it works, lots of spice and the booze is well hidden
Big props to Wild Rose for keeping up the pace with new and interesting brews, I like a brew that leaves me thinking and this one did just that
958 characters




Life On Mars from Wild Rose Brewery & Taproom
3.87
out of
5
based on
14
ratings.