Maibock
| Wild Rose Brewery & Taproom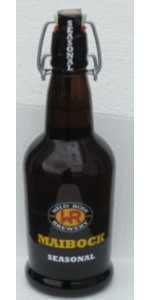 BEER INFO
Brewed by:
Wild Rose Brewery & Taproom
Alberta
,
Canada
wildrosebrewery.com
Style:
Maibock / Helles Bock
Alcohol by volume (ABV):
7.00%
Availability:
Spring
Notes / Commercial Description:
Traditionally, Maibocks are brews with annual releases which have become synonymous with the celebration of the return of spring. To bring together all of the complex flavours, this lager requries additional brewing time (more than 8 weeks).
Bottom fermented, our Maibock has an enticing copper colour and an intensely malty aroma due to the Munich and Vienna malts that comprise almost 30% of the malt used.
Gently hopped to profile its malt character, this 7.0% alc./vol. brew has an assertive alcohol character in both its aroma and finish.
Added by MAB on 07-05-2008
This beer is retired; no longer brewed.
Ratings: 9 | Reviews: 9
Reviews by pootz:

3.79
/5
rDev
-1.8%
look: 3 | smell: 4 | taste: 4 | feel: 3.5 | overall: 3.5
The second treasure from my WRB stash. Bottle:
Pours an amber-orange lager in the glass with a small sticky cap that goes to a ring quickly. Lacing is modest as is the soft carbonation.
Aroma of rich toffee sweetness, vanilla,some toastiness and woody hopping. Smell more like double Vienna.
Good malt spine, toffee toasty malts in the front, some light spiciness, vanilla, beech nuts, goes to an almost cloying rich malty finish with a bready sweet after taste.
Nice effort, malty, full bodied, flavourful with the alcohol well hidden but the sweetness need a tad more balance, next time use Tettnangs to dry hop.
622 characters
More User Reviews:
4.27
/5
rDev
+10.6%
look: 4 | smell: 4.5 | taste: 4.5 | feel: 3.5 | overall: 4
a complimentary 14 oz pour at the brewery... a special thanks to Andrew, tending that afternoon.
A: a nice, clean amber. Head retention is mediocre, but leaves a good ring of lacing.
S: Sweet and sugary, some notes of tropical fruits, spiciness and a hop presence; slightly floral. Complex. Quite nice.
T: An intense flavour for the style. Fruity... tropical fruits, with a bitter side. A spicy alcohol side, though not intensly warming... the taste is there, the alcohol itself is hidden, if that makes sense.
M + D: A bit of a sipper, being on the stronger side. Given that, though, it's an incredibly easy drinker. It would be far too easy to get carried away with this. A soft carbonation, somewhat sticky and medium bodied.
735 characters

3.58
/5
rDev
-7.3%
look: 4 | smell: 3.5 | taste: 3.5 | feel: 4 | overall: 3.5
Served in a tall 14 oz. fluted glass. Brilliant clear copper in appearance, the head dissipates quickly.
Sweet, tart malt with grassy hops on the nose.
The flavour profile starts with toasted malt, nutty characteristics, a bit metallic. Dry grassy hop finish and aftertaste. Notes of husky woody nut lingering in the aftertaste.
Decent mouthfeel, medium-bodied and filling, suits the style well.
An enjoyable maibock, but only one per session for me, it tends to sit heavy and is a bit pricey for the offering when all is said and done. I'd rather fill up on the IPA on the patio instead.
601 characters

4.3
/5
rDev
+11.4%
look: 4 | smell: 4 | taste: 4.5 | feel: 4 | overall: 4.5
I wanted to make sure I caught this seasonal before it was gone, so stopped in at the Tap Room on Saturday night.
Poured into a tall, fluted glass, clear copper color with a good looking white head that just reached the top of the glass.
Sweet malt smell, some floral hops. Clean, fresh aroma. Taste has the requisite sweet and lightly roasted caramel malt. Earthy hops to finish and balance out. A tiny bit of warming alcohol at the end.
Mouthfeel is smooth, goes down easy. Clean and refreshing. Very drinkable, worth waiting for.
533 characters

3.23
/5
rDev
-16.3%
look: 3.5 | smell: 3 | taste: 3 | feel: 4 | overall: 3.5
Viggo brought this one over. thanks eric!
500ml swingtop. sampled march 23/2010.
pours hazy orange with a small fine white head. the head drops fairly fast and leaves plenty of spotty lace as it falls.
aroma is ok. biscuit and whole wheat bread. bit of cracker. alcohol. herbal and a bit of citrus. loads of butter and butterscotch.
taste is ok. less butter than in the aroma, but there's still a bit there. white bread and cracker. weird spicy/herbal character that's far too dominant. apple and spice. light alcohol. kind of weird overall.
mouthfeel is good. fairly light body. nice medium carbonation level.
drinkability is ok. the alcohol is hidden fairly well. the beer itself just isn't all that interesting or exciting.
732 characters

3.97
/5
rDev
+2.8%
look: 3.5 | smell: 4 | taste: 4 | feel: 4 | overall: 4
A: Hazy bronze with an off-white head, ring of retention leaves a light lacing.
S: Herbal, minty, grassy, biscuit, toffee, candied pineapple.
T: Herbal, minty, steelie, grassy, marmalade, bready, candied pineapple, good bitterness.
M: Moderate body has a light acidity.
D: A good drinker.
292 characters
3.03
/5
rDev
-21.5%
look: 3.5 | smell: 3 | taste: 3 | feel: 3 | overall: 3
500 ml swingtop bottle. Can't quite remember where I got this one.
Pours a hazy amber, some orange highlights, thin white head forms and settles down to a thin layer around the glass, some lace spots to the sides, looks okay but some clarity would be nice.
Smell is nice, lightly sugary, some bready character, a bit of caramel and some honey, biscuit, graham crackers, a bit of alcohol, light sherry, sweet and malty, but almost a touch of sourness in the nose.
Taste is interesting, a bit of apple juice, caramel and honey, lightly sugary, some toasty notes, alcohol, biscuit, graham cracker, more apples, pretty weak in the finish, watery going down.
Mouthfeel is light to medium bodied with medium to high carbonation. Just weak and watery and not very good.
766 characters
4.55
/5
rDev
+17.9%
look: 4 | smell: 4 | taste: 5 | feel: 4.5 | overall: 4.5
From the Wild Rose Brewery website:
Variety: Lager · German Lager · Maibock / Helles Bock
Alcohol: ABV 7.50% / ABW 6.00%
Color: Copper (English pale ale) (10 SRM)
They also mention that they used Munich and Vienna malts.
This was one impressive pint of beer! As it warmed (and it didn't have much chance to warm too much because I was constantly sipping and enjoying it) the intense malt flavors really came through. There is an underlying hop flavor just behind the sweetness as well.
When in Calgary, Alberta, get it on tap at Hop In Brew (12th Ave. just west of 1rst Street SW- just off of downtown). Sounds like this is a limited edition. I'm keen to find a bottle of it somewhere now. If I do, it will be my photo on this webpage.
edit: Found a bottle. Coincidentally, it is a "flip top" brown bottle, much like the generic picture that BA uses for "no picture available". I uploaded my pic and await approval...
928 characters
4.03
/5
rDev
+4.4%
look: 4 | smell: 3.5 | taste: 4.5 | feel: 3.5 | overall: 4
Enjoyed at a tasting with fellow BAer proteus93. Thanks proteus!! My portion poured into an Ommegang chalice.
Appearance: Amber. Just, amber. Mild pour yields a decent head, though since we're doing it tasting-style I have a head-killing glass. So I'm gonna give it more credit there. No carbonation at alll.
Aroma: Crisp, sweet malts are prominent. Some floral hops dance around the edges. Maibock-esque.
Taste: Tropical fruits, strangely enough, sweet sugars, both simple and lightly roasted. Caramel, buttery toffee - so very maibocky. Leans more towards the "bock" side of the equation, though, with less of an emphasis on the springy, vegetal hops - a little bit of spicy alcohol in the finish.
Mouthfeel: Coarse, rough bubble structure here, but the whole head in the mouth is so minor that it still feels fairly smooth.
Drinkability: Hey now, this tastes like a maibock. Alcohol is pretty high for one, and it's only hidden semi-well, but everything else is so spot on and even complex in places, it's a very drinkable brew. And hey, a swing-top! Gotta love it.
1,073 characters
Maibock from Wild Rose Brewery & Taproom
3.86
out of
5
based on
9
ratings.