Czech Pilz
| Wild Rose Brewery & Taproom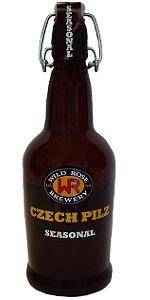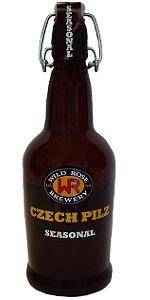 BEER INFO
Brewed by:
Wild Rose Brewery & Taproom
Alberta
,
Canada
wildrosebrewery.com
Style:
Czech Pilsener
Alcohol by volume (ABV):
5.00%
Availability:
Rotating
Notes / Commercial Description:
Once again, Wild Rose Czech Pilz will entice you with its easy drinkability and beautiful straw coloured hue. Crisp, clean and refreshing, this lager has been crafted to satisfy. With a distinct hop aroma and flavour, our Czech Pilz is sure to make you question what you may think a real Pilsener is all about.
Canadian Superior Pilsener malt cleverly mingles with a generous blend of Saaz and Vanguard hops to create a pure and natural European-style Pilsener.
Added by IronDjinn on 04-17-2009
This beer is retired; no longer brewed.
HISTOGRAM
Ratings: 8 | Reviews: 8
Reviews by wordemupg:

4
/5
rDev
+8.1%
look: 4 | smell: 4 | taste: 4 | feel: 4 | overall: 4
500ml swinging pop top poured into pint glass mar22 2010
A clear but quite pale straw yellow with lots of carbonation feeding a big loose head that has good retention and leaves some patches of lace
S lots of grassy and floral hops with some bread
T not far from the smell but I get a little honey and lemon that's rather nice
M what I expect from the style fairly thin but well carbonated and crisp
D straight across the board good beer, would be wonderful on a sunny day but even on a spring day in Calgary it's still quite nice
again this beer is not cheap and is available for a very short period of time so try one while you can. I would like to see something like this in 6packs but I doubt that will happen anytime soon
733 characters
More User Reviews:
3.65
/5
rDev
-1.4%
look: 3.5 | smell: 3.5 | taste: 3.5 | feel: 4 | overall: 4
Part of the box I received from womrdemupg from CanBIF6. Thanks! Wild Rose's Czech Pilz is a transparent, bright gold colour with a bubbly cover of bright-white head, fading to a ring around the glass.
Light and fresh smelling with grain, lemon, sweet malt and subtle spicy and floral hops. Not too bad though a little on the light side.
The flavour is mostly of light grain and citrus (mostly lemon), along with some light noble hops. I'd really enjoy tasting more of everything. Nothing tastes off, the whole thing is just too timid. I'm not sure how much this reminds me of actual Czech pilseners I've had, that grassy Czech hop character isn't really there.
Its light body and high carbonation lends a lively feel; creating a little interest in a slightly bland beer.
This is pretty drinkable stuff. I don't know if I'd say it's really a "Czech" pils, but it's alright anyway. A little too light for my taste but there's nothing really wrong here aside from being off style.
986 characters

3.88
/5
rDev
+4.9%
look: 4 | smell: 3.5 | taste: 4 | feel: 4 | overall: 4
Comes in a 500 ml brown flip top bottle. Pours out a bright golden hay colour, tall tight spongy head with excellent retention. Tight thick sticky lacing
Faint crisp grassy and floral nose, just about right for the style.
Crisp, quenching grainy malt melded with light spicy hops, a bigger leafy green hop character into the aftertaste.
Crisp, dry mouthfeel, a fuller body than I expected for a Pils, holds everything together and delivers it nicely.
Along with their Double IPA I'd put this Czech Pilz also on my wish list for Wild Rose to put into regular production. Hope they produced a lot because it'll make a great satisfying hot weather quencher.
666 characters
3.06
/5
rDev
-17.3%
look: 4 | smell: 3 | taste: 3 | feel: 3 | overall: 3
500ml swingtop brought round by Colin - thanks!
Pours a very light yellow with a bit of haze, thin head and some minor lacing. Aroma is slightly odd as it is quit floral and fruity with little Saaz presence at all. Same in the taste, quite juicy, hint of lemon, fair bit of cereal grains, little to no Saaz bite or profile, slight spiciness. Moderate carb, but too sweet and thick. This is no pils of any kind, at least as I know it. Moderately drinkable but there are piles of better beers out there.
503 characters

3.85
/5
rDev
+4.1%
look: 3.5 | smell: 3.5 | taste: 4 | feel: 4 | overall: 4
A: Golden yellow, white head, thin ring of retention, some lace.
S: Initial aroma had a subtle funk to it & I wondered if it might be going downhill. Thankfully that subsided to a huge hit of saaz with some underlying, grainy biscuit.
T: Steelie, grassy hops, biscuity malt is a little grainy.
M: Light to moderate body is smooth with a dry finish.
D: I'd love to have this fresh on a regular basis!
403 characters
3.75
/5
rDev
+1.4%
look: 4 | smell: 4 | taste: 3.5 | feel: 3.5 | overall: 4
500 ml swingtop, thanks to pubstyle for sharing.
Pours a clear light yellow, some straw, touch of gold in the corners, medium sized white head forms, settles down to a thin ring around the glass, some lace spots stick. Smell is nice, very sharp and herbal, honey malt, toast, zesty hops, citrus, grassy, very clean aroma, pretty solid. Taste is similar, nice herbal and grassy hop kick, lightly spicy, honey and some biscuit, a bit minerally, solid bitterness in the finish. Mouthfeel is medium bodied with medium carbonation, feels a bit sharp and heavy but I dig it. Nice pils, thanks Troy!
593 characters

3.92
/5
rDev
+5.9%
look: 3.5 | smell: 4 | taste: 4 | feel: 3.5 | overall: 4
Swing top bottle:
This is a lovely hazed pale straw colored lager in the pilsner flute. Decent white cap good lacing qualities. Modest small-bubbled carbonation.
Leafy floral hopping over dry cereal aromas and a light mustiness greets the nose.
Decent body for a pilsner. Profile is biscuit-malty, balanced well with earthy herbal hopping and a clean drying finish.
Top notch micro pils.
394 characters
3.45
/5
rDev
-6.8%
look: 3.5 | smell: 3.5 | taste: 3 | feel: 4 | overall: 4
500ml swingtop shared by Colin - cheers man!
Pours a hazy light yellow with a small bubbly white head that dropped to a film with some lace spots. Aroma is nice, but not particularly Czech as the grassy and spicy saaz aromas seem impotent in the face of a big fruitiness and honey character. Unsurprisingly, this extends to the flavour, and while there is some saaz there its very subdued, and I'm not sure how this qualifies as a Czech pilsener in that light. What we're left with is a symphony in light malts - some biscuit, bread and honey, over which the hopping seems more floral than anything. As befits the style the body is light (perhaps a little too light), with a moderate carbonation.
Its not a bad beer by any means, and I enjoyed it for its great drinkability and sessionable character, but to call this a Czech pils is a little off the mark. I'd like to think the bottle was old and the hops had dropped off, but I don't think it is. Oh well... still a good beer, just not what I expected.
1,006 characters
Czech Pilz from Wild Rose Brewery & Taproom
Beer rating:
3.7
out of
5
with
8
ratings